Canadian police have foiled a Valentine's Day plot by three suspects to massacre people at a shopping centre in Halifax, Nova Scotia.
Police said one suspect shot and killed himself before officers were able to arrest him and another confessed to the plot after she was arrested at Halifax airport.
There was no link to terrorism, Peter McKay, the police and justice minister, announced on Saturday.
"This appeared to be a group of murderous misfits that were ... prepared to wreak havoc and mayhem on our community," he said.
"The attack does not appear to have been culturally motivated, and is therefore not linked to terrorism."
Friends Lindsay Kantha Souvannarath, 23, of Geneva, Illinois, and Randall Steven Shepherd, 20, of Nova Scotia, were arrested at Halifax airport and have been charged with conspiracy to commit murder, the Royal Canadian Mounted Police confirmed.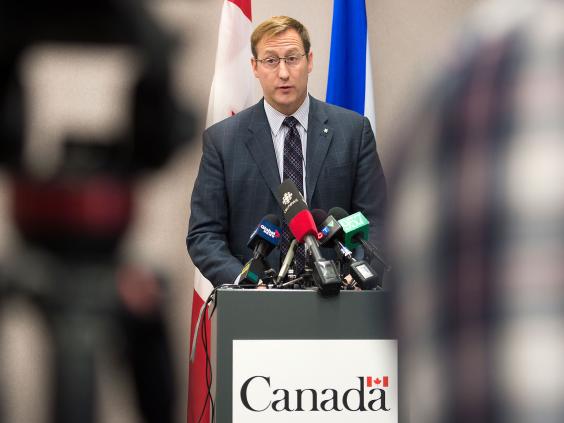 Brian Brennan, the commanding officer of Nova Scotia's RCMP, said that the suspects had planned to kill as many people as they could at the Halifax Shopping Centre, before taking their own lives.
A senior police official, speaking on the condition of anonymity, said that the 19-year-old male suspect fatally shot himself early on Friday, when officers surrounded his home in the Halifax suburb of Timberlea. Three long-barrelled shotguns were found in the house.
The suspects were apparently obsessed with death and had a large number of photos of mass killings.
They had used a chat stream to message each other and Ms Souvannarath had scheduled a number of Tweets to be posted after her death.
Police were tipped off by a call to the Crime Stoppers hotline on Thursday and acted quickly to find the suspects.
A neighbour of the 19-year-old who shot himself had not mixed with locals in recent years.
"He was one of those people who kept to himself, not a people person," Steven Greenwood said.
Police also worked with Canadian border officials to locate Ms Souvannarath.
Her home in Geneva, 35 miles west of Chicago, was searched by local police, who seized a number of items, which were not disclosed at the request of Canadian authorities.
The atmosphere remained tense in Halifax on Saturday and police responded to reports of shots in the shopping centre in the evening, that later turned out to be children playing with slingshots.
AP
Reuse content