Two US F16 fighter jets were scrambled and a SWAT team was dispatched after a man threatened to blow up a passenger plane following an argument about duty free.
The jets were given instructions to accompany the Sunwing Airlines flight 772 that was headed to Panama City from Toronto's Pearson International Airport, following reports that a passenger had made threats to bomb the plane.
After being in the air for just under an hour, cabin crew became worried about the behavior of one of the passengers when he displayed aggressive and threatening behaviour. They contacted aviation authorities on the ground and two fighter jets that had been completing exercises, were quickly dispatched to intercept the plane above Virginia and escort it back to Canada.
According to witnesses, the man who has been named as Ali Shahi, a 25-year-old from Canada, had become angry after a disagreement about the price of duty free on the plane.
Witness Bettina Bathe told CTV Toronto: "He basically just tore a strip off her, explaining how expensive the cigarettes are here in Canada, he hates Canada."
 "Then he said, with great expression using his hands, 'I just want to bomb Canada."
Phil Thompson, who was sitting three rows in front of Shahi, said that the passenger had become extremely angry and threatening after his altercation with the cabin crew member.
He told Global News: "He said he didn't care what happened to the plane or the people on it and he didn't like Canada and didn't care about Canada. He didn't care about the consequences of his actions; he literally didn't care if the plane went down."
When the plane eventually landed back in Toronto a SWAT team of six officers entered the plane to apprehend Shahi.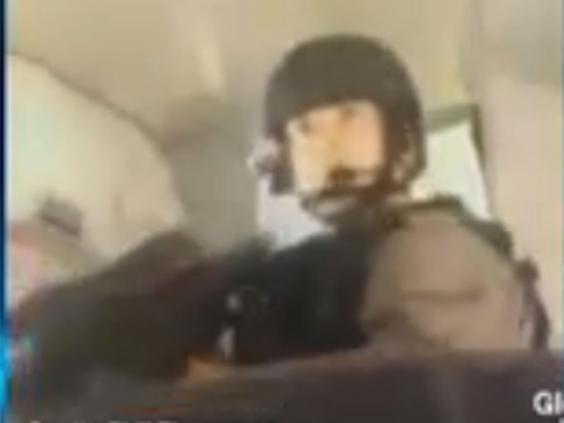 Footage of the incident was captured by one of the plane's passengers, showing the officers entering the plane holding guns and screaming at the passengers "keep their heads down" and "hands up".
It is believed the man involved has a history of mental illness and has suffered in the past from depression, anorexia and bulimia
Speaking to American news channel CBS, Shai's father, Sadegh Shahi, said: "I am sorry for what happened on the flight, but Ali is not at fault. I blame the police and health system."
He was released on bail on Saturday and has subsequently been taken to a local hospital for psychiatric evaluation.
Reuse content