A young unarmed black man had died after being shot at close range three times by police, including once in the back, in Los Angeles more than four months ago, a post-mortem has revealed.
Ezell Ford, 25, was killed on the night of 11 August after police say he "tried to reach for an officer's weapon" as they were trying to detain him on a pavement.
The Los Angeles County Coroner's report, that was not available for months as police feared witnesses would be influenced by it when making statements, shows that he sustained one gunshot wound in the right arm, one on his right lower abdomen and one through his back.
However he also had an imprint of the gun's muzzle next to his back wound after he was killed by officers Sharlton Wampler and Antonio Villegas, which suggests he was shot at very close range, NBC Los Angeles reported.
His death is one of many cases where unarmed black men have been killed by police officers in the US, such as those of Michael Brown in Ferguson, Missouri – which happened just a few days before the incident involving Ford – and father-of-six Eric Garner who died after being held in a chokehold, prohibited by the NYPD since 1993, for allegedly selling untaxed cigarettes in New York the month before.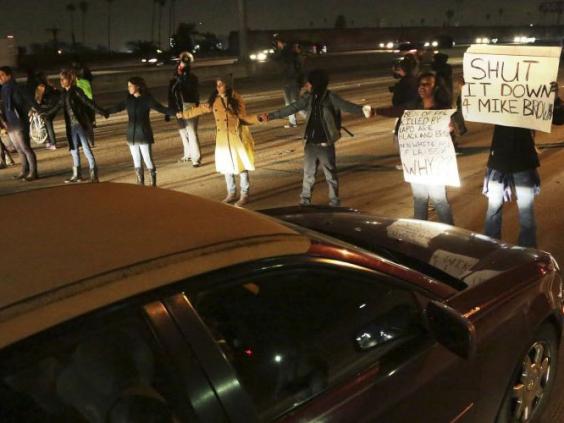 Last week, 18-year-old Antonio Martin was shot dead by police officers on a petrol station forecourt in Berkeley, Missouri, in an incident that sparked riots at the scene between protesters and police in which a firework was thrown into the front of the Mobil gas station. It is not confirmed whether Martin was armed.
Rising tensions in the US has caused impassioned protests on the streets across the country, however one demonstration turned tragic when lone gunman Ismaaiyl Brinsley shot two NYPD officers, Rafael Ramos and Liu Wenjin, in the head while they were sat in a patrol car on 21 December.
According to Los Angeles Police Department chief Charlie Beck, police officers were observing Ford from a marked police car and had spoken to him briefly before he walked away while "attempting to conceal his hands".
After police followed him, he is reported to have knocked one of the two officers to the ground and tried to grab hold of his holstered gun.
The other officer is said to have fired two bullets into his arm before the struggling officer pulled out a back-up weapon and shot him in the back, Mr Beck said yesterday.
He said in the video statement: "There is nothing in the coroners report that is inconsistent with the statements given to us by officers."
Some witnesses claimed that there was no scuffle before the shooting and have taken part in protests in the streets of Los Angeles after the autopsy report was released. Around 30 to 40 protesters were present in a peaceful march chanting "No justice, no peace."
Beck claims that none of the alleged additional witnesses, that he described would have to be "civilian eyewitnesses", have yet spoken to the police. He is asking witnesses to come forward as he believes it is too early to draw conclusions from the post-mortem.
The details came to light after Los Angeles mayor Eric Garcetti last month urged the police to release the coroner's findings.
Ford's parents have filed a federal civil rights lawsuit against the police officers and the city for a reported $75 million as they claim officers knew that their son had a mental illness from patrolling the area for some time.
Reuse content