Footage has emerged of the house 'mom' belonging to the disgraced University of Oklahoma's Sigma Alpha Epsilon fraternity repeatedly chanting the word "n****r ", two days after a video showing fraternity members chanting racist songs was released online.
In the six-second clip, Beauton Gilbow the house "mom" at SAE, laughing and appearing to sing along to rapper Trinidad James' All Gold Everything.
In the Vine, uncovered by the student newspaper on Monday, Gilbow uses the word "n****r" seven times.
On Sunday night, the Oklahoma University branch of North America's biggest fraternity Sigma Alpha Epsilon had to be closed after a video emerged of a number of members chanting racist songs that included the word "n****r" and references to hanging black students.
In an interview following the controversy, Gilbow told the media that she was "shocked" by the racist chanting that surfaced on Monday night.
When asked by News9 whether she had any indication that "anything like this was going on at the fraternity", she replied, "No,no, no. Never heard the song."
Adding: "I don't know what I'm doing. I mean, I'm in shock,"
Gilbow, alongside SAE chef Howard Dixon have received much publicity after the closing down of the fraternity left them without jobs.
Warning this video contains language that may disturb readers
The pair, who had worked at SAE for over 30 years, said that they were unaware of any racism in the fraternity.
GoFundMe pages were set up for the two by former students, with Gilbow's page raising nearly $6,000.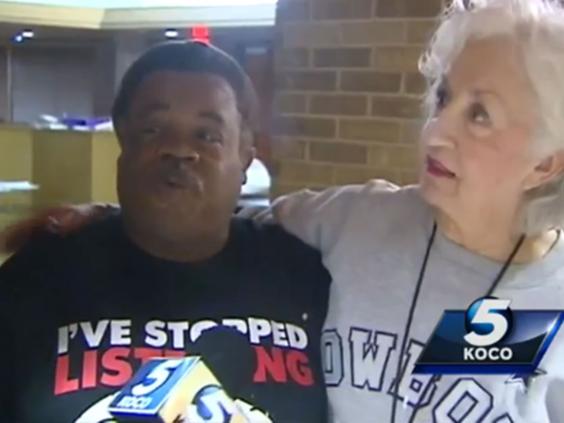 Gilbow's page was quickly taken down after the Vine emerged.
The amount of money that has been raised on Dixon's page currently stands at just under $35,000.
Gilbow has yet to comment and authenticity of the video has not yet been established.
Reuse content