The US and Italian authorities say they have disrupted a major new drug trafficking route between the Americas and Europe, after 26 people were arrested in a joint operation in New York and the Calabria region of Southern Italy.
The operation centred on two mafia syndicates: the Gambino, one of New York's notorious "five families"; and the 'Ndrangheta, a powerful Calabrian crime clan. Police uncovered a plan to smuggle cocaine from South America to one of Europe's busiest ports, Gioia Tauro, hidden in shipments of coconuts, pineapples and frozen fish.
The deliveries, which would have been worth hundreds of millions of dollars, also included heroin, marijuana and weapons. Mexican drug cartel members were involved as intermediaries in the trafficking pipeline, at the point where the shipments passed through the port of Georgetown, in Guyana. One such shipment of 500kg of cocaine was to be smuggled in tins of fruit manufactured by a Guyanese firm.
The 'Ndrangheta were to control import and export to and from Southern Italy with the assistance of a corrupt port official at Gioia Tauro.
Eight people were apprehended in New York, with 18 more arrested in Italy. Though the Gambino family has a long-standing relationship with the Sicilian mafia, the 'Ndrangheta are now thought to be the most powerful organised crime group in the region. Their role in the global cocaine trade has allowed them to amass greater wealth and influence than rivals such as the Sicilians or the Naples-based Camorra syndicate.
The 'Ndrangheta are thought to have been behind a mafia-style hit in Calabria in January, in which three people were killed, including three-year-old Nicola Campolongo and his grandfather.
The relationship between the 'Ndrangheta and the New York family is thought to be new. At a press conference in Rome after the raids, assistant US attorney Marshall Miller said: "What we see here is an attempt by the 'Ndrangheta to gain a foothold in the New York area. We stand ready to prevent that."
US and Italian officials told reporters that 40 people were being investigated as part of the police operation, named "New Bridge". FBI agents travelled to Italy to take part in the raids this week, at the climax of a two-year investigation. Around 150 police officers were involved in making the arrests at some 20 locations around Gioia Tauro.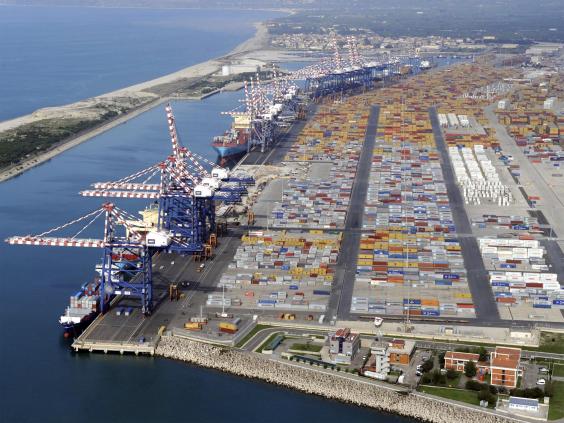 One breakthrough in the case came when shipping containers from Georgetown were seized en route in Malaysia, and found to contain cocaine worth $7m (£4.3m) secreted among pineapples and coconut milk.
The work of one US undercover agent, known as "Jimmy", was crucial. He travelled to Calabria several times during July and August 2012 to meet members of the 'Ndrangheta, posing as a prospective drug smuggler.
Calabrian police chief Gennaro Semeraro said: "The 'Ndrangheta are very diffident and initially they did not want to meet him. But he entered into their confidence."
Suspected Gambino family member Franco Lupoi and 'Ndrangheta leader Francesco Ursino allegedly agreed to sell the agent 1.3kg of heroin.
The people arrested in the raid have been charged with a range of crimes including drug trafficking and mafia association. One suspect in New York also faces firearms charges, after he allegedly sold a gun silencer and a sawn-off shotgun to an undercover FBI agent.
Reuse content