Hundreds of churches across America are defying the US government and offering support and sanctuary to immigrants who face deportation. Some of them have literally offered a resting space to people, aware that federal agents are unlikely to carry out arrests inside their premises.
Against a backdrop of rising anti-immigrant rhetoric as the election campaign has gathered pace and a series of arrests of undocumented migrants by federal agents, the churches have spoken out against what they say are unChristian and inhumane attitudes. 
They say that families are getting torn apart, and in many cases parents being forced to make agonising decisions about whether or not to leave behind a child who was born in the US if they themselves are forcibly deported.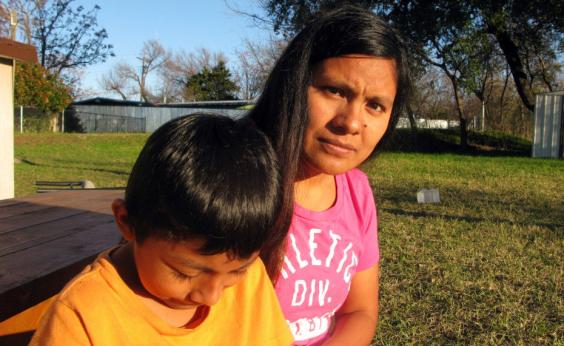 "We think it is our duty to show welcome and support to those in need," said Pastor Noel Anderson, a coordinator with the non-profit group Church World Service. "These are all values that are passed on in our faith traditions."
The so-called New Sanctuary campaign echoes the civil disobedience efforts led by US churches during the 1980s and 1990s, when Christian communities stepped in to provide help to thousands of Salvadorans and Guatemalans fleeing the violence of civil wars.
Activists say that for all the efforts they have made on behalf on behalf of migrant rights, undocumented immigrants still face huge uncertainty and vulnerability. Earlier this year, it was announced that federal agents had begun arresting dozens of illegal immigrant families, many of whom had fled violence in central America.
In January, Homeland Security Secretary Jeh Johnson said 121 adults and children had been detained as part of a move to deport a new wave of illegal immigrants. The families taken into custody by Immigration and Customs Enforcement (ICE) agents were living in Georgia, Texas and North Carolina
"As I have said repeatedly, our borders are not open to illegal migration," Mr Johnson said in a statement. "If you come here illegally, we will send you back consistent with our laws and values."
For all the accusations levelled at Barack Obama by Republicans about being soft on immigration, since assuming office in 2009 the Democratic president has deported more than 2.5m people, an increase of 23 per cent from his successor George W Bush.
Reports suggest that it is likely Mr Obama will be on schedule to deport more people than the 19 presidents who governed the United States from 1892-2000 combined.
"We call him the deporter-in-chief," said Ravi Ragbir, an activist with New York's Judson Memorial Church, an historic congregation located next to Washington Park Square.
Sitting in his office in the offices of his 100-year-old church on the edge of Greenwich Village, Mr Ragbir estimated that since 2007, his team had worked with around 300 people who faced deportation. 
Many were from African countries and the Caribbean, while more recent immigrants were from central America. He said that only two people had ended up being forced to leave the country.
"The New Sanctuary movement is not just about providing a safe space, it's about highlighting the problems and the policies," he said.
He added: "Martin Luther King once said that everything Hitler did was legal. That is, just because there are laws it does not mean they are moral. We are saying that if they are breaking up families, then its immoral."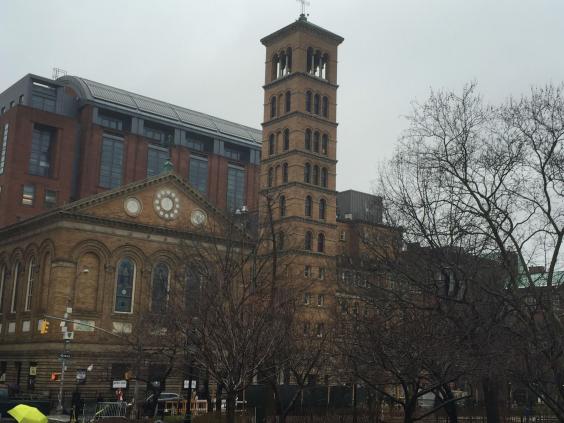 Among the most recent churches to have joined the grass-roots effort was St Andrew's Presbyterian in Austin, Texas. Earlier this month, the congregation took in Hilda and Ivan Ramirez, a Guatemalan mother and her nine-year-old son.
"I'm really afraid that they'll deport me. That's why I came here," Ms Ramirez told National Public Radio. "I don't think immigration agents will break down the door and take me away. I feel safe here."
The 28-year-old Mayan said she fled an abusive father-in-law, violent crime and a bleak economy 19 months ago.
Last year, the government denied her and Ivan's asylum requests. Ever since, she has feared an arrest by federal agents. They know where she is because she wears an electronic ankle monitor.
The Rev Jim Rigby, pastor of St Andrews, said the church was searching for a lawyer who will request a stay for the mother and son from the Board of Immigration Appeals. It is unclear how long that will take.
Speaking from Austin, Mr Rigby told The Independent the situation facing many individuals who had lost their deportation battles was a tragic.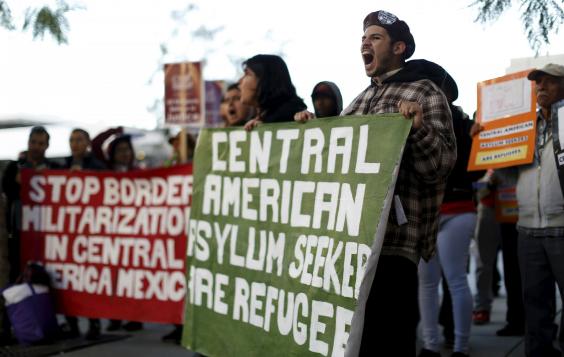 "I feel so better being able to do something. Even if something does happen now, it's better than to have done nothing," he said.
Mr Rigby said he believed politicians were targeting immigrants and ratcheting up their rhetoric in an effort to rally their supporters. "It's unethical, it's scapegoating," he added.
The move by the churches in response to the raids by ICE agents mirrors the role for centuries of places of worship of all faiths as place of sanctuary.
A 2011 memo from ICE stated that agents should avoid arresting anyone at churches, schools, hospitals and public demonstrations unless the person was a terror suspect or a dangerous criminal.
Penned by former ICE head John Morton, the document said immigration authorities could to take into consideration factors such as whether an immigrant had a criminal background, was a parent to an American-born child or had sought education in the US.
Mr Ragbir, the New York-based activist, said campaigners were motivated by both their faith and their humanitarian concerns.
He said: "How do you separate faith from your humanity?
Reuse content