Bernie Sanders is beating Hillary Clinton in a nationwide opinion poll of likely Democratic primary voters for the first time.
The Fox News survey has Mr Sanders on 47 per cent among likely voters and Ms Clinton trailing three points behind on 44 per cent.
The independent socialist senator from Vermont is up from ten points from 37 per cent in January while the former First Lady and Secretary of State is down five points from 49 per cent a month ago.
The poll is by definition an outlier – but suggests a closing gap between the two candidates in the race.
Ms Clinton's overall lead in news network CNN's polling average has narrowed to just six points.
Mr Sanders, a self-described democratic socialist, has ridden a wave of support from young and low income people to run the Demoratic establishment candidate favourite close.
He has run on a platform of increasing the minimum wage, making education free and accessible to all, and taking on the political and economic establishment.
His rival has responded with a marked shift of rhetoric and policy in a more left-wing direction.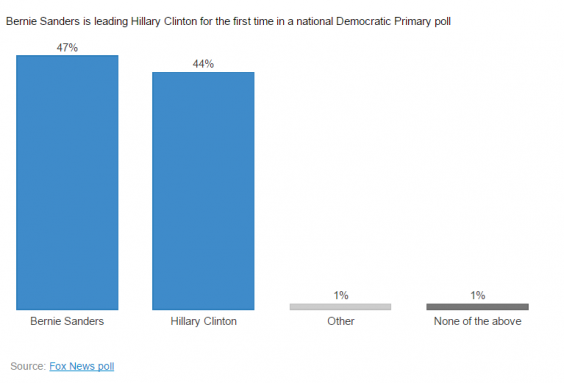 Mr Sanders has been bolstered in recent months by well-received debate performances and a highly efficient grassroots fundraising model built on small donations.
He has accused his rival of being beholden to interests on Wall Street and the political establishment, calling for a "political and economic revolution".
Donald Trump's most controversial quotes
Donald Trump's most controversial quotes
1/14 On Isis:

"Some of the candidates, they went in and didn't know the air conditioner didn't work and sweated like dogs, and they didn't know the room was too big because they didn't have anybody there. How are they going to beat ISIS?"

Getty

2/14 On immigration:

"I will build a great wall — and nobody builds walls better than me, believe me —and I'll build them very inexpensively. I will build a great, great wall on our southern border, and I will make Mexico pay for that wall. Mark my words."

Reuters

3/14 On Free Trade:

"Free trade is terrible. Free trade can be wonderful if you have smart people. But we have stupid people."

PAUL J. RICHARDS | AFP | Getty Images

4/14 On Mexicans:

"When Mexico sends its people, they're not sending their best. They're sending people that have lots of problems. They're bringing drugs. They're bringing crime. They're rapists."

Getty

5/14 On China:

"I just sold an apartment for $15 million to somebody from China. Am I supposed to dislike them?... I love China. The biggest bank in the world is from China. You know where their United States headquarters is located? In this building, in Trump Tower."

Getty Images

6/14 On work:

"If you're interested in 'balancing' work and pleasure, stop trying to balance them. Instead make your work more pleasurable."

AP

7/14 On success:

"What separates the winners from the losers is how a person reacts to each new twist of fate."

8/14 On life:

"Everything in life is luck."

AFP

9/14 On ambition:

"You have to think anyway, so why not think big?"

Getty Images

10/14 On his opponents:

"Bush is totally in favour of Common Core. I don't see how he can possibly get the nomination. He's weak on immigration. He's in favour of Common Core. How the hell can you vote for this guy? You just can't do it."

Reuters

11/14 On Obamacare:

"You have to be hit by a tractor, literally, a tractor, to use it, because the deductibles are so high. It's virtually useless. And remember the $5 billion web site?... I have so many web sites, I have them all over the place. I hire people, they do a web site. It costs me $3."

Getty Images

12/14 On Barack Obama:

"Obama is going to be out playing golf. He might be on one of my courses. I would invite him. I have the best courses in the world. I have one right next to the White House."

PA

13/14 On himself:

"Love him or hate him, Trump is a man who is certain about what he wants and sets out to get it, no holds barred. Women find his power almost as much of a turn-on as his money."

Getty Images

14/14 On America:

"The American Dream is dead. But if I get elected president I will bring it back bigger and better and stronger than ever before and we will make America great again."

GETTY
Ms Clinton has however accused Mr Sanders of lacking foreign policy experience.
The Vermont senator last week released a viral video advert in an attempt to attract the support of ethnic minority voters, who he had previously been weak amongst.
Match-up polling against likely Republican candidates for the presidency shows Mr Sanders performing better overall that Ms Clinton, largely because Ms Clinton has higher negative ratings.
Mr Sanders overwhelmingly won the New Hampshire primary, the second contest to determine the nomination, and effectively tied with Ms Clinton in the Iowa Caucuses, the first round of voting.
Ms Clinton however has already massed a large number of delegates to vote for her at the nominating convention on account of having stronger connections with the Democratic Party establishment.
The winner of the Democratic primary will go to face the Republican nominee in the presidential election in November. Business Donald Trump is currently the frontrunner to win that nomination.
Reuse content