A frustrated and fearful Bill Clinton has unleashed a torrent of criticism at Senator Bernie Sanders calling him removed from reality and "dishonest" in his campaign to become the Democratic nominee.
He also asserted that supporters of his wife had been subjected to "vicious attacks" online from Mr Sanders' supporters.
Just hours now from Tuesday's primary election which threatens to deliver a humiliating defeat to his wife, Hillary Clinton, the former president has told voters defecting to the socialist-leaning senator from Vermont that his call for a "political revolution" is based on half-truths and distortions.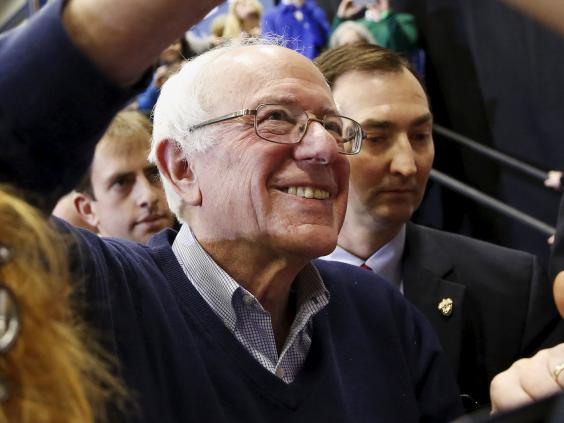 "When you're making a revolution you can't be too careful with the facts," he intoned while campaigning solo in Milford, New Hampshire, before a small group of voters. He warned that Mr Sanders is making promises he cannot deliver because he won't have the money to pay for them.
"The New Hampshire I campaigned in really cared that you knew what you were doing and how it was paid for," he declared, hearkening back to 1992 when he was hailed as the "Comeback Kid" for taking an unexpected second place here, a surge that sent him eventually to the White House that year.
In an interview with CNN, Mr Clinton also attempted to stunt Mr Sanders' claim that his wife is beholden to Wall Street and soaked in its money, saying that he too has taken money from bankers.
"Anybody who takes money from Goldman Sachs couldn't possibly be President," he said, paraphrasing that message.  "He may have to tweak that answer a little bit, or we may have to get a write-in candidate."
It is clearly galling Mr Clinton that the state that essentially saved his 1992 candidacy does not seem willing today to do the same for his wife.  In Milford he took particular aim at Mr Sanders' proposals to nationalise health care insurance and replace Obamacare.
"Is it good for America? I don't think so. Is it good for New Hampshire? I don't think so," he argued, continuing: "The New Hampshire I knew would not have voted for me if I had done that."
He noted that one female blogger who supporter his wife had taken to writing under pseudonym because of the personal nature of the attacks unleashed her by backers of the senator.
"She and other people who have gone online to defend Hillary, to explain why they supported her, have been subject to vicious trolling and attacks that are literally too profane often, not to mention sexist, to repeat," he said.
Reuse content