Maggie Prayong was beaming with excitement.
She had tweeted to Donald Trump, inviting him to Youngstown, and whether or not it was her invitation that had persuaded him, the tycoon's plane had just landed and he was about to appear in the flesh.
"Hillary Clinton is a Commie, and so is Bernie Sanders," she said, explaining her support for Mr Trump. "He says what he means, and he means what he says."
Ms Prayong, a retired nurse, reeled off a list of problems confronting the country - the economy, jobs, national security.
"The duty of the president is to keep us safe, and I don't think Barack Obama has," she said, referring to the threat from Isis. "I think he is a Muslim and that is why he won't go after them."
Not everyone at Mr Trump's rally in a large hangar at Youngstown airport may have shared Ms Prayong's strident beliefs about Mr Obama's religion. But the overwhelming majority were adamant that Mr Trump alone could get America out of the mess they believe it is in.
"Trump says what a lot of people think but cannot say," said Kathy Meggerd, holding a Trump placard, as the tycoon's plane inched towards the hangar door. "He speaks his mind."
Youngstown has become synonymous with post-industrial struggle, and the devastation of a once-proud manufacturing past. The city in the Mahoning Valley was once at the heart of regional steel production, a tradition which began a dramatic decline in the 1970s. 
The date of September 19, 1977, when local employer Youngstown Sheet and Tube announced the first of what would be tens of thousands of job losses, is still known locally as Black Monday. 
The city has struggled with unemployment, depopulation, the spectre of heroin - a drug that kills three people in the state every day. More recently, the region has invested in the fracking industry, but Youngstown State University is the single largest employer.
When he took to the stage, introduced by New Jersey Chris Christie, Mr Trump told those gathered what they already knew. And he sought to blame his rival, the state's governor, John Kasich, and a man he very much wants to beat on Tuesday, for failing to address the decades-long problems.
"You're losing your jobs. You're losing your factories. They're going to China, India, Vietnam," he said. "We don't win anymore. We don't know how to win anymore. It's not in our culture anymore."
Mr Trump railed against the threat of Isis, the danger of illegal immigration and the export of America's manufacturing industry. 
He said that if he was elected president, he would personally call the head of Carrier Corp,  a US firm that is moving 1,400 Indianapolis jobs to Mexico.
"It's not the sort of thing a president normally would do but I'd do it myself," he said. "I'd wish him luck…But then I'd say that every component you send across our now very well secured border will be taxed at 35 per cent." The hangar erupted with cheers.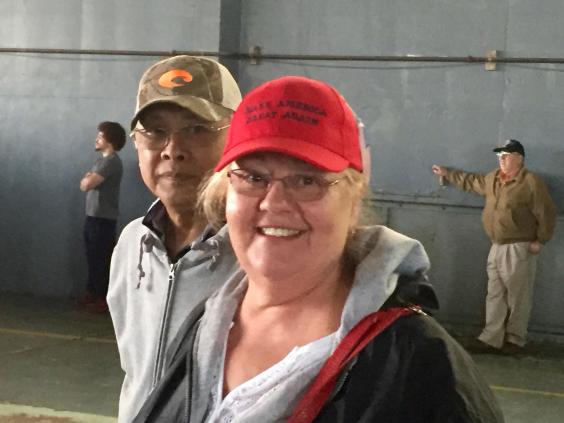 Haskell Westmoreland was aged 79 and had worked as a steelworker in Youngstown. He had also served in the military. He said he believed Mr Trump had solutions.
"I think he is gong to be great for America. He is going to knock the hell out of Isis. He says he will build a wall and I believe he will do it," he said.
"You have to get people off welfare and back to work."
Mr Trump's campaign had ensured that anyone wishing to attend the event had to be bussed in, something that ensured there were no protesters and the event did not see the sort of violent scenes that caused his planned event in Chicago last week to be cancelled.
But that did not mean everyone present agreed with everything Mr Trump said.
Dylan Oney, 18, from Canton, planned to vote for Bernie Sanders, but had slipped into the rally to see Mr Trump.
Like a number of Mr Sanders' supporters, Mr Oney said some of the issues the two men raised about the problems facing America were very similar. Their methods differed.
He clapped Mr Trump's vow to take care of military veterans and he said he agreed with his comments about some other issues. Yet, he said he felt uncomfortable with Mr Trump's rhetoric about immigrants and Muslims.
Asked how he would feel if Mr Trump made it to the White House, he said: "I would feel uncomfortable, scared and disappointed."
Reuse content