Donald Trump and Hillary Clinton emerged big winners after the second Super Tuesday - a result that forced Marco Rubio to drop out of the Republican race and cemented their frontrunner status.
Ms Clinton was declared a winner in all five states, and increased her tally of delegates ever higher than those of her Democratic rival, Bernie Sanders.
But while Mr Trump won Florida, Illinois, North Carolina, the Northern Mariana Islands and was on course to win Missouri, he crucially failed to win the state of Ohio, being pushed into second place by Governor John Kasich.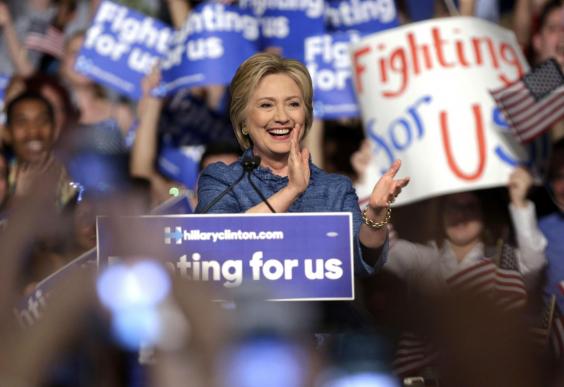 The defeat has the potential to be hugely significant; without the 66 Republican delegates that party there awards in a winner-takes-all basis, Mr Trump now needs to win 60 per cent of all remaining delegates to win the nomination outright before the party's convention this summer. So far, he has not won at a rate of more than 50 per cent.
If he fails that, given the opposition to the billionaire among the party's establishment, it is likely he could face a bitter challenge at the convention in Cleveland, something that has not happened since 1976.
Mr Trump did not mention this in a victory speech at his Mar-a-Lago home in Florida, where he said something was happening in the Republican Party that was being noticed "all over the world."
He even found it in him to praise Mr Rubio, the Florida senator with whom he had repeatedly clashed during the course of the campaign, saying he was a tough, smart candidate who had "a great future".
But Mr Kasich was also looking to the future, taking in the applause from his supporters gathered at the Baldwin Wallace University on the edge of Cleveland. While it is difficult to see him winning another state in the weeks going forward, many observers believe Mr Kasich will try and present himself as a compromise candidate at the July convention.
"I represent you," he said to loud cheers, "It's my job to listen to your problems and then go and fix them. It's been my intention to make you proud."
Along with Mr Trump and Senator Ted Cruz, Mr Kasich will now be one of just three candidates left in the Republican race, the sole occupant of the so-called establishment candidate lane, given Mr Rubio's decision to suspend his campaign. 
Donald Trump's most controversial quotes
Donald Trump's most controversial quotes
1/14 On Isis:

"Some of the candidates, they went in and didn't know the air conditioner didn't work and sweated like dogs, and they didn't know the room was too big because they didn't have anybody there. How are they going to beat ISIS?"

Getty

2/14 On immigration:

"I will build a great wall — and nobody builds walls better than me, believe me —and I'll build them very inexpensively. I will build a great, great wall on our southern border, and I will make Mexico pay for that wall. Mark my words."

Reuters

3/14 On Free Trade:

"Free trade is terrible. Free trade can be wonderful if you have smart people. But we have stupid people."

PAUL J. RICHARDS | AFP | Getty Images

4/14 On Mexicans:

"When Mexico sends its people, they're not sending their best. They're sending people that have lots of problems. They're bringing drugs. They're bringing crime. They're rapists."

Getty

5/14 On China:

"I just sold an apartment for $15 million to somebody from China. Am I supposed to dislike them?... I love China. The biggest bank in the world is from China. You know where their United States headquarters is located? In this building, in Trump Tower."

Getty Images

6/14 On work:

"If you're interested in 'balancing' work and pleasure, stop trying to balance them. Instead make your work more pleasurable."

AP

7/14 On success:

"What separates the winners from the losers is how a person reacts to each new twist of fate."

8/14 On life:

"Everything in life is luck."

AFP

9/14 On ambition:

"You have to think anyway, so why not think big?"

Getty Images

10/14 On his opponents:

"Bush is totally in favour of Common Core. I don't see how he can possibly get the nomination. He's weak on immigration. He's in favour of Common Core. How the hell can you vote for this guy? You just can't do it."

Reuters

11/14 On Obamacare:

"You have to be hit by a tractor, literally, a tractor, to use it, because the deductibles are so high. It's virtually useless. And remember the $5 billion web site?... I have so many web sites, I have them all over the place. I hire people, they do a web site. It costs me $3."

Getty Images

12/14 On Barack Obama:

"Obama is going to be out playing golf. He might be on one of my courses. I would invite him. I have the best courses in the world. I have one right next to the White House."

PA

13/14 On himself:

"Love him or hate him, Trump is a man who is certain about what he wants and sets out to get it, no holds barred. Women find his power almost as much of a turn-on as his money."

Getty Images

14/14 On America:

"The American Dream is dead. But if I get elected president I will bring it back bigger and better and stronger than ever before and we will make America great again."

GETTY
"It is clear that while we are on the right side, this year we will not be on the winning side," he told supporters in Miami. "While this may not have been the year for a hopeful and optimistic message about our future, I still remain hopeful and optimistic about America."
The Democratic battle looked slightly simpler than that of the Republicans. Having won Florida, North Carolina, Ohio and on course to win Illinois, Ms Clinton appeared ready to conclude the battle for the party's nomination and get on the with the real fight of the general election. Her rival, Bernie Sanders, had been on course to win Missouri, before Ms Clinton squeezed past him with a lead of less than 0.5 per cent.
"We are moving closer to securing the Democratic Party nomination and winning this election in November," she said, speaking to her supporters in Florida's Palm Beach.
Reuse content