The morning after the night before broke in Iowa to something very strange - silence from Donald Trump.
More than ten hours after a chastened Mr Trump gave an almost softly-spoken speech at the Sheraton hotel in Des Moines, offering his congratulations to Ted Cruz and vowing rather half-heartedly that he would win in New Hampshire and take the White House, there was no word from him.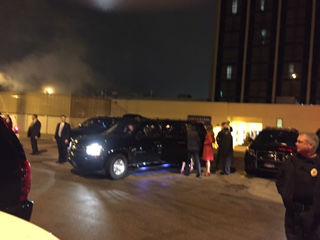 For the last few months, one or other of America's morning news shows has invariably included include a phone interview with the tycoon, railing against Mr Cruz, or defending some controversial comment he has made about women, immigrants or Muslims.
If not, then the billionaire's Twitter timeline would be lit up with comments and tweets - either retweeting compliments, pointing to favorable polls or else bragging about something or other.
Time to get out & caucus! @IvankaTrump, @DonaldJTrumpJr, & @EricTrump will be out at: https://t.co/H6jf0sJdSP pic.twitter.com/tuPYtILXS5

— Donald J. Trump (@realDonaldTrump) February 2, 2016
But on Tuesday morning, after Mr Cruz pushed the tycoon into second place, 28 to 24, there was no sign of Mr Trump. Neither CNN, MSNBC or Fox News got a call from Mr Trump and his last tweet was written before voting began - urging people to make sure they went to the polls. Indeed, it took a full 16 hours for Mr Trump to issue his first "humblebrag" tweet, suggesting his experience in Iowa and had been a "great one" and that he had outperformed expectations.
My experience in Iowa was a great one. I started out with all of the experts saying I couldn't do well there and ended up in 2nd place. Nice

— Donald J. Trump (@realDonaldTrump) February 2, 2016
Indeed, Mr Trump's unusual display of quiet led one CNN reporter to comment: "There have been no tweets, he has not been on the airwaves."
Reuse content