Hours after being battered and mocked at the last Republican debate before voting in multiple states on Super Tuesday, Donald Trump has received an unexpected lift with an endorsement from New Jersey Governor Chris Christie who said he was best positioned to beat Hillary Clinton in November.
A former candidate himself, who dropped out after New Hampshire, Mr Christie thus gave Mr Trump the first endorsement by a senior party leader, presumably in the hope of serving in his administration if he eventually wins, or becoming his vice presidential pick. Mr Trump last week said he expected to choose a number two for his ticket who is "somewhat political".
Mr Christie called the New York developer a "good friend", appearing alongside him in Fort Worth, Texas. "The best person to beat Hillary Clinton in November on the stage last night is undoubtedly Donald Trump," the Governor declared.
The surprise turn came on a day when Mr Trump was being cast after the debate as a hollow suit and a "con artist" by his remaining rivals, notably by Senator Marco Rubio of Florida who at the debate had unleashed a fusillade of attacks on the billionaire at a noisy debate in Houston. 
Mr Rubio ratcheted up the pressure as the multi-state vote on Tuesday nears, warning voters not to fall for a trickster who he says would lead their party to ruin.
"A con artist is about to take over the conservative movement and the Republican Party and we have to put a stop to it," Mr Rubio said on CBS, a line he pressed home in interviews across the US networks.  He argued that if the Trump he thinks he knows is not exposed now, he will become the nominee and then the media will "open the floodgates" to take him down, spelling disaster for the party in November.
With help from Senator Ted Cruz, who faces possible oblivion if he does not prevail when his own state of Texas votes next week, Mr Rubio finally did what his supporters had been waiting for, unloading everything he had on Mr Trump.  Arguably most harmful was a reminder to the audience that Mr Trump had once paid $1 million to settle a claim that he had hired illegal workers to build Trump Tower.
The Senator, who will face his own Waterloo if he can't outperform Mr Trump in the Florida primary on 15 March – he is currently trailing in Sunshine State polls – even attempted to puncture the business Titan mystique of the author of 'The Art of the Deal'.  "If he hadn't inherited $200 million, you know where Donald Trump would be right now? Selling watches in Manhattan," he jibed.
On the defensive in a way voters have not seen before, Mr Trump nonetheless repeatedly scorned the men on each side of him while two others still in the race and on the wings of the stage – Dr Ben Carson and Ohio Governor John Kasich – were largely left to watch the three-man pile-up.
In pictures: US Elections 2016
In pictures: US Elections 2016
1/15

Democratic U.S. presidential candidate Bernie Sanders speaks to supporters after rival candidate Hillary Clinton was projected as the winner in the Nevada Democratic caucuses

Reuters

2/15

Democratic presidential candidate Hillary Clinton takes photos with workers at her campaign office in Des Moines, Iowa

AP

3/15

Republican presidential candidate Mike Huckabee, second from left, prays before lunch with supporters at Drake Diner in Des Moines, Iowa

Reuters

4/15

Democratic presidential candidate and former Maryland Governor. Martin O'Malley, speaks during a campaign stop in Waterloo, Iowa

AP

5/15

Democratic presidential candidate Bernie Sanders speaks, as his wife Jane O'Meara Sanders looks on, at a campaign event at Iowa State University

Getty

6/15

Republican presidential candidate Marco Rubio speaks at St. Ambrose University in Davenport, Iowa

Reuters

7/15

Republican presidential candidate Ben Carson speaks at a campaign event at Fireside Pub and Steak House in Manchester, Iowa.

Getty

8/15

Republican presidential candidate Rick Santorum visiting supporters at a house party in West Des Moines, Iowa

Reuters

9/15

Republican presidential candidate Donald Trump at a campaign event in Cedar Rapids, Iowa

AP

10/15

Republican candidate Ted Cruz campaigns at Greene County Community Centre in Jefferson, Iowa

AP

11/15

Senator Rand Paul speaks during a Caucus rally at his Des Moines headquarters in Iowa

Getty

12/15

Republican candidate Jeb Bush speaks at a campaign event in Des Moines, Iowa

AFP

13/15

Former Alaska Governor Sarah Palin introducing the arrival of Donald Trump during a campaign rally in Cedar Rapids, Iowa

Reuters

14/15

A portrait of Democratic candidate Bernie Sanders at his campaign headquarters in Des Moines, Iowa

Getty

15/15

Campaign badges on sale ahead of a Trump rally at the Ramada Waterloo Hotel and Convention Centre in Waterloo, Iowa

Getty
"This one's a choke artist," he said pointing at Mr Rubio after raising the Florida Senator's stumbles on an earlier debate stage in New Hampshire, "and this one's a liar," glaring menacingly at Mr Cruz.  He has taken aim at Mr Rubio again, on Twitter.  "Lightweight Marco Rubio was working hard last night. The problem is, he is a choker, and once a choker, always a choker! Mr. Meltdown," he wrote.
Hunting season on Mr Trump is now officially open, however. Two ferocious television advertising spots were aired for the first time today in Super Tuesday states by a Super PAC supporting Mr Rubio, one attacking the billionaire on foreign policy and the other on his record of four business bankruptcies. Allies of Mr Rubio will be spending millions against Mr Trump between now and Tuesday.
"The message we are sending to everyone – to Republican voters, to donors, to the media, to everyone – is that Marco Rubio is the candidate who is best equipped not only to challenge Hillary Clinton but also to take out Donald Trump," Todd Harris, a senior policy advisor to Mr Rubio, said after the debate.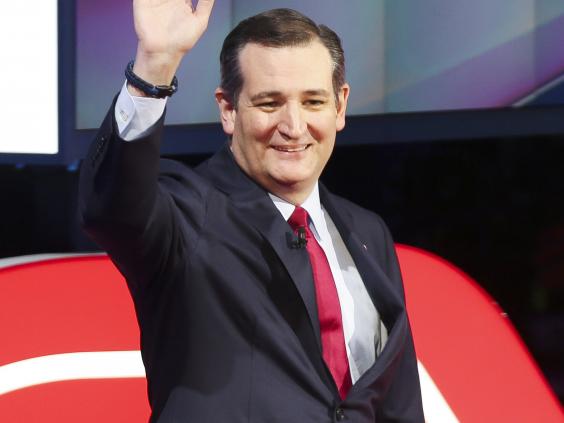 Mr Trump attempted to suggest that his illegal worker violation occurred 38 years ago, but Mr Rubio gave him no quarter. "I guess there is a statute of limitations on lies," he said.  "You're the only person on this stage that has ever been fined for hiring people to work on your projects illegally."  He added that when it comes to his famous wall along the border with Mexico, "he'll be building it with illegal immigrants".
For his part, Mr Cruz questioned Mr Trump's conservative credentials, his inconsistencies on key issues like healthcare reform and foreign policy, and his past record of making donations to Democrats, saying it would make him a risky and vulnerable party nominee. "He is promising if he's elected he will go and cut deals in Washington. And he's right. He has supported – and given hundreds of thousands of dollars to – Democrats. Anyone who really cared about illegal immigrants wouldn't be hiring illegal immigrants."
But the bombardments may have started too late to slow Mr Trump's momentum following his hat-trick of wins in New Hampshire, South Carolina and Nevada. There are 595 delegates up for grabs on Tuesday. If Mr Trump nets the bulk of them, his winning of the nomination may become inevitable.
Yet, if the attacks raining down him now do prove effective and if a loss in Texas forces Senator Cruz out of the race, allowing the anti-Trump movement to coalesce around Mr Rubio, then possibly the trajectory of this race might finally be altered and that inevitability would suddenly be gone.
Reuse content