Donald Trump's "discriminatory" and inflammatory language means he is becoming one of the "best recruiters" for the Isis militant group, Hillary Clinton has said.
Speaking during the Democrat candidates' third TV debate ahead of the 2016 presidential campaign, Ms Clinton hit out at Mr Trump following his call to temporarily ban Muslims from entering the US.
She decried the Republican hopeful's "great capacity to use bluster and bigotry to inflame people" and warned there are no "easy answers" to "complex questions".
Mr Trump has been increasingly radical in his anti-immigration statemetns after the shootout in San Bernardino, California, which killed 14 people - the deadliest terror attack on US soil since 9/11.
"They are going to people showing videos of Donald Trump insulting Islam and Muslims in order to recruit more radical jihadists," Ms Clinton told the audience at St Anselm College, in Manchester New Hampshire.
"We must make sure that the real discriminatory messages that Trump is sending around the world don't fall on receptive ears," she said. 
Mrs Clinton's comments came after the presenter of the ABC-hosted debate mentioned a poll finding 36 per cent of Americans agree with Mr Trump's proposed ban.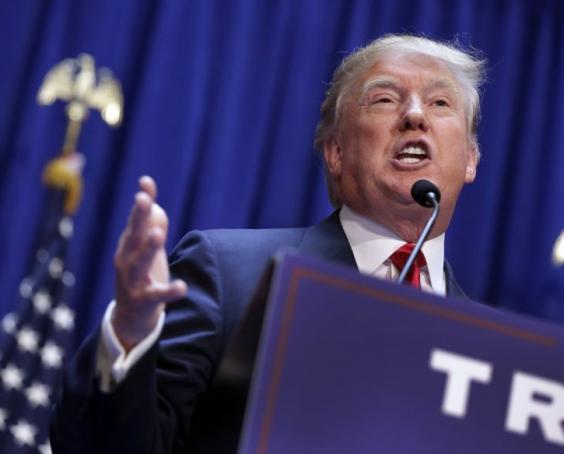 Earlier this month, a group of counter-terror and human rights experts warned Mr Trump's Muslim bashing was aiding the terrorist cause.
"They love him from the sense that he is supporting their rhetoric," Rita Katz from the SITE Intelligence Group told NBC News.
The Council on American-Islamic Relations (CAIR) was particularly vehement against the Republican candidate.
"We firmly believe that Donald Trump is doing the work of ISIS," said CAIR National Communications Director Ibrahim Hooper.
Leading in the polls in the Democratic race, Ms Clinton called for cooperation with the American Muslim community to prevent future terrorist attacks.
She said the US should be "making sure that Muslims American don't feel left out and marginalised at the very moment when we need their help".
She believed people were "reacting out of fear" after the recent attacks in Paris and San Bernardino, but called for unity and help from people in reporting anything suspicious. 
Donald Trump's most controversial quotes
Donald Trump's most controversial quotes
1/14 On Isis:

"Some of the candidates, they went in and didn't know the air conditioner didn't work and sweated like dogs, and they didn't know the room was too big because they didn't have anybody there. How are they going to beat ISIS?"

Getty

2/14 On immigration:

"I will build a great wall — and nobody builds walls better than me, believe me —and I'll build them very inexpensively. I will build a great, great wall on our southern border, and I will make Mexico pay for that wall. Mark my words."

Reuters

3/14 On Free Trade:

"Free trade is terrible. Free trade can be wonderful if you have smart people. But we have stupid people."

PAUL J. RICHARDS | AFP | Getty Images

4/14 On Mexicans:

"When Mexico sends its people, they're not sending their best. They're sending people that have lots of problems. They're bringing drugs. They're bringing crime. They're rapists."

Getty

5/14 On China:

"I just sold an apartment for $15 million to somebody from China. Am I supposed to dislike them?... I love China. The biggest bank in the world is from China. You know where their United States headquarters is located? In this building, in Trump Tower."

Getty Images

6/14 On work:

"If you're interested in 'balancing' work and pleasure, stop trying to balance them. Instead make your work more pleasurable."

AP

7/14 On success:

"What separates the winners from the losers is how a person reacts to each new twist of fate."

8/14 On life:

"Everything in life is luck."

AFP

9/14 On ambition:

"You have to think anyway, so why not think big?"

Getty Images

10/14 On his opponents:

"Bush is totally in favour of Common Core. I don't see how he can possibly get the nomination. He's weak on immigration. He's in favour of Common Core. How the hell can you vote for this guy? You just can't do it."

Reuters

11/14 On Obamacare:

"You have to be hit by a tractor, literally, a tractor, to use it, because the deductibles are so high. It's virtually useless. And remember the $5 billion web site?... I have so many web sites, I have them all over the place. I hire people, they do a web site. It costs me $3."

Getty Images

12/14 On Barack Obama:

"Obama is going to be out playing golf. He might be on one of my courses. I would invite him. I have the best courses in the world. I have one right next to the White House."

PA

13/14 On himself:

"Love him or hate him, Trump is a man who is certain about what he wants and sets out to get it, no holds barred. Women find his power almost as much of a turn-on as his money."

Getty Images

14/14 On America:

"The American Dream is dead. But if I get elected president I will bring it back bigger and better and stronger than ever before and we will make America great again."

GETTY
During the debate, which put Ms Clinton up against Bernie Sanders and Martin O'Malley, Mr Sanders apologised to Ms Clinton for the actions of his staff in a data breach into her campaign.
Ms Clinton accepted the apology and was keen voters and the media "moved on" from the story, though an independent investigation will still take place into the case.
"I don't think the American people are that interested in this," she said.
Reuse content