Donald Trump has invited Benjamin Netanyahu to meet him in the US "at the first opportunity" as the President-elect seeks to gather international allies.
The Israeli Prime Minster's office said the pair spoke by telephone after the President-elect's shock victory on Wednesday.
"Prime Minister Netanyahu congratulated President-elect Trump on his victory and told him that the United States has no better ally than Israel," a spokesperson said.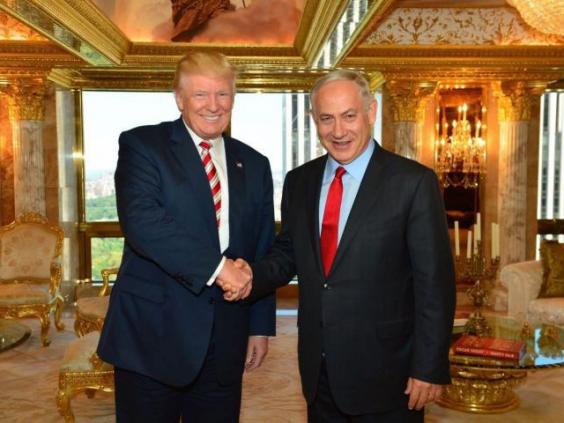 "The two leaders, who have known each other for many years, had a warm and heartfelt conversation.
"President-elect Trump invited Prime Minister Netanyahu to a meeting in the United States at the first opportunity.
"Prime Minister Netanyahu told President-elect Trump that both he and his wife Sara are looking forward to meeting him and his wife Melania."
Mr Netanyahu congratulated Mr Trump, calling him a "true friend of Israel" and saying he looked forward to working together.
"The ironclad bond between the United States and Israel is rooted in shared values, buttressed by shared interests and driven by a shared destiny," he added.
"I am confident that President-elect Trump and I will continue to strengthen the unique alliance between our two countries and bring it to ever greater heights."
He met both the Republican candidate and Hillary Clinton in September, when Mr Trump said he would recognise Jerusalem as Israel's capital, angering Palestinians who also regard the holy city as their own.
Following the election Mr Netanyahu also phoned the former Secretary of State and "thanked her for supporting Israel", extending an open invitation to the country.
Donald Trump's most controversial quotes
Donald Trump's most controversial quotes
1/18 On Mexicans

"When Mexico sends its people, they're not sending the best. They're not sending you, they're sending people that have lots of problems and they're bringing those problems with us. They're bringing drugs. They're bring crime. They're rapists… And some, I assume, are good people."

AFP/Getty Images

2/18 On Senator McCain

"He's not a war hero... He was a war hero because he was captured. I like people who weren't captured."

Getty Images

3/18 On Megyn Kelly

"You could see there was blood coming out of her eyes. Blood coming out of her wherever."

AFP/Getty Images

4/18 On Vladimir Putin

"He's running his country, and at least he's a leader, unlike what we have in this country."

Getty Images

5/18 On his popularity

"I could stand in the middle of Fifth Avenue and shoot somebody and I wouldn't lose any voters."

AFP/Getty Images

6/18 On torture

"I would bring back waterboarding and I'd bring back a hell of a lot worse than waterboarding."

Getty Images

7/18 On his body

"Look at those hands, are they small hands? And, [Republican rival Marco Rubio] referred to my hands: 'If they're small, something else must be small.' I guarantee you there's no problem. I guarantee."

AFP/Getty Images

8/18 On president Obama

"He is the founder of Isis."

Getty Images

9/18 On the Second Amendment

"Hillary wants to abolish — essentially abolish the Second Amendment. By the way, if she gets to pick, if she gets to pick her judges, nothing you can do, folks. Although the Second Amendment people, maybe there is, I don't know."

AFP/Getty Images

10/18 On Hilary Clinton's emails

"Russia, if you're listening, I hope you're able to find the 30,000 emails that are missing."

AFP/Getty Images

11/18 On sexual assault

In a statement regarding the release of a 2005 video in which he can be heard boasting about sexual assault: "This was locker room banter, a private conversation that took place many years ago. Bill Clinton has said far worse to me on the golf course."

Getty Images

12/18 On tax loopholes

"I absolutely used it, and so did Warren Buffett, and so did George Soros and so did many people who Hillary is getting money from."

AFP/Getty Images

13/18 On his accuser

"Believe me, she would not be my first choice, that I can tell you."

Getty Images

14/18 On Hillary Clinton

"Such a nasty woman"

Getty Images

15/18 On his pro-life stance

"Based on what she's saying ... you can take the baby and rip the baby out of the womb in the ninth month, on the final day, and that's unacceptable"

Getty Images

16/18 On his accusers

"Total fabrication. The events never happened. Never. All of these liars will be sued after the election is over."

Getty Images

17/18 On the 'rigged' election system

"I will totally accept the results of this great and historic presidential election — if I win."

Getty Images

18/18 On Hillary Clinton

"I hate to say it but if I win I'm going to instruct my attorney general to get a special prosecutor to look into your situation. There has never been so many lies, so much deception. You ought to be ashamed of yourself."

Getty Images
The two countries are strong allies, with the US confirming a $38 billion (£30 billion) military aid package earlier this year. 
But tensions frequently rose with Barack Obama's administration over Israeli concerns over the Iran deal and the President's objections to the continued construction of settlements in the West Bank that are regarded as illegal under international law.
The disputes came amid a continuing wave of violence in Israel and the Occupied Palestinian Territories, seeing around 40 Israelis and foreign nationals killed in Palestinian attacks and more than 230 Palestinians shot dead by security forces over the past year.
Right-wing Israelis and politicians have welcomed Mr Trump's victory, with education minister Naftali Bennett claiming his presidency would be an "opportunity for Israel to immediately retract the notion of a Palestinian state in the centre of the country, which would hurt our security and just cause".
The US has so far joined the vast majority of Western nations including the UK in supporting a two-state solution but Mr Trump's advisor on Israel previously said the candidate was "tremendously sceptical" of the policy.
"A Trump administration will never pressure Israel into a two-state solution or any other solution that is against the wishes of the Israeli people," David Friedman told a Trump rally in Jerusalem in October.
Mr Friedman also told the AFP news agency Mr Trump does not see Jewish settlements in the occupied West Bank as illegal, as nearly all the rest of the international community does
Mahmoud Abbas, the Palestinian President, has congratulated the President-elect and said he hoped peace could be achieved during his term based on the borders of 1967, the year Israel occupied the West Bank.
Reuse content