As we plumb the past, present and future of Trumpism, the Trump cabinet, the Trump family, the Trump brand, we might as well start with Ivanka, the most personable, palatable, fashionable, Trump-lite member of the future first family. The most inscrutable, yet the most weirdly relatable. Some people think she'll be the real First Lady: with her telegenic personality, her pet causes and her lifestyle website, she is already dedicated to being a gracious host and professional woman.
Last week, her father formally named her in his transition team, and rumours swirled around – denied by Trump – that the President-elect had requested top-secret security clearance for Ivanka and her brothers. On Monday evening, CNN's Dana Bash went on air and read out loud an incredulous text message from a friend: "What clandestine operation is Ivanka going to run?"
All the operations, Dana. We can't shake the feeling that Ivanka is the key to all this.
What is going on here? It's a question everyone is asking about everything happening in Washington right now. On Tuesday last week, major news outlets reported that the transition team was a mess; on Wednesday, Donald Trump tweeted that the transition "is going so smoothly" – and we are reduced to scouring Ivanka's Instagram feed to figure out the future of the country.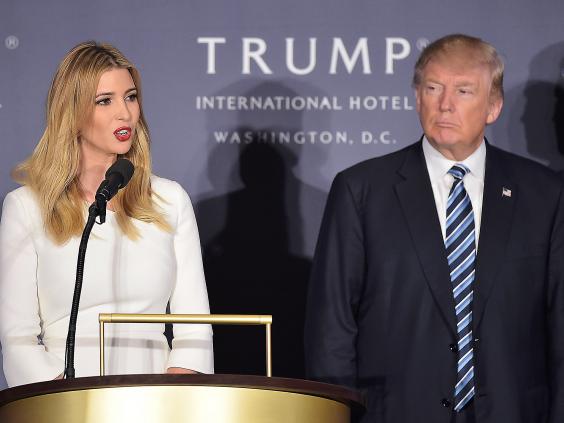 There, you'll find a video of Ivanka's daughter singing a song about pineapples, posted at the same time that a former national security official warned the world to "stay away" from the "arrogant, screaming" transition team. There's Ivanka in a Snapchat-filtered floral headdress. On her pastel, aspirational lifestyle website, there is an article headlined "5 tips for mixing work and family" (family dinner agenda: appoint new attorney general and secretary of state?)
World reaction to President Trump: In pictures
World reaction to President Trump: In pictures
1/29

London, England

AP

2/29

London, England

Reuters

3/29

Manila, Philippines

Getty Images

4/29

Manila, Philippines

Getty

5/29

Mosul , Iraq

Getty

6/29

Manila, Philippines

AP

7/29

New Delhi, India

Reuters

8/29

Karachi, Pakistan

EPA

9/29

Jakarta, Indonesia

Reuters

10/29

Lagos, Nigeria

AP

11/29

Kabul, Afghanistan

AP

12/29

Jerusalem. Israel

Reuters

13/29

Moscow, Russia

Reuters

14/29

Seoul, South Korea

AP

15/29

Lagos, Nigeria

AP

16/29

Peshawar, Pakistan

EPA

17/29

Jakarta, Indonesia

Reuters

18/29

Hyderabad, India

AP

19/29

Kolkata, India

AP

20/29

Sydney, Australia

Getty

21/29

Sydney, Australia

AP

22/29

Aleppo, Syria

Reuters

23/29

Mexico City, Mexico

AP

24/29

Port-of-Spain, Trinidad and Tobago

Reuters

25/29

Jerusalem, Israel

EPA

26/29

Baghdad, Iraq

Rex

27/29

Gaza Strip, Palestinian Territories

Rex

28/29

Tokyo, Japan

Rex

29/29

Mexico City, Mexico

Getty
Ivanka sat for a 60 Minutes interview with the rest of her family last week and folded her hands primly across her lap, one wrist bedecked with a heavy gold bracelet. "I'm going to be a daughter," she said firmly when asked whether she would be seeking a job in the Trump administration. The next morning, a sales representative from her jewellery line sent out a notice to journalists that the aforementioned gold bangle was Ivanka's favourite, and could be purchased for $10,800 (£8,700) through the Ivanka Trump Fine Jewelry website. Daughter-slash-businesswoman? Businesswoman-slash-presidential adviser?
What does it all mean, Ivanka?
Journalists debated whether the bracelet event was an outright conflict of interest or a slightly murky – but also savvy – move. The mystery of Ivanka is that she always does seem to be running some kind of clandestine mission.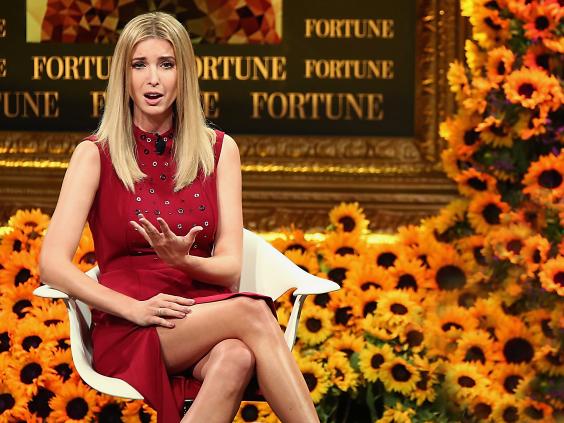 Or becoming the attractive vessel into which both parties poured their own hopes and dreams. "Like many of my fellow millennials, I do not consider myself categorically Republican or Democrat," she said while introducing her father at the Republican National Convention in July. "More than party affiliation, I vote based on what I believe is right, for my family and for my country."
Could Ivanka be reasoned with, wondered the commentators who viewed her father as too unpredictable and were seeking reassurance. Was Ivanka the one secretly running the whole show? When there are no answers, it is easier to ask questions and adopt wild conspiracy theories as the answers.
"Are Ivanka and Jared Kushner concocting a House of Cards-style game of their own?" Vanity Fair asked in an article about the hypothetical machinations of Ivanka and her husband. They were, the essay argued, "positioned to become the de facto first couple." Ivanka was the one who stayed focused, the one with a politician's poise, and she held her highest cards close to her chest.
What do we make of her? What is her endgame, when she insists that she is not a political person, while advocating politically divisive causes such as equal wages for women and paid maternity leave? When, while working on the transition team for the highest office in the land, she is simultaneously posting videos online of her with her office mates, goofing around, doing the mannequin challenge? Ivanka may be the fairest of them all, but she also seems like the steeliest, the kind of person who might bring a stiletto to a knife fight. 
This entire election has been about large portions of the electorate puzzling over whether their candidate really intended to do the things he said he was going to do, trying to read the election's burned entrails for the future of the country. America needs someone who is an expert in shadowy operations, who can report back from the inside on what is really going on. America needs Ivanka.
© Washington Post
Reuse content