The presumptive Republican presidential candidate has sparked fresh controversy by repeating his call for the use of waterboarding against terror suspects, declaring: "I like it a lot."
Speaking in the aftermath on the attack on Istanbul airport, Donald Trump said that the Obama administration had been too soft in dealing with extremists.
"You have to fight fire with fire," said Mr Trump, referring to Isis headings. "We have to fight so viciously and violently because we're dealing with violent people."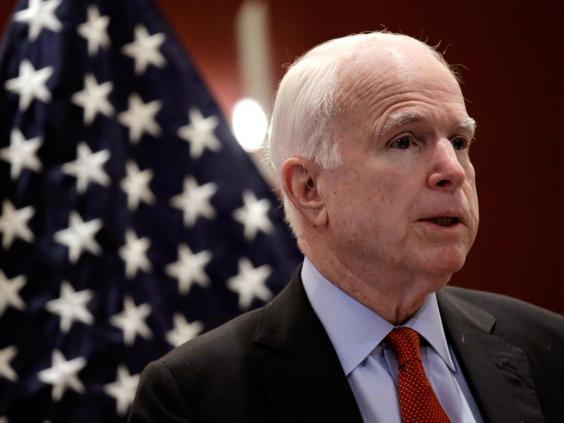 According to the Associated Press, Mr Trump then asked the crowd in Ohio: "What do you think about waterboarding?"
They cheered as he gave his answer. "I like it a lot," he said. "I don't think it's tough enough."
This is not the first time that the 70-year-old New York tycoon has talked of his support for waterboarding, a practice described by President Barack Obama as torture and which was officially banned by the US in 2006.
In March, Mr Trump called for broadening laws to allow for the use of torture, including but not limited to waterboarding. His stance has put him at odds with some members of his own party including Senator John McCain.
"Folks, there's something going on that's really, really bad. All right? It's bad," said Mr Trump. "And we better get smart and we better get tough. Or we're not going to have much of a country left, OK?"
Mr McCain has had a tense relationship with Mr Trump, who once said the senator, who was a prisoner of war in Vietnam for more than five years, was not a hero "because he was captured". Despite the prickliness, Mr McCain, in what is being seen as a move to ensure his own reelection, is backing Mr Trump for the presidency.
On Wednesday, the senator again criticised Mr Trump's remarks on waterboarding, repeating his view that torture was neither appropriate or effective.
Donald Trump's most controversial quotes
Donald Trump's most controversial quotes
1/14 On Isis:

"Some of the candidates, they went in and didn't know the air conditioner didn't work and sweated like dogs, and they didn't know the room was too big because they didn't have anybody there. How are they going to beat ISIS?"

Getty

2/14 On immigration:

"I will build a great wall — and nobody builds walls better than me, believe me —and I'll build them very inexpensively. I will build a great, great wall on our southern border, and I will make Mexico pay for that wall. Mark my words."

Reuters

3/14 On Free Trade:

"Free trade is terrible. Free trade can be wonderful if you have smart people. But we have stupid people."

PAUL J. RICHARDS | AFP | Getty Images

4/14 On Mexicans:

"When Mexico sends its people, they're not sending their best. They're sending people that have lots of problems. They're bringing drugs. They're bringing crime. They're rapists."

Getty

5/14 On China:

"I just sold an apartment for $15 million to somebody from China. Am I supposed to dislike them?... I love China. The biggest bank in the world is from China. You know where their United States headquarters is located? In this building, in Trump Tower."

Getty Images

6/14 On work:

"If you're interested in 'balancing' work and pleasure, stop trying to balance them. Instead make your work more pleasurable."

AP

7/14 On success:

"What separates the winners from the losers is how a person reacts to each new twist of fate."

8/14 On life:

"Everything in life is luck."

AFP

9/14 On ambition:

"You have to think anyway, so why not think big?"

Getty Images

10/14 On his opponents:

"Bush is totally in favour of Common Core. I don't see how he can possibly get the nomination. He's weak on immigration. He's in favour of Common Core. How the hell can you vote for this guy? You just can't do it."

Reuters

11/14 On Obamacare:

"You have to be hit by a tractor, literally, a tractor, to use it, because the deductibles are so high. It's virtually useless. And remember the $5 billion web site?... I have so many web sites, I have them all over the place. I hire people, they do a web site. It costs me $3."

Getty Images

12/14 On Barack Obama:

"Obama is going to be out playing golf. He might be on one of my courses. I would invite him. I have the best courses in the world. I have one right next to the White House."

PA

13/14 On himself:

"Love him or hate him, Trump is a man who is certain about what he wants and sets out to get it, no holds barred. Women find his power almost as much of a turn-on as his money."

Getty Images

14/14 On America:

"The American Dream is dead. But if I get elected president I will bring it back bigger and better and stronger than ever before and we will make America great again."

GETTY
"It's not the United States of America. It's not what we are all about. It's not what we are," he said to applause, at the Bipartisan Policy Centre in Washington.
Mr McCain said that waterboarding was considered a war crime according to the Geneva conventions. 
"But perhaps more important than that, if you're not into academics and history is it doesn't work," he said. "Because if you inflict enough pain on someone they will tell you whatever they think you want to hear."
Mr McCain also joked that those who initially thought Trump would be the nominee were "crazy".
"If you believed that Donald Trump was going to be the nominee and you believed that Bernie Sanders was going to come close, please raise your hand," he said. 
"Please don't drive an automobile in the metropolitan area. You're a danger to yourself and others."
More than 40 people were killed when three men with explosives attacked Istanbul's Ataturk International Airport on Tuesday night.
The Turkish authorities have blamed Isis and identified the three suspected attackers.

Reuse content