It's voted Republican for nearly quarter of a century, but now it appears Donald Trump has managed to turn the state of Georgia towards Hillary Clinton.
According to a YouGov poll, Ms Clinton leads the property tycoon with 48.3 per cent of the vote compared to his 42.4 per cent, marking the map with a faint blue.
Her claim on Georgia shrinks the size of the Republican South and further mars Donald Trump's chances winning the White House.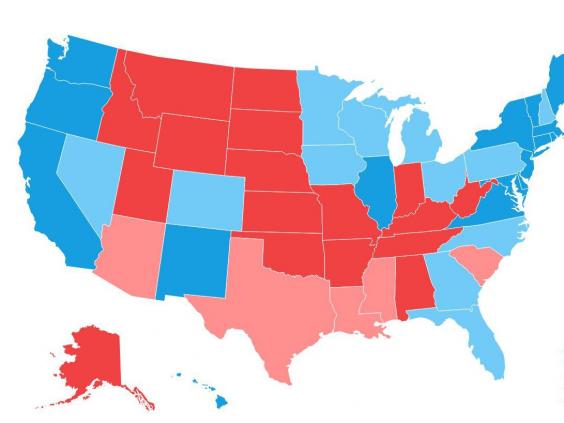 The last time Georgia voted Democrat was in 1992 when Bill Clinton won with a slim majority. However since 1964 it has been, for the most part, a Republican heartland.
Georgia's blue transformation completes a run of southern states that have flipped to the Democrats, joining Florida and North Carolina.
The change reflects a significant shift in demographics, with Georgia predicted to have a minority white population by 2025.
Mr Trump leads with white voters 66 per cent to 23 per cent, while the Democrat wins the vast majority of black voters 87 per cent to 8 per cent.
Ms Clinton is also the favourite among Hispanic voters 53 per cent to 35 per cent.
To add to Mr Trump's misfortune, he is underperforming among men in the state. He is only predicted to get 48 per cent of the vote compared to the Democrat's 42 per cent. This is crucial, since he needs a significant lead among men to overcome female voters' distaste for him.
Ms Clinton has a more sizeable lead among female voters in the state: 51 per cent compared to Mr Trump's 41 per cent.
And the Democrat's lead could increase overall if the billionaire property magnate continues to depress voter turnout by repeatedly describing the election as rigged.
Republican leaders backing away from Donald Trump after lewd remarks
Republican leaders backing away from Donald Trump after lewd remarks
1/12 Former governor of California Arnold Schwarzenegger

Schwarzenegger said he will not vote for Trump

Getty

2/12 Senate Majority Leader Mitch McConnell

Mr McConnell condemned the remarks, but has not unendorsed him

Getty

3/12 House Speaker Paul Ryan

Mr Ryan disinvited Mr Trump from a Wisconsin campaign event following the remarks

Getty

4/12 Former Sec of State Condoleezza Rice

Ms Rice called for Trump to withdraw his candidacy

Getty

5/12 Nebraska Sen Deb Fischer

Ms Fischer called on Trump to step aside and give nomination to Mike Pence

Getty

6/12 Texas Sen Ted Cruz

Mr Cruz denounced the remarks, but still endorses Trump

Getty

7/12 Former Republican candidate Carly Fiorina

Ms Fiorina wants Mike Pence to take the nomination

Getty

8/12 Conservative radio host Hugh Hewitt

Hewitt called for Trump to step down

Getty

9/12 Utah Representative Mia Love

Ms Love said she cannot vote for Trump after hearing his remarks

Getty

10/12 Former New York Gov George Pataki

Mr Pataki said Mr Trump should step down

Getty

11/12 New Hampshire Sen Kelly Ayotte

Ms Ayotte will write in Mike Pence when she votes

Getty

12/12 Arizona Sen John McCain

Mr McCain will choose Mike Pence on Election Day

Getty
Mr Trump is also in trouble according to a recent nationwide poll by NBC News and The Wall Street Journal.
He is a full 11 points behind Ms Clinton, prompting pollsters to predict "the writing is on the wall".