Donald Trump declared war on political correctness at the first Republican primary debate in Cleveland and proceeded to demonstrate more than once that he believes in his own words - calling American leaders "stupid" and blithely admitting he has called women derogatory names.
While the debate between the Republicans in the top ten in recent national polls involved sober and even specific debate about issues ranging from the Islamic State to immigration and the fate of Obamacare, the night, hosted by Fox News, occasionally veered into moments of rancor, notably involving Governor Chris Christie and Senator Rand Paul, or Music Hall silliness, always involving Mr Trump.
The business mogul who has extended a wide lead in the polls drew boos at the start of the two-hour event by refusing to vow not to challenge whoever wins the Republican nomination, if it's not him, and not to re-launch himself as a third-party candidate. "I will not make that pledge at this time," he said.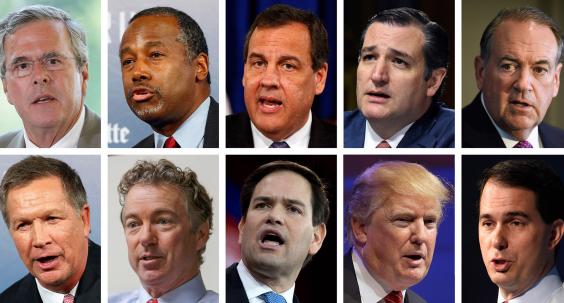 He won applause with his straight-talk promise. "I think the big problem this country has is being politically correct," he offered.
But the gasps were audible when moderator Megyn Kelley said he has been on the record calling "women you don't like 'fat pigs, dogs, slobs, and disgusting animals".
Barely pausing, Mr Trump replied, "Only Rosie O'Donnell", referencing the TV comedian and host.
Amidst all the racket created by Mr Trump, it was perhaps Senator Marco Rubio who did the best job of making sure he was not distracted.
So too did Jeb Bush. However, the former Governor of Florida perhaps more than anyone needed the debate to prove he had a depth and fluency of issues no one else had. Instead, he seemed just competent.
Mr Rubio strongly staked out his opposition to abortion, a litmus test for most conservative voters. 
Arguing to end abortion in most cases, he said future generations will "call us barbarians for murdering millions of babies".  Reaching for an optimistic and uplifting tone in his closing remarks, Mr Rubio, promised "to make of this century a new American century."
On the other hand, Mr Bush continued to tread a fine line on immigration where he again defended his position that those currently in the country illegally should have the chance to become legal citizens. This, he insisted, does not mean amnesty, though many in the party will continue to see it as such.
The former governor also was forced again to repeat his position that his brother erred going into Iraq – because he was given faulty intelligence – which again may not sit well with conservatives.  "It was a mistake, I wouldn't have gone in," he said.
John Kasich, the Governor of Ohio, clearly enjoyed a home team advantage, with huge support from the audience.
Touting his record of turning his state's economy around, he declared, "People have hope again in Ohio". And he drew applause saying he can disagree with gay people on gay marriage but still love them.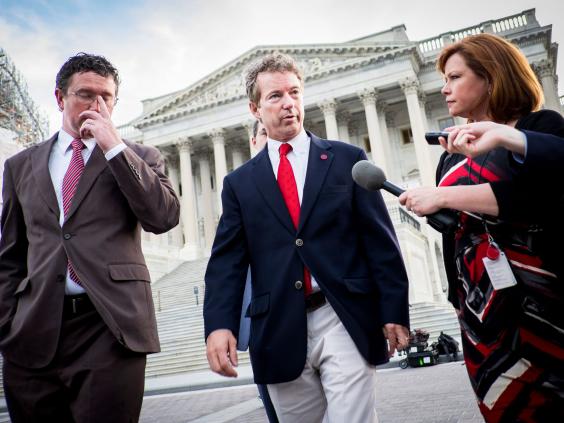 "I'm going to love my daughters no matter what they do. Because you know what? God gives me unconditional love, and I'm going to give it to my family and my friends and the people around me."
What's uncertain is whether Mr Trump's complete incaution and bursts of bombast - "This country right now owes 19 trillion and they need someone like me to sort out that mess!" - will pop his polling bubble or inflate it further.
"Mr Trump's language is divisive," Mr Bush argued on the stage. "We are not going to win by doing what Barack Obama and Hillary Clinton do every single day by dividing the country."
Asked if he had evidence of the claim he has made repeatedly that Mexico was "sending" its worst citizens into the US, Mr Trump offered only why it is happening.
"It's because our leaders are stupid, our politicians are stupid, and the Mexican government is much smarter, much sharper, much more cunning, and they send the bad ones over because they don't want to pay for them, they don't want to take care of them."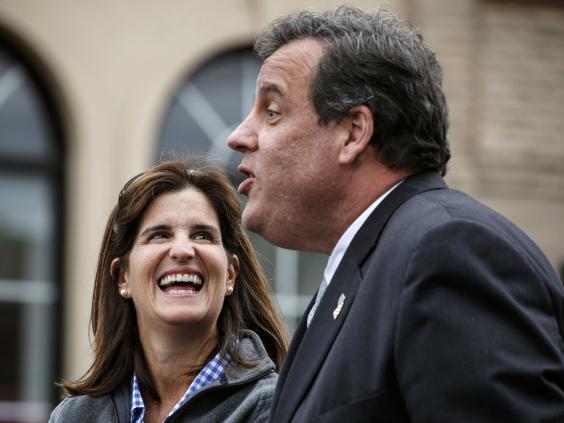 He went on: "Why should they when the stupid leaders of the United States will do it for them?"]
On foreign policy, Mr Trump called Mr Obama "clueless".  He added: "I would say he is incompetent but I don't want to do that, because that's not nice….if Iran was a stock you guys should go out and buy it because it is going to quadruple".
Scott Walker, the Governor of Wisconsin, who has jostled for second place in most recent polls with Mr Bush, drew applause discussing recent cyber-attacks on US federal data systems, by simultaneously jabbing Mrs Clinton and her difficulties explaining private email serve as Secretary of State. 
Russia and China, he suggested, "know more about Mrs Clinton emails than does the United States Congress".
The Fox moderators seemed more intent than anyone on stage to draw blood from Mr Trump.  He was quizzed on the history of his businesses declaring bankruptcy four times, most recently in 2009.
Presidential prowess? Republican candidates in televised debate
Presidential prowess? Republican candidates in televised debate
1/10 DONALD TRUMP - MOGUL AND PRESENTER

Most likely to say: "You other guys are just a bunch of stiffs. I LOVE Mexico. I will make America great again!"

Least likely to say: "I invited Hillary Clinton to my wedding. Which wedding? I forget. Pass me a comb."

Reuters

2/10 JEB BUSH - FORMER FLORIDA GOVERNOR

Most likely to say: "I am the only one with a proven record as a conservative governor." He will always add at least one sentence in Spanish.

Least likely to say: "I know how to campaign. The last time I ran for office? 2003."

Reuters

3/10 SCOTT WALKER - GOVERNOR OF WISCONSIN

Most likely to say: "I took on the unions and beat them. I won two elections in a Democrat state and a recall election too."

Least likely to say: "Put a guy without a college degree in the White House. I won't tell you why I dropped out."

AP

4/10 MIKE HUCKABEE - FORMER GOVERNOR OF ARKANSAS

Most likely to say: "I will fight to end gay marriage and reverse the Supreme Court on Obamacare."

Least likely to say: "You over there, Fox News guy. Keep my seat warm in the studio, because I'll be back soon!"

AP Photo/John Locher, File

5/10 BEN CARSON - FORMER SURGEON

Most likely to say: "Barack Obama has been a disaster for America and I am the only to have called him out consistently."

Least likely to say: "I have never ever held elected office or even run for one. But I have a great life story!"

Getty Images

6/10 TED CRUZ - SENATOR FROM TEXAS

Most likely to say: "I will end big government and slash Washington to ribbons. Bye-bye gay marriage and Obamacare."

Least likely to say: "Hey, Mr Trump, if you want to play the 'birther' game again, I was born in Calgary, Canada!"

EPA/SHAWN THEW

7/10 MARCO RUBIO - SENATOR FROM FLORIDA

Most likely to say: "President Obama is wrong on Iran and wrong on Cuba. I won't chum about with tyrants."

Least likely to say: "I look like a puppy, but bring it on Putin. Yes, Jeb Bush was my mentor. Who cares?"

AP

8/10 RAND PAUL - SENATOR FROM KENTUCKY

Most likely to say: "Everyone else on this stage is war crazy. I will not send your children to fight pointless wars abroad."

Least likely to say: "Time Magazine called me 'the most interesting man in politics' last year. Why y'all yawning?"

Reuters

9/10 CHRIS CHRISTIE - GOVERNOR OF NEW JERSEY

Most likely to say: "I am a two-term governor in a Democrat state with a record of reaching across the aisle." Least likely to say:

"Any bridges in Cleveland I can foul up? Don't ask me about New Jersey's economy."

Getty Images

10/10 JOHN KASICH - GOVERNOR OF OHIO

Most likely to say: "Welcome to my state, where jobs are growing and spending is down. You want to win Ohio, don't you?"

Least likely to say: "Don't send me any foreign policy questions, because I'm more or less clueless. I might ramble. Again."

AP
And he was pushed to explain the damage that bankruptcy had done to those who had lent to him. "First of all, these lenders aren't babies," he shot back. "These are total killers. These are not the nice, sweet little people that you'd think. You're living in a world of the make-believe."
The stage was set alight when Senator Rand Paul, a libertarian, was tackled by Chris Christie, the Governor of New Jersey, for his position that the US government should be restrained in its access to private, personnel data and communications in the name of fighting terrorism. 
Mr Christie, who insisted keep the current rules of the Patriot Act intact, accused Mr Paul of "blowing hot air" on Capitol Hill.  "I'm the only person on this stage who's actually filed applications under the Patriot Act. ... This is not theoretical to me. I went to the funerals (after September 11, 2001)."
In response to a question about faith, Mr Rubio was fast with a quip.  "God has blessed us with good candidates...the Democrats can't even find one."
A former neurosurgeon, Ben Carson made one of the better jokes of the night saying he was the only person on stage who had removed half a brain.  He added: "But if you go to Washington, you'd think someone had beaten me to it."