It is barely eight months since nine black people were shot dead inside Charleston's Emanuel African Methodist Episcopal Church. 
And as South Carolina prepares to hold its Democratic primary on Saturday, the incident looms as strikingly as the white-washed building itself, the winter sun's reflection as blinding as during those dog dogs last June when a young man attacked a bible study group and devastated a nation.
In recent weeks, Hillary Clinton, anxious to cement her support among black voters, has been talking about the massacre and appearing with black mothers who have lost sons to gun violence - some at the hands of police, some at the hands of strangers.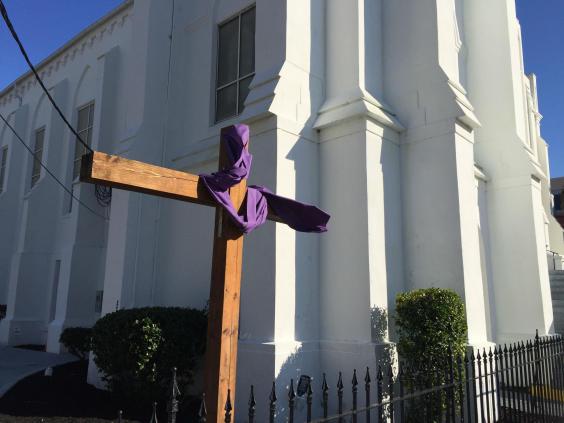 Her approach appears to be paying off; the most recent polls in South Carolina, where African Americans will make up the majority of voters, put Ms Clinton as far as 28 points clear of her rival, Bernie Sanders.
Yet not everyone is convinced by Ms Clinton's attempt to embrace issues that have been pushed most relentlessly by the Black Lives Matter movement. 
This week, a young activist, Ashley Williams, confronted the former secretary of state at a rally and demanded to know why she had once used the word "super predators" to describe black offenders, and supported laws such as the 1994 Violent Crime Control and Law Enforcement Act that had a huge, negative impact on African Americans. 
Meanwhile, Gilda Cobb-Hunter, the first black woman to be elected to the state government in South Carolina, told ABC News she was concerned that Ms Clinton's decision to include the relative of one of the so-called Charleston Nine in a campaign advert meant the deaths were "being used for political purposes".
Ms Williams, the activist, told The Independent from Charlotte, North Carolina, where she is a student, that she wanted all the political candidates to undergo the scrutiny she sought to force on Ms Clinton.
"I think she is inconsistent and she has not explained that inconsistency, and she is not to be trusted unless she explains herself," she said.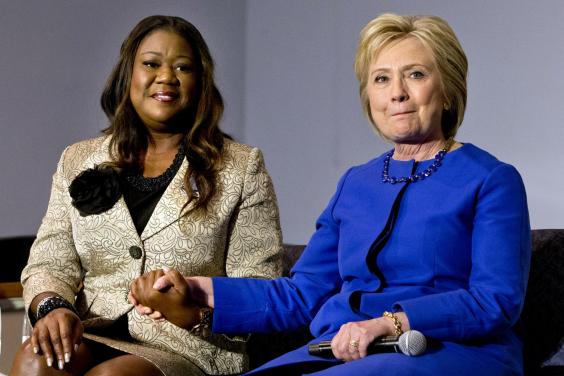 At a rally on Thursday night in North Charleston, close to where an unarmed black man was shot and killed by a white police officer in a notorious incident, captured on camera, Ms Clinton talked of the time she spent with the black mothers whose sons had been killed. 
"The other night I met with five women who have lost their sons - some to police shooting, others to senseless gun violence," she said.
"Trayvon Martin's mother. Her 17-year-old son was killed by someone with a gun. Jordan Davis's mother. He was a teenager teenager playing his music loud, like teenagers do….And then the horrors of what happened at Mother Emanuel [church] when those people welcomed a stranger in their midst."
She added: "I can't say that I will be able to do everything but it's worth trying to do something. On average, ninety people a day are dying from gun violence."
Many of those at the event said they believed Ms Clinton was qualified to lead the country and deliver on a range of issues, including education, jobs, healthcare and gun control.
Montez Aiken, a black police officer, had brought his 11-year-old daughter. He said he wanted to hear Ms Clinton in person, though he said he planned to vote for her. He said the issues raised by the Black Lives Movement were not talked about enough by the presidential hopefuls, though he hoped they would be.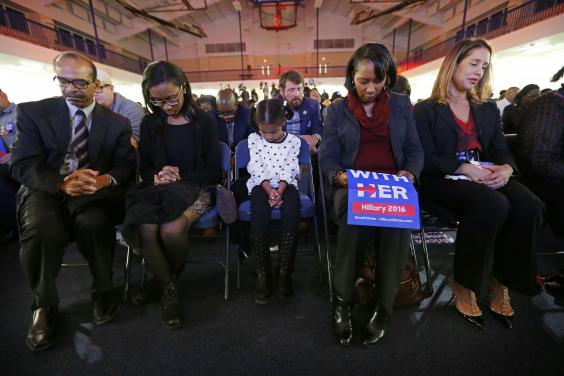 "I believe she has done her groundwork," he said of Ms Clinton. "There is no question she will know what to do as president."
Sonja Avery said she was also going to vote for Ms Clinton. Education, jobs, social security, Obamacare, she said, when asked to list her priorities as a voter. "They need to raise the Black Lives Matter issue more. What happened was a tragedy," she said.
Ms Clinton's advert, that has been broadcast in South Carolina, features the Rev Anthony Thompson, whose wife, Myra, was among those shot and killed last June. Dylann Roof, 21, an alleged white supremacist has been charged with nine counts of murder.
In the advert, Mr Thompson sits on a porch swing and talks about the telephone call he received the night of the shooting.
"The first thing that came to my mind is we need to make some changes. Hillary is really committed to making sure that guns don't get into the wrong hands," Mr Thompson says. 
"She's standing with the President to get stronger gun laws so no family ever has to go through anything like this again."
The most recent average of polls collated by Real Clear Politics puts Ms Clinton on 58 points, with Mr Sanders on 32. If that bears true, it would put her close to the margin of victory Barack Obama enjoyed over her and John Edwards when he won South Carolina by 28 points in 2008.
Ovtavia E Robinson, who works in a cafe located close to the Emanuel church and lived through the shooting and its aftermath, said she would vote for Ms Clinton. She said she believed she was best qualified to help working people, the black community, and women in particular.
Asked about the accusation that Ms Clinton had used the tragedy for her own benefit, she said: "If the family had not wanted to do that, they would not have done it. It's their grief, their feelings."