The Justice Department has granted immunity to a former State Department employee who worked on Hillary Clinton's private email server, as part of a criminal investigation into the possible mishandling of classified information.
The FBI is said to have secured the co-operation of Bryan Pagliano, who worked on Ms Clinton's 2008 presidential campaign before setting up the server in her New York home in 2009. As the FBI looks to complete its investigation, agents are likely to want to interview Ms Clinton and her senior aides about the decision to use a private server, how it was set up, and whether any of the participants knew they were sending classified information in emails, current and former officials said.
The inquiry comes against a political backdrop in which Ms Clinton is the favourite to secure the Democratic nomination for the presidency, despite the scandal surrounding the server. The claimed co-operation of Mr Pagliano divided analysts about whether it would hurt or benefit Ms Clinton.
So far, there is no indication that prosecutors have convened a grand jury in the email investigation to subpoena testimony or documents, which would require the participation of a US Attorney's office. FBI and Justice Department spokesmen would not discuss the investigation. Mr Pagliano's attorney, Mark MacDougall, also declined to comment. Brian Fallon, a spokesman for the Clinton campaign, said: "Secretary Clinton has been co-operating with the Department of Justice's security inquiry, including offering in August to meet with them to assist their efforts."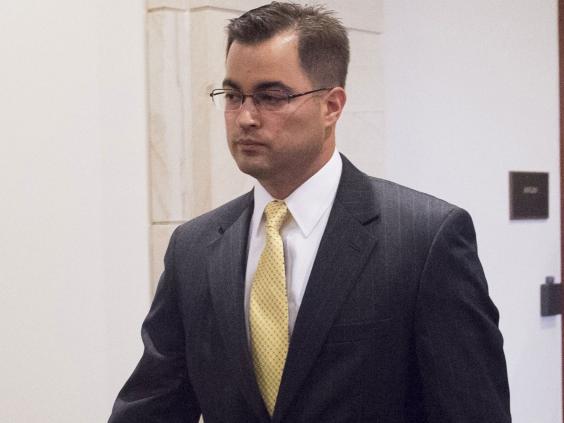 He also said the campaign was "pleased" that Mr Pagliano, who invoked his Fifth Amendment rights before a congressional panel in September, was now co-operating with prosecutors. The campaign had encouraged Mr Pagliano to testify before Congress.
Officials will look at the potential damage had the classified information in the emails been exposed. The Clinton campaign has described the investigation as a "security review". But current and former FBI and Justice Department officials have said investigators are trying to determine whether a crime was committed. "There was wrongdoing," said one former senior law enforcement official. "But was it criminal wrongdoing?"
Ms Clinton has since apologised for what happened. Current and former officials said the conviction of retired general and CIA director David Petraeus for mishandling classified information is casting a shadow over the investigation. They think that Mr Petraeus's actions were more egregious than those of Ms Clinton and her aides because he lied to the FBI, and classified information he shared with his biographer contained top-secret code words, identities of covert officers, war strategy and intelligence capabilities. 
After negotiations, Mr Petraeus pleaded guilty to a misdemeanour charge of mishandling classified information. He was fined $100,000 and sentenced to two years' probation. FBI officials were angered by the deal and predicted it would affect the outcome of other cases involving classified information.
In pictures: US Elections 2016
In pictures: US Elections 2016
1/15

Democratic U.S. presidential candidate Bernie Sanders speaks to supporters after rival candidate Hillary Clinton was projected as the winner in the Nevada Democratic caucuses

Reuters

2/15

Democratic presidential candidate Hillary Clinton takes photos with workers at her campaign office in Des Moines, Iowa

AP

3/15

Republican presidential candidate Mike Huckabee, second from left, prays before lunch with supporters at Drake Diner in Des Moines, Iowa

Reuters

4/15

Democratic presidential candidate and former Maryland Governor. Martin O'Malley, speaks during a campaign stop in Waterloo, Iowa

AP

5/15

Democratic presidential candidate Bernie Sanders speaks, as his wife Jane O'Meara Sanders looks on, at a campaign event at Iowa State University

Getty

6/15

Republican presidential candidate Marco Rubio speaks at St. Ambrose University in Davenport, Iowa

Reuters

7/15

Republican presidential candidate Ben Carson speaks at a campaign event at Fireside Pub and Steak House in Manchester, Iowa.

Getty

8/15

Republican presidential candidate Rick Santorum visiting supporters at a house party in West Des Moines, Iowa

Reuters

9/15

Republican presidential candidate Donald Trump at a campaign event in Cedar Rapids, Iowa

AP

10/15

Republican candidate Ted Cruz campaigns at Greene County Community Centre in Jefferson, Iowa

AP

11/15

Senator Rand Paul speaks during a Caucus rally at his Des Moines headquarters in Iowa

Getty

12/15

Republican candidate Jeb Bush speaks at a campaign event in Des Moines, Iowa

AFP

13/15

Former Alaska Governor Sarah Palin introducing the arrival of Donald Trump during a campaign rally in Cedar Rapids, Iowa

Reuters

14/15

A portrait of Democratic candidate Bernie Sanders at his campaign headquarters in Des Moines, Iowa

Getty

15/15

Campaign badges on sale ahead of a Trump rally at the Ramada Waterloo Hotel and Convention Centre in Waterloo, Iowa

Getty
The State Department has been analysing the contents of Ms Clinton's correspondence, as it has prepared 52,000 pages of her emails for public release in batches, a process that began in May and concluded on Monday. The State Department has said 2,093 of Ms Clinton's released emails were redacted in all or part because they contained classified material.
The email investigation is being conducted by FBI counter-intelligence agents and supervised by the Justice Department's National Security Division. 
© The Washington Post
Reuse content