Hillary Clinton, outspoken on the campaign trail in her demand for more gun control, has received the powerful endorsement of a former Congresswoman who was shot and left with a severe brain injury in an assassination attempt.
"Speaking is hard for me," said Gabby Giffords, stumbling with her words. "But come January I want to say these two words - Madam President."
She added: "Hillary is tough. She will stand up to the gun lobby."
Touching - Giffords - "Speaking is hard for me... which is why come January I want to say... Madam President" - https://t.co/TTDFGk0QJB
— Zach Wolf (@zbyronwolf) January 30, 2016
The backing of the former Democratic representative from Arizona will help Ms Clinton make her case that she is the only person who will take on America's powerful gun lobby. 
She has criticised her Democratic rival, Bernie Sanders, claiming that the Vermont senator has not stood up against the National Rifle Association (NRA), by citing his votes against a waiting period for gun purchases and for granting gun manufacturers legal immunity. 
While Mr Sanders has responded by saying the NRA has rated him as "D minus", she has continued to make the case that she, and not he, would move on guns.
Ms Clinton, who appeared with Ms Giffords and her husband, retired astronaut Mark Kelly, at a rally in Ames on Saturday, said 90 people were killed every day in the US because of guns.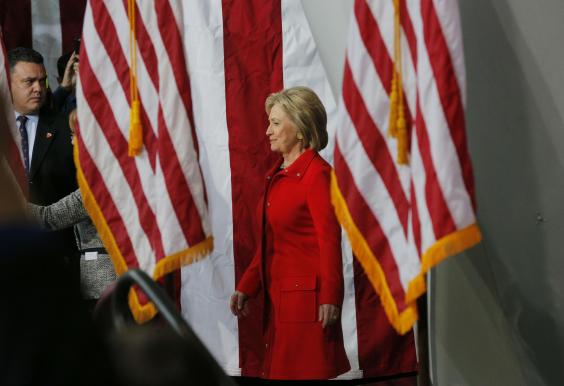 She said that while people in favour of greater gun restrictions voted on a variety of issues, gun lobby supporters cared about just one thing. She said that was why "they have been able to intimidate the politicians".
Ms Clinton said she believed most people thought it was possible to have sensible gun control that was consistent with the US Constitution's Second Amendment, which gun rights supporters say provides them with the right to bear arms.
"What is wrong with us? How can we continue to ignore the toll that this is taking on our children & our country," said Ms Clinton. "I'm not expecting we can stop everybody. I think stopping some or a lot is a pretty big deal.The facts cry out for action."
Ms Giffords and her husband have been advocates for gun control after she survived a shot to the head at a political event in Tucson five years ago, that left six people dead and thirteen others injured. The gunman, Jared Loughner, later pleaded guilty to 19 counts of murder and attempted murder and was sentenced to life plus 140 years in jail.
Two years after the shooting, the couple founded a superPAC called Americans for Responsible Solutions, just weeks weeks after a gunman killed 26 people - 20 of them children - at Sandy Hook Elementary School in Newtown, Connecticut.
Earlier this month, the couple issued a statement that said: "Only one candidate for president has the determination and toughness to stand up to the corporate gun lobby - and the record to prove it. That candidate is Hillary Clinton."
Reuse content