On the evening before voting took place, Ohio Governor John Kasich was holding an outdoor rally in a snow storm - a New Hampshire ritual that ensured decent media coverage.
It was -7C but Mr Kasich and his supporters were in a warm-hearted mood; they had seen polls that were predicting he was set to finish second to Donald Trump.
Those polls have now proved correct, and with a 16 per cent haul behind Mr Trump's 35 points, Mr Kasich has at once given his own campaign new life and utterly muddied the Republican battle.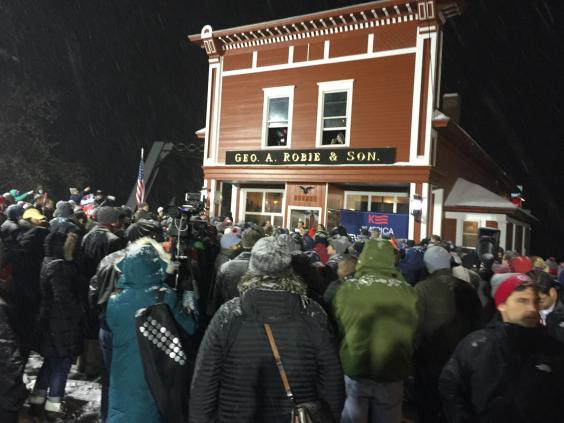 If the 63-year-old had less national name recognition than some of his rivals, he was well-known to the voters of New Hampshire. His appearances here at small events in coffee shops and halls, were matched in number only by that of New Jersey Governor Chris Christie. On the day of voting Mr Christie told The Independent he expected to do well, and even looked forward to visiting the UK as US president, but he came a disappointing sixth, with just seven per cent of votes. He now looks set to drop out.
Mr Kasich's focus here helped him win the support of key New Hampshire figures, including former senator John Sununu, and veteran New Hampshire Republican leader Tom Rath.
It enabled hm to make his case as the alternative to Mr Trump. He was considered rather than rambunctious, he was willing to reach out to others rather than make inflammatory remarks about immigrants or Muslims, and he ran on a record of achievement in Ohio. 
By way of insight, the New York Times, considered by many Republicans as being wishy-washy and liberal, endorsed Mr Kasich as its nominee for president, along with Hillary Clinton for their Democratic choice.
Mr Kasich will now turn straight to South Carolina and Nevada, hoping that he can ride the momentum that saw him soar to second place. He said that his aim was to stay in the race until many of the Mid West states come into play in mid March, by when he believes he will see real support from the American heartland.
The problem for the Republican establishment is that Mr Kasich's success means they still have no clear candidate to back who can take on Mr Trump or Ted Cruz, who are both disliked. 
There had been anticipation after his strong third place in Iowa, that Marco Rubio could emerge as such as figure. After his dismal performance in New Hampshire, and after Jeb Bush's reasonably strong performance, the issue remains open.
That is not a concern for Mr Kasich, who previously served as a Congressman and who considered a White House run more than a decade ago, who has presented himself not as an outsider but an experienced hand who could work in a bipartisan fashion.
"There's something that's going on that I'm not sure that anybody can quite understand. There's magic in the air with this campaign. Something big happened tonight," he declared when he spoke on Tuesday evening.
"Tonight, we head to South Carolina. There's so much that's going to happen. If you don't have a seatbelt, go get one."

Reuse content