In possibly the last gasp of a campaign that once held all the hopes of Republican Party elders desperate to stop a certain billionaire from New York, Senator Marco Rubio led a final rally in his own Miami neighbourhood, declaring himself confident of victory in Florida's primary election on Tuesday.
But the Monday night homecoming of the Mr Rubio, after a day of multiple rallies the length of Florida's Atlantic coast, seemed jinxed from the start. After clambering into the back of a Dodge pick-up truck to address a modest crowd, he grasped the microphone to make his final pitch to voters only to find it wasn't working. Using a bullhorn instead, he was at times barely audible.
And when it was over, the 44-year-old first-term US Senator eschewed his waiting campaign bus, shiny in black and red, opting instead to go home in a small SUV, surely knowing that he may not see the inside the larger vehicle again. Most political observers believe it would be impossible for Mr Rubio to remain in the race beyond Tuesday night if he indeed suffers a loss in Florida.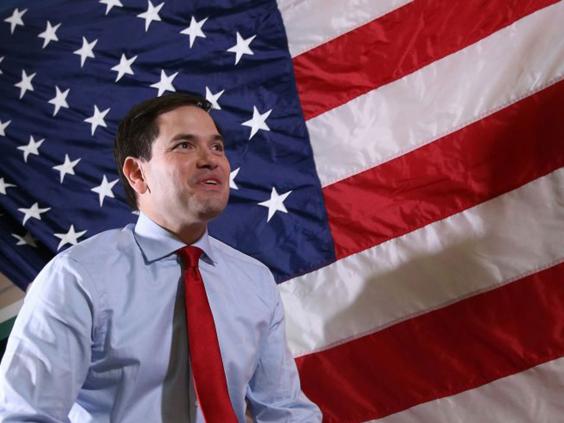 In politics and especially in this race, no one's fate is forgone. Yet the polling ahead of Tuesday's winner-take-all primary were universally cruel to his campaign suggesting that he will be bulldozed into second place. The expected victor is Donald Trump.
"No matter where I go, what I'll be, I'll always be a son of this community," Mr Rubio told his supporters in a brief flash of wistfulness. He summoned enough optimism, however, to proclaim that he still expected to prevail in his state and become the next US president. "I can't wait until January when I put my left hand on the Bible and raise my right hand in the air," to be sworn in, he declared.
Super Tuesday - in pictures
Super Tuesday - in pictures
1/15

Democratic presidential candidate former Secretary of State Hillary Clinton greets supporters during her Super Tuesday evening gathering Stage One Ice Studios in Miami, Florida. Latest results have Hillary Clinton as the projected winner of six states: Alabama, Arkansas, Georgia, Tennessee, Texas and Virginia

Getty Images

2/15

Republican Presidential front runner Donald Trump speaks to the media at the Mar-A-Lago Club in Palm Beach, Florida. Trump held the press conference after the closing of Super Tuesday polls in a dozen states

Getty Images

3/15

Republican presidential candidate Ted Cruz celebrates at a Super Tuesday watch party at the Redneck Country Club in Stafford, Texas. Cruz won the Texas and Florida primaries

Getty Images

4/15

Democratic presidential candidate Bernie Sanders speaks to supporters after winning the Vermont primary on Super Tuesday in Essex Junction, Vermont

2016 Getty Images

5/15

People cheer as Democratic presidential candidate, Sen. Bernie Sanders speaks after winning the Vermont primary on Super Tuesday in Essex Junction, Vermont. Thirteen states and one territory are participating in today's Super Tuesday: Alabama, Alaska, Arkansas, Colorado, Georgia, Massachusetts, Minnesota, Oklahoma, Tennessee, Texas, Vermont, Virginia, Wyoming and American Samoa

Getty Images

6/15

Republican candidate Dr. Ben Carson speaks to supporters at his campaign at his Super Tuesday election party at the Grand Hotel in Baltimore, Maryland. Despite trailing the other Republican candidates on the most significant night of primary voting, Dr. Carson vowed to continue his campaign and remain in the running

Getty Images

7/15

Republican presidential candidate Ohio John Kasich addresses a town hall-style meeting in the Hazel Hall Atrium at the George Mason University Law School on Super Tuesday in Fairfax, Virginia. Officials are expecting a record turnout of voters in Virginia, one of a dozen states holding presidential primaries or caucuses

Getty Images

8/15

Republican presidential candidate Sen. Marco Rubio greets supporters during a rally at Tropical Park in Miami, Florida. Eyeing a must-win in March 15 primary in his home state of Florida, Rubio held his Super Tuesday night event in Miami

Getty Images

9/15

Precinct 5 Democratic Farm Labor Party voters register to take part in Super Tuesday caucusing for delegates at the Folwell Community Center Democratic caucus location in Minneapolis, Minnesota

Reuters

10/15

Voters crowd in to check with precinct captains at a Democratic caucus late Tuesday in Denver. Colorado is one of 12 states casting votes for party nominees on Super Tuesday, which offers candidates the chance to garner the biggest single-day delegate haul of the nomination contests

AP

11/15

A U.S. citizen living in Mexico (R) registers to cast his vote from abroad, for a Democratic candidate during Super Tuesday elections in Mexico City, Mexico

Reuters

12/15

Republican U.S. presidential candidate Senator Marco Rubio holds a cutout of his head in front of his face as he greets supporters after speaking about the Super Tuesday primary and caucus voting results at a campaign rally in Miami, Florida

Reuters

13/15

Supporters cheer as Republican 2016 US presidential candidate Florida Senator Marco Rubio addresses the crowd during a Super Tuesday primary election night rally at Tropical Park in Miami, Florida

EPA

14/15

Democratic presidential candidate former Secretary of State Hillary Clinton speaks during her Super Tuesday evening gathering Stage One Ice Studios in Miami, Florida

Getty Images

15/15

Supporters of Democratic U.S. presidential candidate Hillary Clinton, who came to her rally in costume as Republican presidential candidate Donald Trump (L) and as Mrs. Clinton (R), attend her Super Tuesday night party in Miami, Florida

Reuters
And few of those who had turned out to see him on the basketball court of a recreation centre were ready to give up on their local man either. "I think he still has a chance," insisted Rolando Vallavares, 35, a property manager in West Miami, dismissing those who have suggested Mr Rubio erred by allowing himself to get drawn into trading insults with Mr Trump on the trail."
"I believe he had to do that for a second there, otherwise he would have gotten 'trumpled'," he said, deliberately garbling the developer's name. But Israel Rodriquez, an air conditioning salesman who lives close to Mr Rubio's home, admitted he thought Mr Rubio had stooped too low to Mr Trump's taunts.  "He got a little too dirty for my side," he said.
Elected in 2010 to the US Senate on a wave of Tea Party fervour in Florida, Mr Rubio soon emerged as a politician with still greater ambitions. He suffered damage with the conservative base of the Republican Party, however, by joining an attempt in 2012 to pass immigration reform.  He backed away from the plan when its toxicity became apparent, but too late.
Reuse content