In an increasingly desperate attempt to halt Donald Trump's attempt to secure the Republican nomination, Marco Rubio has told his supporters in Ohio they should make a tactical decision and vote for the state's governor, John Kasich. Mr Rubio's campaign also urged Mr Kasich's supporters in Florida to likewise vote for him.
In a development that underscored the extent to which Mr Rubio has his back against the wall ahead of next week's five primary races that could doom the Florida senator's chances, he admitted that Mr Kasich had a better chance of beating Mr Trump in Ohio than he did.
"If a voter in Ohio is motivated by stopping Donald Trump and comes to the conclusion that John Kasich is the only one that can beat him there, then I expect that's the decision they'll make," he said at a press conference in West Palm Beach, according to the Associated Press. "I never talked to John Kasich about this."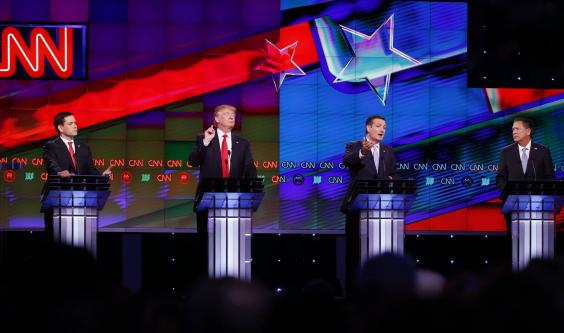 Both Mr Rubio and Mr Kasich are under intense pressure from those opposed to Donald Trump to withdraw from the race to give Texas senator Ted Cruz a clear run at beating him.
Mr Rubio is fighting desperately to keep his presidential hopes alive ahead of next week's primaries in which the five states award their delegates on a winner-takes-all basis. 
He knows that to have any hope of continuing, he must win his home state. But an average of polls collated by Real Clear Politics puts Mr Trump on 40 points, Mr Rubio on 25, Mr Cruz on 25 and Mr Kasich on 9 points.
The Ohio governor also understands he needs to win his home state if he is to continue to make an argument for staying in the race. An average of polls there puts Mr Trump just two points ahead of Mr Kasich, with Mr Cruz on 16 and Mr Rubio a distant fourth on 7 points.
Earlier in the day, Mr Rubio's communications director, Alex Conant, had spelled out for the logic for tactical voting. 
"John Kasich is the one candidate in Ohio that can beat Donald Trump," Mr Conant said on CNN. 
"That's stating the obvious. So if you're a Republican primary voter in Ohio and you don't want Donald Trump to be the nominee, John Kasich is your best bet."
He also emphasised that Republican voters in Florida who do not want Trump to be the nominee need to vote for Mr Rubio. "If you want to defeat Mr Donald Trump here in Florida, where there's 99 delegates at stake, you need to vote for Marco Rubio," he said. "He's the only one with a mathematical shot."
Mr Cruz, speaking in Orlando on Friday, dismissed the strategy, and laughed when asked about it.
"It's the Washington establishment's last gasp: 'Let's divide things up. Let's play games'," he told Fox News. "It's real, real simple. How do you beat Donald Trump? You beat him."