A media furore around Donald Trump in the run-up to the Iowa caucus had hugely overshadowed coverage of candidates who have now beaten or come close behind him in the actual vote.
Yet in third place - with what many suggest was the "big win" of the night - was Marco Rubio who, with a tiny fraction of the media hype, was only one percentage point behind Mr Trump on 23 per cent.
Ted Cruz, meanwhile, came first among Republican candidates with 28 per cent, in what is often seen as the "first test" of the desirability of Democrat and Republican presidential candidates among middle-American voters.
Yet while the names Jeb Bush, Ted Cruz, Donald Trump and Rand Paul have been familiar with many of those reading outside the US, Mr Rubio has not always.
Here are five things you need to know about the GOP candidate many news commentators are now claiming is "one to watch":
1. What is his background?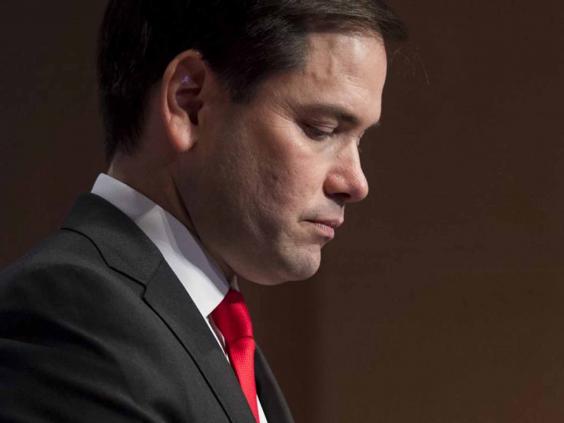 Mr Rubio is the son of Cubans who immigrated to the United States in 1956. He was brought up in Florida and studied political science at the University of Florida, before continuing at the University of Miami School of Law.
On his Senator biography, Mr Rubio had once claimed his parents arrived in the US "following Fidel Castro's takeover" and as such were exiles from a communist regime.
Yet the Washington Post argued five years ago that this claim, which the paper said made him popular with voters, was an "embellishment" since his parents arrived before Fidel Castro came to power and returned to the country to visit.
Mr Rubio called the accusation of embellishment for political purposes "outrageous."
2. How did he become a Republican presidential candidate?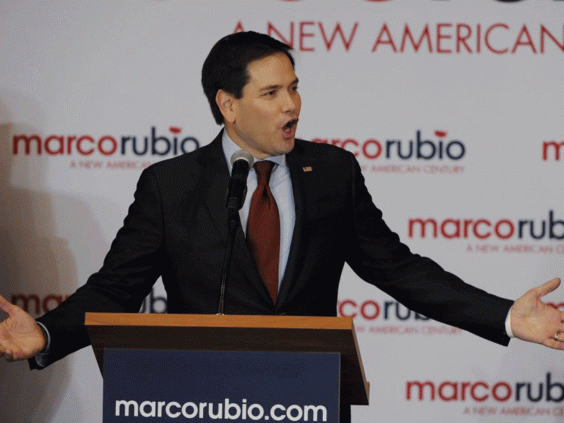 At 26 years old, the recently graduated Mr Rubio was elected to a seat as city commissioner for West Miami, before moving on in early 2000 to the Florida House of Representatives, where he was seen as a centrist Republican.
He was designated Speaker of the Florida House in September 2005, aged 34. In his speech, he said Republicans should not to "simply win elections" but should further the cause of those who in poverty.
However, Democrats said that in his three years as speaker, Mr Rubio was a "severe conservative, really far to the right", but that it was possible to work with him as he was not hostile.
He then started his own law firm and taught as a professor at Florida International University in 2008, before annoucing in 2009 that he planned to run for the United States Senate seat, which he won in 2010 with 49 per cent of the vote.
After endorsing Mitt Romney in the 2012 presidential election, the Romney campaign selected Mr Rubio as vice president. The campaign was unsuccessful.
In April 2015, Mr Rubio announced he would run for president in 2016, and did not run again for his Senate seat.
3. How is he different from the other Republican candidates?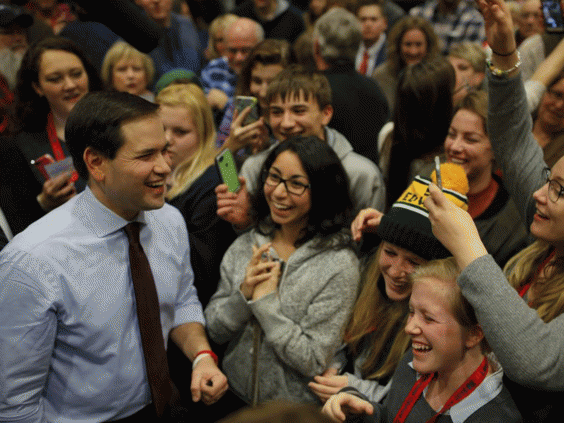 Mr Rubio claims he will prioritise military spending more than Mr Cruz, who voted for a budget on it, and is seen as more interventionist than his rival.
He has said: "When I'm president, we're going to rebuild the military, because I believe the world is a safer and a better place when America is the strongest military in the world."
And he wants to restore the NSA's bulk collection of phone records, while Mr Cruz wants to end it.
In a clear swipe at Donald Trump's polarising rhetoric, Mr Rubio has also said he can unite Republicans: "I'm not just the best chance to win, I'm the best chance to grow the conservative movement. We have to be united."
On the one hand, he advocates for the poor: "We've got to take our message to young Americans who are struggling under student loan debt, to single moms who are basically living pay cheque to pay cheque [...]".
On the other, he has responded to suggestions he has been "unclear" on undocumented immigration by saying he would offer "no amnesty".
"We'll add 20,000 border agents and finish all 700 miles of border wall," he has said.
"And if we aren't 100 per cent sure who you are and why you're coming to America, you're not getting in."