As Donald Trump barrels towards the Republican presidential nomination, the other billionaires who would usually help to shape the race are said to be sitting it out.
Mr Trump chalked up his third clear and consecutive primary victory on Tuesday at the Nevada caucuses, where among the voters was Las Vegas casino mogul and erstwhile Republican mega-donor Sheldon Adelson. Mr Adelson, worth an estimated $20bn (£14bn), cast his ballot at Bonanza High School, a few miles from the Vegas Strip, but declined to reveal who he had voted for.
The 82-year-old owner of the Venetian resort is believed to favour Florida Senator Marco Rubio, who came a distant second in Nevada, but though he spent some $100m on the 2012 election, this year Mr Adelson reportedly plans to keep his wallet closed until the GOP chooses a nominee.
He is not alone. Despite their distaste for The Donald, the Republican party's elite donors have so far failed to fund any significant effort to thwart his candidacy, apparently fearful that such attacks would fail or reinforce Mr Trump's populist campaign, by playing into its portrayal of the pugnacious businessman as anti-establishment.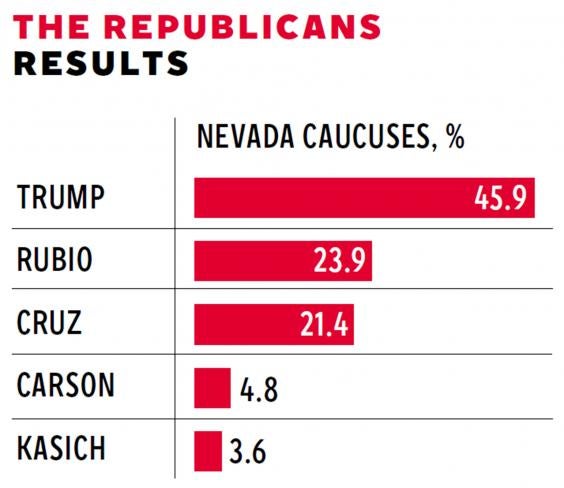 The donor network led by billionaire industrialists Charles and David Koch accumulated a war chest of close to $900m to fight the 2016 campaign but, according to a report by Politico, the Kochs recently backed away from a mooted plan to attack Mr Trump. Veteran GOP campaigner Karl Rove's Super PAC, American Crossroads, has concentrated its fire on the Democrats race.
Mr Trump's Nevada victory party at the Strip's Treasure Island casino was hosted by the venue's owner, Phillip Ruffin, who also co-owns (with Mr Trump) the nearby Trump International Hotel. In his speech, Mr Trump claimed Mr Ruffin had offered to fund his candidacy. "Phil said, 'Donald, I want to put $10m into your campaign.' I said, 'Phil, I don't want your money, I'm self-funding.'"
The absence of major donors is just one way in which this nomination race has slid out of the Republican party's control. Previous primary contests have tended to winnow to a mainstream candidate and a dyed-in-the-wool conservative. But Mr Trump's message has proved appealing to a broader group: the angry and disaffected.
In Nevada, Mr Trump won 46 per cent of the vote, more than the mainstream Mr Rubio and conservative Ted Cruz combined. The result comes a week before Super Tuesday, 1 March, when he is expected to claim several states and edge ever closer to the nomination. In his victory speech, he pointed to his promising poll numbers in his closest rivals' home states of Florida and Texas.
Nevada's mixed electorate gave the candidates their first opportunity to reach out to the Latino voters considered crucial to the Republicans regaining the White House. Mr Rubio's parents and Mr Cruz's father are Cuban, yet Mr Trump won with Latinos, as he did with almost every other group. "No 1 with Hispanics," he said. "I'm really happy about that."
Filipino-born Rolando Dondon, 66, one of the few non-white voters queuing at Bonanza high school, said Mr Trump was the "strong male role model" the US needed. "I want America to remain a leader in the world," he said. At Ed W Clark high school, another caucus site, Bill Tarbell, who is running to represent Nevada as a Republican in the US Senate, said he too was backing Mr Trump. The major candidates' platforms were similar, he said, "But when I talk to people all over the state they say pretty much the same thing: strength. Trump has the gonads."
Reuse content