The Republican debate in Houston teetered close to bar-room-brawl territory on Thursday night as Donald Trump, the frontrunner for the nomination, suffered serial punches from his rivals, who attempted to embarrass him variously on his past hiring of illegal aliens, his made-in-China ties and even his inherited millions.
Senator Marco Rubio got closest to getting under the billionaire's skin on that and other issues, portraying him as a hypocrite for promising to eject illegal immigrants from the United States when he has on his record hiring illegal workers to build Trump Tower in Manhattan and foreign workers in his resorts in Florida.
There was an awkward exchange on the lack of transparency regarding Mr Trump's wealth and his failure so far fully to disclose his tax filings, an omission he attributed to an ongoing and "routine, very routine" audit by the tax authorities, saying that precluded releasing them.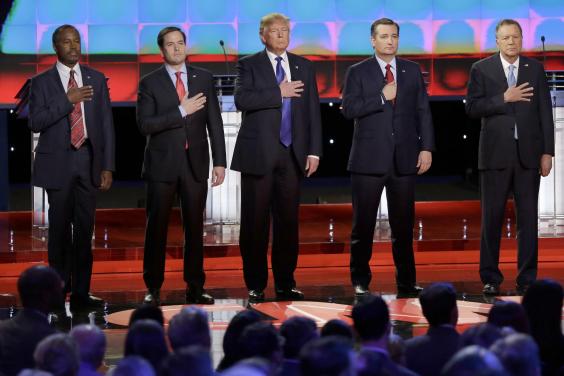 On the issue of who he has employed or not employed, a scowling Mr Trump shot straight back that neither Mr Rubio nor Senator Ted Cruz of Texas had ever hired "anyone in their lives".  Mr Rubio, who like Mr Cruz has struggled to break out of Mr Trump's considerable wake in this race, became even more personal by attempting to question how got he got started in business in the first place.
"If he hadn't inherited $200 million, you know where Donald Trump would be right now? Selling watches in Manhattan," Mr Rubio barked, before also raising lawsuits filed by former students of the now defunct Trump University, alleging they had paid fees of $36,000 for phony degrees. 
"You know what they got? They got to take a picture of a cardboard cut-out of Donald Trump," he said.
Donald Trump's most controversial quotes
Donald Trump's most controversial quotes
1/14 On Isis:

"Some of the candidates, they went in and didn't know the air conditioner didn't work and sweated like dogs, and they didn't know the room was too big because they didn't have anybody there. How are they going to beat ISIS?"

Getty

2/14 On immigration:

"I will build a great wall — and nobody builds walls better than me, believe me —and I'll build them very inexpensively. I will build a great, great wall on our southern border, and I will make Mexico pay for that wall. Mark my words."

Reuters

3/14 On Free Trade:

"Free trade is terrible. Free trade can be wonderful if you have smart people. But we have stupid people."

PAUL J. RICHARDS | AFP | Getty Images

4/14 On Mexicans:

"When Mexico sends its people, they're not sending their best. They're sending people that have lots of problems. They're bringing drugs. They're bringing crime. They're rapists."

Getty

5/14 On China:

"I just sold an apartment for $15 million to somebody from China. Am I supposed to dislike them?... I love China. The biggest bank in the world is from China. You know where their United States headquarters is located? In this building, in Trump Tower."

Getty Images

6/14 On work:

"If you're interested in 'balancing' work and pleasure, stop trying to balance them. Instead make your work more pleasurable."

AP

7/14 On success:

"What separates the winners from the losers is how a person reacts to each new twist of fate."

8/14 On life:

"Everything in life is luck."

AFP

9/14 On ambition:

"You have to think anyway, so why not think big?"

Getty Images

10/14 On his opponents:

"Bush is totally in favour of Common Core. I don't see how he can possibly get the nomination. He's weak on immigration. He's in favour of Common Core. How the hell can you vote for this guy? You just can't do it."

Reuters

11/14 On Obamacare:

"You have to be hit by a tractor, literally, a tractor, to use it, because the deductibles are so high. It's virtually useless. And remember the $5 billion web site?... I have so many web sites, I have them all over the place. I hire people, they do a web site. It costs me $3."

Getty Images

12/14 On Barack Obama:

"Obama is going to be out playing golf. He might be on one of my courses. I would invite him. I have the best courses in the world. I have one right next to the White House."

PA

13/14 On himself:

"Love him or hate him, Trump is a man who is certain about what he wants and sets out to get it, no holds barred. Women find his power almost as much of a turn-on as his money."

Getty Images

14/14 On America:

"The American Dream is dead. But if I get elected president I will bring it back bigger and better and stronger than ever before and we will make America great again."

GETTY
Put on the defensive by his rivals reminding voters of his past employment violations, Mr Trump said they happened 38 years ago. "I guess there is statute of limitations on lies," Mr Rubio attempted. 
A dignified debate it was not. "Can somebody attack me please?" Dr Ben Carson pleaded towards the end of the debate, realising that without it he was never going to get another word in.
"Donald relax," Mr Cruz said after a particularly raucous and chaotic series of overlapping squawking.  "I am relaxed," Mr Trump averred.  "You are the basket case."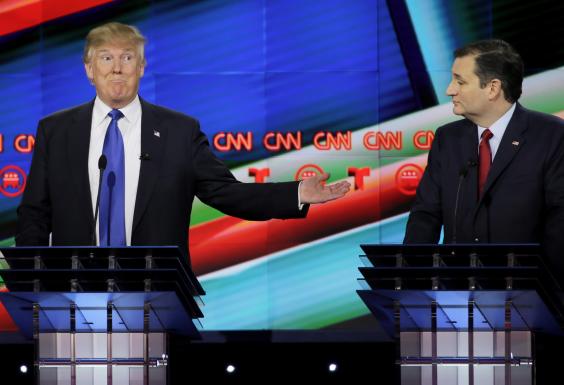 Mr Cruz, whose need to slow the Trump train is as urgent as anyone's, particularly with his home state of Texas voting on Super Tuesday next week, also took up the issue the illegal worker.  "Anybody who really cared about illegal immigration, wouldn't be hiring illegal immigrants," Senator Cruz said.
Halting Mr Trump is an uncertain science and next Tuesday will offer the first evidence of whether last night's relentless fusillade wounded or helped him.  He got the chance early to highlight one of the top-billing issues of his campaign, building a wall along the border with Mexico and making Mexico pay for it.
Asked about the recent use of an expletive by Former President Vicente Fox about the notion of Mexico funding the wall, Mr Trump took direct aim back, rather as he did with Pope Francis two weeks ago when he questioned the billionaire's Christianity. "This guy," he said of Mr Fox, "used a filthy, disgusting word on television and he should be ashamed of himself and apologise."
Viewers of the debate, hosted by CNN, at one moment saw cut-away shots of President George HW Bush, the 41st President in the audience, and at another saw Messrs Rubio and Trump talking over each other like warring spouses. Mr Rubio, who was embarrassed after repeating himself robotically in a New Hampshire debate, attempted to turn that fail around on the Houston stage by accusing Mr Trump of repeating himself on healthcare reform.  "Now he is repeating himself," he charged.
"No, no, no.  I don't repeat myself," Mr Trump objected. "He is the guy who repeats himself every day," adding that in New Hampshire he had repeated a line on President Barack Obama's record five times. 
"I saw you repeat yourself five times five seconds ago," Mr Rubio leapt in with lightning speed. And so it went.
In rolling attacks on the billionaire, Senators Rubio and Cruz joined forces to challenge him on the details of his plan to replace Obamacare, or the lack of them. "What is your plan on healthcare, what is your plan?  You don't have a plan," Mr Rubio pushed.  After he was pressed on whether or not he had praised the government-funded systems in Britain and Canada, Mr Trump insisted he would retain a system of private insurance but added; "I will not allow let people to die on the streets of this country if I am president."
Mr Trump attempted a slap-down of Senator Cruz noting he had not had been endorsed by single of his Senate colleagues. 
"I get along with everybody, you don't get along with anybody," the property developer said. "You don't have the backing of one Republican Senator...you should be ashamed of yourself."
And he rejected a claim by Senator Cruz that polls show him more likely to defeat Hillary Clinton in November, noting that he, Mr Trump, had easily beaten him in the three last nominating contests.  "If I can't beat Hillary Clinton, you're really going to get killed."
Reuse content