Of all the bold letter names who have flooded to the circus that is the presidential campaign of Donald Trump, few received more attention than Sarah Palin.
The former Alaska governor and 2008 vice presidential candidate, announced last month she was endorsing Mr Trump at a rally in Iowa where she claimed he would be a president who would permit America's "warriors kick Isis's ass".
On Monday morning, hours before the vote took place, Ms Palin remained confident, telling NBC: "You compare him to someone like Ronald Reagan, who...at one point, he was a registered Democrat even, and then he saw the light.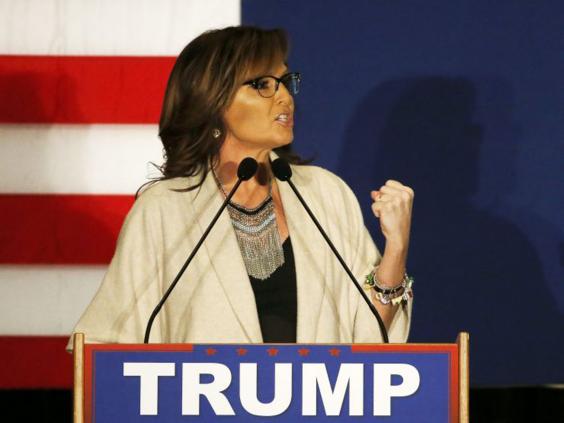 She added: "I am so glad that Donald Trump is on our side when it comes to the political spectrum. We should celebrate that he has come over on the right side."
Yet on Tuesday morning, Ms Palin appeared less willing to share her thoughts. As she waited at Des Moines airport to catch a flight back to Alaska, two police officer prevented The Independent from seeking her reaction to Mr Trump's being beaten to second-place.
Dirty Politics: Witnessing Firsthand It's Always Heartbreaking, Never Surprising

Thank heavens Donald Trump... https://t.co/JtdJztde5e

— Sarah Palin (@SarahPalinUSA) February 3, 2016
When it was suggested that it was not the job of the police to prevent stop the media from working, one officer responded: "Please respect her privacy."
As it was, some reporters had more luck. Yahoo News said that Ms Palin, waiting with her daughter, Willow, said she believed Mr Trump would win in New Hampshire and that he ought to have shown more of his conservative side in Iowa.
Ms Palin, who endorsed Mr Trump rather than Texas senator Ted Cruz, then finished with a joke about how they were flying back via Minneapolis. "Our arms get super tired," she said. "But I'm really strong."
Reuse content