Hillary Clinton claimed a massive, crushing victory in the Democratic primary in South Carolina - giving her a electrifying wave of momentum ahead of the crucial battles of Super Tuesday.
After spending weeks campaigning in the state, she won a remarkable 73.5 per cent of the vote, compared to just 26 per cent for her rival Bernie Sanders. Her margin of victory was bigger even than that Barack Obama enjoyed over Ms Clinton herself in 2008.
"Thank you. Thank you so much South Carolina," she said to cheers at a victory rally in the city of Columbia. "You sent a message to America that when we stand together there is no barrier too big to bring down."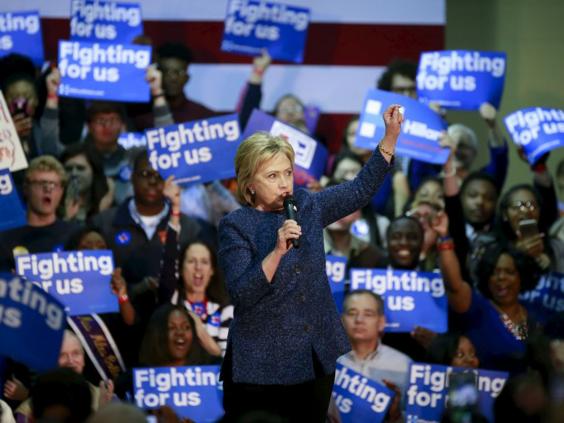 In her speech she leveled her focus firmly on the Republican frontrunner, Donald Trump, whose campaign has been marked with aggressive and often coarse comments about his rivals, in both the Republican party and the Democratic party.
"Despite what you may hear, we don't need to make America great again," she said, referring to Mr Trump slogan. "But we do need to make America whole again."
Ahead of Super Tuesday, Ms Clinton can now brag - as can Mr Trump - to having won three of the first four primary states.
Mr Sanders had not expected to do well in South Carolina, despite making a considerable efforts in the state, spending more than $2m on advertising and securing the director Spike Lee to narrate one of the adverts. He spent the day campaigning in Texas and Minnesota and had telephoned Ms Clinton to offer his congratulations even before he got on a plane.
But nobody in his campaign expected that he would be on the wrong side of such a landslide. The challenge for Mr Sanders now will be to quickly show he remains relevant to the race and can still realistically challenge the former secretary of state. 
Mr Sanders made clear that he had no plan to terminate his campaign. "Let me be clear on one thing tonight. This campaign is just beginning," he said. "We won a decisive victory in New Hampshire. She won a decisive victory in South Carolina. Now it's on to Super Tuesday."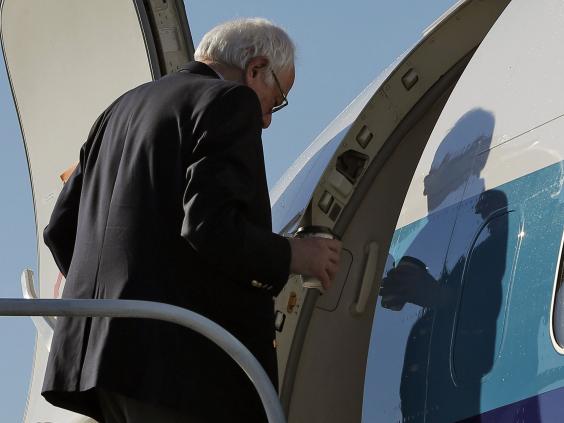 The contest in South Carolina was the final showdown before Super Tuesday, when a total of 14 US states and territories go the polls and more than 800 delegates are up for grabs.
Exit polls in South Carolina indicated that 70 per cent of voters said they wanted to continue the policies of Barack Obama, who won by a large margin here in 2008. Almost 50 per cent described themselves as conservative, much more so than in states such as New Hampshire and Iowa.
Many black voters had been angered in 2008 by Ms Clinton, and her husband Bill Clinton, by what was seen as a graceless response to Mr Obama's win. But Ms worked hard to mend those issues and project herself as the natural successor to Mr Obama. Black women made up the largest single voting bloc on Saturday, and Ms Clinton stressed issues such as healthcare, education the economy.
She also spoke out on strongly on issues that have been raised by the Black Lives Matter movement, and talked of her belief in the need for racial justice and gun control.
One of several major endorsements she won was from black mothers who lost to their sons to violence, some at the hands of the police, others to strangers. In her speech, on Saturday night, Mrs Clinton named and thanked those women, the mothers of Trayvon Martin, Sandra Bland, Dontre Hamilton, Jordan Davis, and Eric Garner.
She also referred to the shooting at Charleston's Emanuel African Methodist Episcopal Church, where nine black people were killed last June when a young white man with a gun attacked a bible study group. Dylan Roof, a 21-year-old alleged white supremacist, has been charged with nine counts of murder. Exit polls suggest Ms Clinton won as much as 84 per cent of the black vote.
"One of the church members said 'look at the all the violence' and asked how are we going to strengthen the bonds of the community," she said. "We're going to with love and respect for one another."
She added: "Instead of building walls, we need to be pulling down barriers."
Mr Sanders made a genuine, committed attempt at reaching out to black voters. He has hired a black speechwriter to help channel his message, secured the support of celebrities such as Danny Glover and Killer Mike and received the endorsement of senior black figures such as Ben Jealous, the former head of the NAACP.
Yet, black voters in South Carolina repeatedly said that while they liked Mr Sanders, they knew little about him, unlike Ms Clinton. They also stressed her considerable experience and said she would deliver for them.
On Saturday afternoon, Kimberly Scott, 30, was heading out of a polling booth at Burke High School in Charleston, having just cast her vote for Ms Clinton.
Ms Scott, who was black, said she remembered the days of Mr Clinton's presidency when the economy was strong. She liked Mr Sanders but believed that Ms Clinton could deliver. "Bernie Sanders is good on some things, but he does not touch everything that she does," she told The Independent.
Exit polls collated by CNN showed that when it came to the issues, 43 per cent of voters in South Carolina said the economy was the most important challenge for the country, 22 per cent named healthcare and 21 said income inequality. 
Around of those who voted said they were "very worried" about the state of the economy, compared to just 29 per cent of those who voted in the primary contest in New Hampshire earlier this month.
Reuse content