The upstart campaign of socialist Senator Bernie Sanders is not going away, but Hillary Clinton has taken several strides closer to the Democratic presidential nomination, after securing seven of the 11 states to vote in the party's Super Tuesday primary contests.
While the victories were not sufficient to deliver a knockout blow to Mr Sanders, who has vowed to remain in the race following his wins in Vermont, Colorado, Minnesota and Oklahoma, Ms Clinton's lead among Democrat delegates appears increasingly unassailable.  However, Mr Sanders' fundraising prowess means he may be able to stay in the race long after his chances of winning the nomination fade. Earlier this week his campaign said it had raised more than $42m (£30m) in February. In comparison, Ms Clinton's team announced that her campaign had raised $30m last month.
Speaking on 2 March in Miami, where she had been campaigning ahead of the Florida primary on 15 March, Ms Clinton set her sights on Donald Trump. "We know we've got work to do," she said. "It's not to make America great again – America never stopped being great. We need to make America whole again."
Mr Sanders won his home state of Vermont with 86 per cent of the vote, but proved unable to mount a serious challenge further south. In Virginia, Alabama, Arkansas, Georgia and Tennessee, substantial black populations voted overwhelmingly for Ms Clinton. African-Americans make up almost a quarter of Democratic voters. Ms Clinton also won in Texas, which, with more than 250 delegates in play, was Super Tuesday's biggest prize. There, she won almost twice as many Hispanic votes as Mr Sanders. She also scraped a slim, symbolic win in Massachusetts, a largely white state next-door to her rival's Vermont base, proving her capacity to attract a broad coalition of support.
Speaking to supporters at his campaign headquarters in Essex Junction, Vermont, Mr Sanders insisted: "Our message is resonating, and the people, when we stand together, will be victorious." Repeating his call for a "political revolution", he went on:  "I know that Secretary Clinton and many of the establishment people think that I am looking and thinking too big. I don't think so."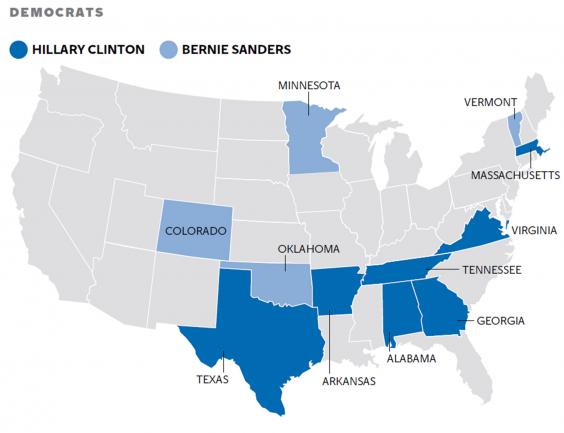 In spite of his confident rhetoric, Mr Sanders' path to the nomination has narrowed. In a race based on hoovering up delegates, his wins were mostly in minor states, claimed by modest margins. The night's most delegate-rich trophies – Texas, Massachusetts, Virginia, Georgia – all fell to Ms Clinton, who has now established a bigger lead than Barack Obama had over her at the same point in 2008.
Mr Sanders could sew up three more states this weekend, with the caucuses in Kansas, Nebraska and Maine all thought to favour his candidacy. But the trend towards Ms Clinton looks set to continue with upcoming contests in two more Deep South states, Louisiana and Mississippi. Ms Clinton is forecasted to win in Michigan on 8 March – and again a week later, when Democrats in five major states including Florida, Ohio and Illinois go to the polls.
In a memo sent out on 2 March, Ms Clinton's campaign manager Robby Mook wrote: "With a pledged delegate lead of more than 180 and momentum on our side, we anticipate building on this lead even further, making it increasingly difficult and eventually mathematically impossible for Senator Sanders to catch up."
Reuse content