Hillary Clinton hopes the challenge of her rival for the Democratic Party nomination, Bernie Sanders, may finally be about to burn out. She is expected to gain a big win in the Michigan primary on Tueday and press home her advantage a week later in the swing states of Ohio and Florida.
While Mr Sanders, 74, celebrated victories at the weekend in three small states – Kansas, Maine and Nebraska – he still cannot escape the reality that he is already lagging dangerously behind Ms Clinton in delegate numbers, a deficit that will become increasingly difficult to make up.
Anger seemed to flicker on the Vermont Senator's face on a debate stage with Ms Clinton in Flint, Michigan, on Sunday night, where the two of them clashed over a wide range of issues, from Ms Clinton's past enthusiasm for free trade deals to Mr Sander's opposition to the 2009 car industry bailout.
While not quite at the level of the most recent Republican debates, which saw more trading in personal insults than in policy prescriptions, it was the testiest of the Democrat debates so far.
"Let's have some facts instead of some rhetoric for a change," Ms Clinton snapped at Mr Sanders at one point, after suggesting that his is a one-note campaign focused only on Wall Street and income equality. He repeatedly tried to paint Ms Clinton as being beholden to the big banks and corporate America.
"Let me tell my story, you tell yours," Mr Sanders said at another moment. "Your story is voting for every disastrous trade amendment and voting for corporate America."
In pictures: US Elections 2016
In pictures: US Elections 2016
1/15

Democratic U.S. presidential candidate Bernie Sanders speaks to supporters after rival candidate Hillary Clinton was projected as the winner in the Nevada Democratic caucuses

Reuters

2/15

Democratic presidential candidate Hillary Clinton takes photos with workers at her campaign office in Des Moines, Iowa

AP

3/15

Republican presidential candidate Mike Huckabee, second from left, prays before lunch with supporters at Drake Diner in Des Moines, Iowa

Reuters

4/15

Democratic presidential candidate and former Maryland Governor. Martin O'Malley, speaks during a campaign stop in Waterloo, Iowa

AP

5/15

Democratic presidential candidate Bernie Sanders speaks, as his wife Jane O'Meara Sanders looks on, at a campaign event at Iowa State University

Getty

6/15

Republican presidential candidate Marco Rubio speaks at St. Ambrose University in Davenport, Iowa

Reuters

7/15

Republican presidential candidate Ben Carson speaks at a campaign event at Fireside Pub and Steak House in Manchester, Iowa.

Getty

8/15

Republican presidential candidate Rick Santorum visiting supporters at a house party in West Des Moines, Iowa

Reuters

9/15

Republican presidential candidate Donald Trump at a campaign event in Cedar Rapids, Iowa

AP

10/15

Republican candidate Ted Cruz campaigns at Greene County Community Centre in Jefferson, Iowa

AP

11/15

Senator Rand Paul speaks during a Caucus rally at his Des Moines headquarters in Iowa

Getty

12/15

Republican candidate Jeb Bush speaks at a campaign event in Des Moines, Iowa

AFP

13/15

Former Alaska Governor Sarah Palin introducing the arrival of Donald Trump during a campaign rally in Cedar Rapids, Iowa

Reuters

14/15

A portrait of Democratic candidate Bernie Sanders at his campaign headquarters in Des Moines, Iowa

Getty

15/15

Campaign badges on sale ahead of a Trump rally at the Ramada Waterloo Hotel and Convention Centre in Waterloo, Iowa

Getty
Ms Clinton was most dangerous when she reminded viewers that Mr Sanders voted against the $23.4bn bailout of the car-making industry, which is concentrated in Michigan, especially near Detroit. "I went with them. You did not," she said. "If everybody had voted the way he did, I believe the auto industry would have collapsed, taking four million jobs with it."
Mr Sanders countered that he did not vote for what became auto bailout because it was part of a larger bail-out for the banks on Wall Street which he was unable to countenance. "You know what I said? I said let the billionaires themselves bail out Wall Street. It shouldn't be the middle class of this country."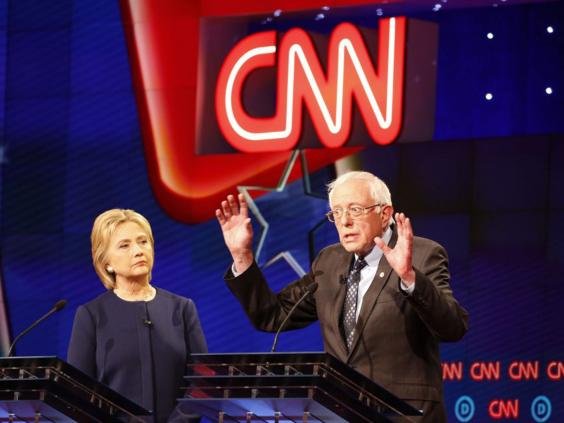 Still well-funded thanks to its success raising cash in small donations, the Sanders campaign insists that it will continue fighting all the way to the Party convention in Philadelphia in July.  However, a big win by Ms Clinton in Michigan today – a CBS poll indicated an 11-point lead – would reinforce her position as the front-runner, a status she recaptured with her lopsided victory in South Carolina two weeks ago. 
All the coming primary states – Michigan, Ohio and Florida – have significant numbers of African-American voters who have proven to be Ms Clinton's firewall against the Sanders insurgency. 
Ms Clinton now has at least 1,130 delegates to Mr Sanders' 499. Those tallies take the so-called 'super delegates' into account – members of Congress, governors and party officials and so on – who have overwhelmingly sided with the former first lady. It takes 2,383 to win the nomination.
The theme of Wall Street and its part in triggering the recession was taken up by President Barack Obama yesterday when he defended his record of introducing regulations to rein the big banks in.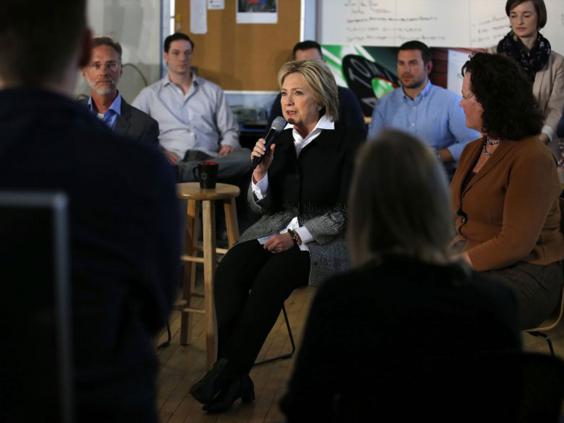 "I want to emphasise this because it is popular in the media and the political discourse, both on the left and the right, to suggest that the crisis happened and nothing happened. That is not true," Mr Obama told reporters.
At a rally in Kalamazoo, Michigan, Mr Sanders also continued to accuse Ms Clinton of supporting free trade agreements that he says have robbed America of jobs. "She has supported virtually every one of these disastrous trade agreements that have wreaked havoc" on the US economy, he said. 
The issue was also one of the flashpoints on the debate stage on Sunday.  Mr Sanders was sarcastic in his assessment of Ms Clinton's recent shift in expressing doubts about a new 12-country Pacific trade deal negotiated recently by Mr Obama. "Secretary Clinton has discovered religion on this issue, but it's a little bit too late," he said. 
There was one thing, however, they could agree on: a mutual distaste for the antics of the Republican frontrunner Donald Trump. "I think Donald Trump's bigotry, his bullying, his bluster, are not going to wear well on the American people," Ms Clinton said. "We have to end the divisiveness."
Mr Sanders said he would "love" to run against Mr Trump and noted many polls showed him faring better against him than Ms Clinton. That will be easier said than done if Ms Clinton wins in Michigan, Ohio and Florida.
Reuse content