Amid continuing protests and violence at his campaign events, GOP presidential front runner Donald Trump plans to host a meeting of top Republicans on Monday to encourage the party to coalesce around his candidacy.
The closed-door conclave marks the first time the billionaire property developer has met with members of the GOP establishment in Washington DC since autumn 2015, when few believed he was likely to become the party's presidential nominee.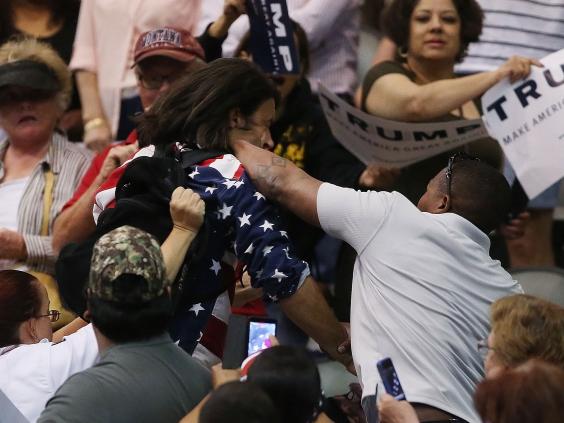 Those invited include members of the Senate and the House of Representatives, as well as other influential figures – many of whom have not endorsed Mr Trump. The meeting is intended to foster "party unity", The Washington Post reported.
So far Mr Trump has the backing of one US Senator, Arizona Republican and immigration hardliner Jeff Sessions, and a handful of House Republicans. He has also been endorsed by New Jersey Governor Chris Christie and the governors of Florida and Maine.
Yet the meeting comes days after another group of conservatives, the "Never Trump" group, huddled in Washington, hoping to halt his rise. 
People who will flee America if Donald Trump wins
People who will flee America if Donald Trump wins
1/8 Miley Cyrus

'God' he thinks he is the f***ing chosen one or some shit! … Honestly f*** this sh*t I am moving if this is my president! I don't say things I don't mean!'

Jemal Countess/Getty Images

2/8 Whoopi Goldberg

'I don't think that's America. I don't want it to be America. Maybe it's time for me to move you know'

3/8 Samuel L. Jackson

'If that mother**er becomes president, I'm moving my black ass to South Africa'

4/8 Raven Symone

'My confession for this election is, if any Republican gets nominated, I'm gonna move to Canada with my entire family. Is that bad? I already have my ticket. I literally bought my ticket, I swear'

5/8 Cher

'If he were to be elected, I'm moving to Jupiter'

6/8 Neve Campbell

'I'm terrified. It's really scary. My biggest fear is that Trump will triumph. I cannot believe that he is still in the game ... [I'll] move back to Canada'

7/8 Jon Stewart

'I would consider getting in a rocket and going to another planet, because clearly this planet's gone bonkers'

8/8 Randy Blythe

'He could just be a clown. If he is the president, though, I am leaving America 'till he's gone'
Beyond the Beltway, public opposition to Mr Trump continues to swell. On Saturday, protesters blocked traffic approaching a rally near Phoenix, Arizona, forcing some Trump supporters to walk several miles to the event.
Meanwhile, a crowd of hundreds of immigrant-rights activists and anti-fascists converged on Trump Tower in New York. Later on Saturday, at a Trump rally in Tucson, a 32-year-old man was arrested after he assaulted a protester who was being led from the venue with a friend wearing a Ku Klux Klan hood. Footage shows the assailant punching and kicking the protester.
At the same rally, Mr Trump's campaign manager Corey Lewandowski and an unidentified man were caught on camera arguing with a young demonstrator. Mr Lewandowski can be seen reaching for collar of the protester, who is subsequently yanked backwards.
The Trump campaign claimed it was the unnamed man to Mr Lewandowski's left who had tugged at the protester's shirt, but Mr Lewandowski is already under scrutiny after being accused of grabbing a reporter by the arm at another event a week ago.
Mr Trump praised his campaign manager for his "spirit". The billionaire, who has been accused of inciting violence at his rallies, placed the blame for the incidents squarely on the protesters.
Monday's meeting in Washington comes before Mr Trump's speech later in the day to a conference hosted by the pro-Israel group the American Israel Public Affairs Committee. Mr Trump has angered some pro-Israeli power brokers by saying he would be "neutral" in the Israeli-Palestinian conflict. But he told ABC: "There's nobody more pro-Israel than I am." All other candidates intend to speak at the conference, except for Democratic hopeful Bernie Sanders, who said he was too busy. 
Republican primary voters go to the polls on Monday in Arizona and Utah. Mr Trump is more than 10 points ahead in Arizona, a winner-takes-all state with 58 delegates up for grabs. His closest challenger, Ted Cruz, is likely to triumph in neighbouring Utah, according to a poll this weekend.