The presidential race is heading to Arizona and Utah this week, but many Republicans are already looking further ahead – and further west – to California. The most populous state in the US is home to 172 GOP delegates, but in recent elections the battle for the nomination has been sewn up long before it reached the Pacific coast.
This year, however, with the party establishment scrambling to deny Donald Trump the majority of 1,237 delegates he needs to secure the nomination before the party's convention in July, California could be a final bulwark against Trump tide. The Golden State goes to the polls with New Jersey and four other smaller states on 7 June, the final day of the GOP primary season.
California has voted for the Democrat at the last six presidential elections, but this deep blue state still has more than enough Republican voters to make a decisive impact on the party's nomination. Mitt Romney won more votes in California in 2012 than he did in Texas. Recent polls of the state's Republican voters give Mr Trump a modest lead over his remaining competitors, Texas Senator Ted Cruz and Ohio Governor John Kasich.
His closest rival, the ultra-conservative Mr Cruz, plans to mount a last-ditch challenge to The Donald, and has already amassed a formidable network of volunteers across the state. In a blog post, Ron Nehring, the California chairman for the Cruz campaign, insisted: "I haven't spoken to a single moderate Republican who actually prefers Donald Trump over Ted Cruz."
This Tuesday's biggest prize is Arizona, a winner-takes-all contest worth 58 delegates, where polls put Mr Trump ahead by an average of more than 10 points. The Utah caucuses on the same day look more promising for Mr Cruz, but only 40 delegates are up for grabs there, doled out proportionately.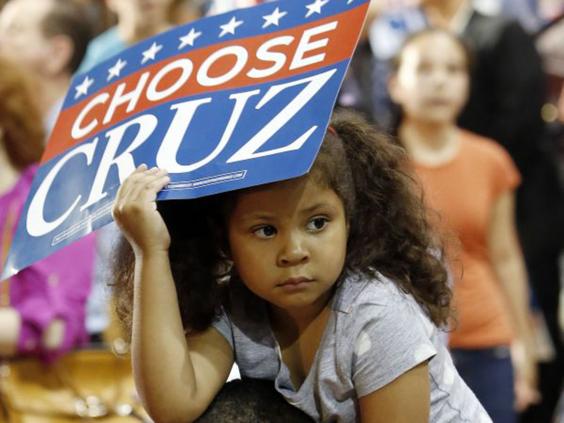 A national poll conducted by Rasmussen in the wake of Marco Rubio's withdrawal last week served only to underscore Mr Trump's dominance. Rather than rally behind a single "Stop Trump" candidate, Mr Rubio's supporters split evenly, maintaining Mr Trump's 15-point lead, with 43 per cent support, over Mr Cruz on 28 and Mr Kasich on 21 per cent.
A group of conservatives committed to halting Mr Trump's irresistible rise congregated in Washington last Thursday to discuss strategy. Among the organisers of the four-hour "Never Trump" meeting were the blogger and radio host Erick Erickson, and Bill Wichterman, a former adviser to President George W Bush.
Invitations to the event said the group's aim was "to defeat Donald Trump for the Republican nomination, and if he is the Republican nominee for president, to offer a true conservative candidate in the general election". A statement released afterwards suggested a "unity ticket" of other Republican candidates, and/or a contested convention. In a contested, or brokered, convention no candidate has secured enough delegates to win the nomination and the convention becomes a desperate scramble to secure delegates in a series of increasingly fraught votes.  
Mr Cruz may be their best bet to defeat Mr Trump, but establishment figures remain reluctant to support the Texas Senator, who is widely disliked in Washington. Late on Friday Mr Romney said he would vote for Mr Cruz in Utah, but declined to endorse him. "The only way we can reach an open convention is for Senator Cruz to be successful in as many of the remaining nominating elections as possible," he said.
In pictures: US Elections 2016
In pictures: US Elections 2016
1/15

Democratic U.S. presidential candidate Bernie Sanders speaks to supporters after rival candidate Hillary Clinton was projected as the winner in the Nevada Democratic caucuses

Reuters

2/15

Democratic presidential candidate Hillary Clinton takes photos with workers at her campaign office in Des Moines, Iowa

AP

3/15

Republican presidential candidate Mike Huckabee, second from left, prays before lunch with supporters at Drake Diner in Des Moines, Iowa

Reuters

4/15

Democratic presidential candidate and former Maryland Governor. Martin O'Malley, speaks during a campaign stop in Waterloo, Iowa

AP

5/15

Democratic presidential candidate Bernie Sanders speaks, as his wife Jane O'Meara Sanders looks on, at a campaign event at Iowa State University

Getty

6/15

Republican presidential candidate Marco Rubio speaks at St. Ambrose University in Davenport, Iowa

Reuters

7/15

Republican presidential candidate Ben Carson speaks at a campaign event at Fireside Pub and Steak House in Manchester, Iowa.

Getty

8/15

Republican presidential candidate Rick Santorum visiting supporters at a house party in West Des Moines, Iowa

Reuters

9/15

Republican presidential candidate Donald Trump at a campaign event in Cedar Rapids, Iowa

AP

10/15

Republican candidate Ted Cruz campaigns at Greene County Community Centre in Jefferson, Iowa

AP

11/15

Senator Rand Paul speaks during a Caucus rally at his Des Moines headquarters in Iowa

Getty

12/15

Republican candidate Jeb Bush speaks at a campaign event in Des Moines, Iowa

AFP

13/15

Former Alaska Governor Sarah Palin introducing the arrival of Donald Trump during a campaign rally in Cedar Rapids, Iowa

Reuters

14/15

A portrait of Democratic candidate Bernie Sanders at his campaign headquarters in Des Moines, Iowa

Getty

15/15

Campaign badges on sale ahead of a Trump rally at the Ramada Waterloo Hotel and Convention Centre in Waterloo, Iowa

Getty
Mr Kasich, meanwhile, is preparing for the possibility of a brokered convention in Cleveland in July, where he could make the argument that he is the most electable of the remaining candidates. This week, the governor hired two advisers with experience of the most recent contested Republican convention – that was 40 years ago, in 1976.
Some have suggested inserting another contender into the process at the 11th hour. Yet the two most obvious candidates – Mr Romney and the House Speaker, Paul Ryan – have insisted they would not accept such an offer. If Mr Trump comes up a few delegates shy of a majority, but is not awarded the nomination outright, the billionaire has warned that he thinks there would be "riots".
Reuse content