It may go down as the most toxic and ill-tempered presidential debate in history.
On Sunday night, a defiant Donald Trump sought to deflect criticism of the now notorious sex tape, threatened to send Hillary Clinton to jail he if was elected and told millions of viewers that his rival had "tremendous hate in her heart". He also directly raised the sexual history of Bill Clinton and said Ms Clinton had attacked those women who had accused her husband of sexual assault.
For her part, Ms Clinton said the tape published last week in which the New York tycoon was seen boasting of assaulting women, was proof of the way he viewed women. "He has said the video doesn't represent who he is but I think it's clear to anyone who heard it that it represents exactly who he is," she said.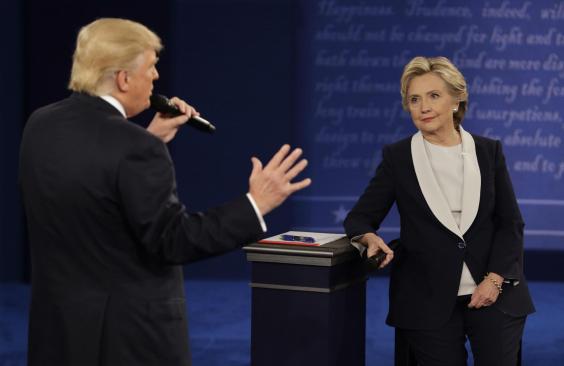 In the immediate aftermath of the debate, two opinion polls gave a clear margin of victory to the Democrat candidate. A CNN poll found 57 per cent of people feel Ms Clinton won the debate, compared to 34 per cent of voters who felt Mr Trump came out on top. A YouGov poll also found in favour of Ms Clinton, though by a tighter margin of 47-42.
The tense second encounter between the White House rivals came as Mr Trump had spent the previous 48 hours trying to divert attention from the fall-out caused by the emergence of video footage in which he bragged about sexually assaulting women. He said he was able to get away with such actions because of his celebrity.
What did Donald Trump say during the second presidential debate?
What did Donald Trump say during the second presidential debate?
1/8 On the leaked tape from 2005 where he talks about sexually assaulting women

"I'm very embarrassed by it, I hate it, but it's locker room talk. It's one of those things. I will knock the hell out of Isis"

Getty

2/8 On Hillary Clinton

"I hate to say it but if I win I'm going to instruct my attorney general to get a special prosecutor to look into your situation. There has never been so many lies, so much deception. You ought to be ashamed of yourself."

Rex

3/8 On Bill Clinton

"What he's done to women, there's never been anybody in the history of politics in this nation that's been so abusive to women."

AP

4/8 On whether his alleged opposition to Iraq War had been disproven

"It's not debunked. It's not debunked."

Getty

5/8 On exploiting tax loopholes

"I absolutely used it, and so did Warren Buffett, and so did George Soros and so did many people who Hillary is getting money from."

Getty

6/8 On claims he's sexist

"I have great respect for women. Nobody has more respect for women than I do."

Reuters

7/8 On what he respects about Hillary Clinton

"I will say this about Hillary - she doesn't quit, she doesn't give up. I tell it like it is. She's a fighter."

Reuters

8/8 On his controversial immigration policies

"It's called extreme vetting. We're going to areas like Syria, where they are coming in by the tens of thousands because of Barack Obama and Hillary Clinton wanting to allow a 550 per cent increase [of refugees] over Obama. People are coming into this country. We have no idea who they are, where they are from and what their feelings are about this country."

Getty
With senior Republican leaders lining up to denounce him, and with some calling on him to stand down as the party's nominee, Mr Trump was determined to change the narrative. Indeed, two hours before the debate got underway in St Louis, he held a press conference with three women who claimed to have been sexually assaulted by Bill Clinton.
In such circumstances, it was perhaps not surprising that the candidates did not shake hands when they took to the stage. And within minutes, Mr Trump was asked about the tape.
"It was locker room banter. I'm not proud of it," said Mr Trump, then saying that there were more serious issues confronting the country, including "Isis beheading" people.
"You hear these things I've said and I was embarrassed by it," Mr Trump added. "But I have tremendous respect for women. They have tremendous respect for me."
Mr Trump tried to turn the discussion to Mr Clinton's history with women. "If you look at Bill Clinton, far worse," Mr Trump said. 
Ms Clinton was asked about her use of a private email server, and her deleting of more than 30,000 emails. "You ought to be ashamed of yourself," he said.
Ms Clinton said that the FBI had fully investigated the issue of her emails and decided not to bring any criminal charges. She said she took the issue of classified material very seriously. She said: "You know it's just awfully good that someone with the temperament of Donald Trump is not in charge of the law in this country."
Mr Trump quickly shot back: "Because you'd be in jail….You said it was fine to delete 33,000 emails. I don't think so."
A flood of Republicans have withdrawn their support for Mr Trump over the video, which was filmed in 2005 when recording scenes for Access Hollywood. The controversy has pitched Mr Trump into the biggest crisis of his 16-month-old campaign and deepened fissures between him and establishment Republicans.
Yet most political pundits his performance on Sunday night was probably sufficient to at least staunch the bleeding being endured by his campaign. It was not remarkable, but Mr Trump had lowered expectations so much, that by remaining focussed on attacking Ms Clinton on several key issues, he will likely have rallied his base and changed the headlines.
The final question faced by the Ms Clinton, 68, and Mr Trump, 70, related to what they respected about the other.
Ms Clinton said she respected Mr Trump's children, a comment her rival called "a very nice compliment". He in turn said she was a "fighter". He said: "She does fight hard and doesn't give up and I consider that a very good trait."
With the debate then concluded, the pair finally shook hands.
Reuse content