Just two weeks ago, Bernie Sanders was riding the momentum of a huge victory in New Hampshire and enjoying breakfast with the Rev Al Sharpton at Sylvia's restaurant in Harlem. The mood music was clear; after his virtual tie with Hillary Clinton Iowa and his 22 point victory in the Granite State, he was ready for Nevada and South Carolina, two states with more diverse communities.
Today, having lost Nevada by five points and with polls predicting he may lose South Carolina by as many as 28 points, Mr Sanders has already flown on too Texas, seemingly resigned to the fact that he has failed to connect with this state's black voters. 
On the campaign trail, Mr Sanders had talked repeatedly about economic inequality, a criminal justice system that incarcerates a disproportionate number of black people and of the need for a political revolution. But it is Ms Clinton, who many believe has a mixed record on such issues, who has made the headway and is who is looking for a knockout win to carry her into Super Tuesday next week. South Carolina carries 53 delegates.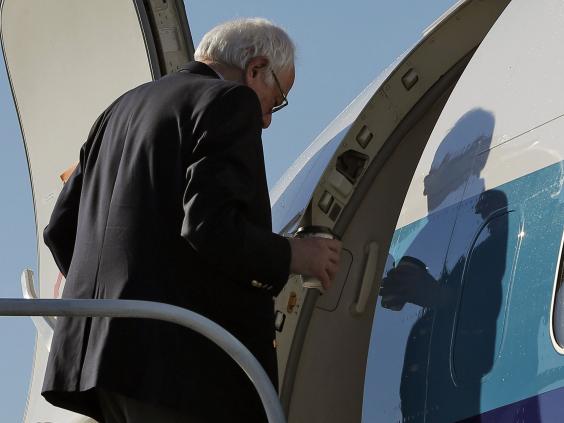 Observers say there are a number of reasons Mr Sanders has failed to find traction here. Among them is the fact that he is an unknown quantity, something that may be appealing to college students, but has left many wondering how he would fare as president.
"Bernie Sanders has not made much of an impression on me, whereas Mrs Clinton has a track record," said Julian West, who works in a liquor store in Charleston and who said he planned to vote for the former secretary of state.
Others have said that while they think Mr Sanders is a good man, with good ideas, they are concerned that they may be too radical to enact, especially if Congress remains in the hands of recalcitrant Republicans.
It is not as if Mr Sanders has not made a genuine effort at outreach. He has hired a black speechwriter to help channel his message, secured the support of celebrities such as Danny Glover and Killer Mike and received the endorsement of senior black figures such as Ben Jealous, the former head of the NAACP.
Indeed, even on Saturday Killer Mike, the rapper, was still making the case that Mr Sanders was following in the tradition of such icons as Martin Luther King.
"Martin Luther King said we needed a revolution," he said on CNN. "I would rather be on that side. Like Dr Cornell West said, you need to be shaking things up."
Mr Sanders has also stressed his record as someone who was involved in the civil rights movement, though some leaders from that era have questioned how central he was. On Friday night, Mr Sanders told a rally in Columbia: "In 1963, I was there with Dr King for the March on Washington for Jobs and Freedom."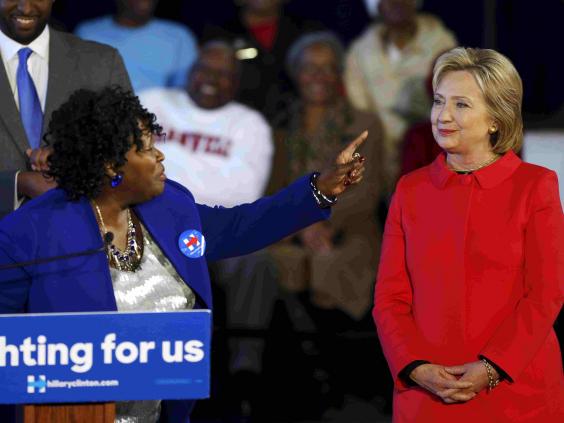 Yet the main reason for Mr Sanders failure to connect is the long, strategic effort that was undertaken by his rival, Ms Clinton. In 2008, Ms Clinton lost by more than 20 points to Barack Obama, whose victory in South Carolina helped propel him to the White House.
Voters here not only know Ms Clinton from then but have been struck by her work as secretary of state. They say she has the experience to lead the country, and the ability to beat the Republicans in November. 
"She will help working people, the black community and women," said Octavia E Robinson, who works in a cafe in the centre of Charleston. "She has great knowledge. She is very smart."
A key part of her campaign was the endorsement of five black women whose sons were killed, either by strangers, or else at the hands of the police. Earlier this week, the mothers of Trayvon Martin, Sandra Bland, Dontre Hamilton, Jordan Davis, and Eric Garner, appeared at an event where they explained why they were backing her.
"Hillary took it upon herself to listen to me when none of the leaders decided to lay in the street with us, march in the street with us, pour our hearts out and ask for help. Hillary heard my cry," said Maria Hamilton, whose son Dontre was shot and killed by a Milwaukee police officer in 2014.
Not everyone is convinced by Ms Clinton's embrace of the Black Lives Matter movement. Earlier this week at private reception, she was confronted by a student who demanded an apology for comments Ms Clinton made in 1996 about so-called super predators when she declared "we need to bring them to order."
The activist also questioned Ms Clinton about her support for a 1994 crime bill that resulted in many African Americans being jailed.
The activist, Ashley Williams, told The Independent: "I think she is inconsistent and she has not explained this and she is not to be trusted until she explains her record on supporting policies" that were detrimental to the black community."
Charles Blow, a black commentator, said that while Mr Sanders had presented himself who would be a radical break with the administration of Barack Obama and scrap his healthcare scheme in favor of  a European-style model, voters in South Carolina saw Ms Clinton as a continuance of his legacy.
He said: "A lot of people feel loyal to him and I think that is the way to repay that loyalty. I think that sentiment exists."
Reuse content