"This place is like a country club," Blake Vaught said, looking at a concierge desk, granite countertops and sleek, black couches. "Or like a really nice steakhouse," Alex Williamson, his friend, added.
The pair, both in their late twenties, were not at a country club. They were not at a steakhouse. They were at Elite Shooting Sports, a new gun range in Manassas, Virginia, a nearly $14m (£9.2m) project that, like a wave of other new ranges around the country, is targeting a new breed of shooter – younger, more affluent, style-focused and, increasingly, female.
The gun industry's term for these shooting retreats: guntry clubs.
In Miami's arts district, a new high-end club attracts celebrities such as Cleveland Cavaliers basketball player LeBron James, who shoot fully automatic machine guns, then chill in VIP lounges. A Texas range features gun valets; a Colorado club, custom-fitted earplugs, apps to reserve shooting lanes and chess sets.
Membership fees at these new ranges are sometimes hundreds, even thousands of dollars.
The high-end ranges come as the $15bn (£9.9bn) gun industry's sales have more than doubled since 2005, growth which is now levelling out. But experts also say that an industry shift away from the hunting culture has helped to spawn a new generation of firearms enthusiasts who are buying sleekly designed handguns and AR-15 rifles for tactical shooting practice.
The average age of new target shooters is 33, while 47 per cent live in urban or suburban areas, and 37 per cent are female, according to the National Shooting Sports Foundation, a trade association for the firearms industry. Shooters spend $10bn a year on target shooting, including the cost of firearms, ammunition and range fees.
The idea now is to compete with golf and country clubs, nightclubs and cinemas for leisure spending. Miami's Lock & Load, which offers themed machine-gun packages, is the top-ranked activity in the city on TripAdvisor. Ranges are even becoming a place to take clients for lunch – and a few rounds.
Standing in the lobby of Elite Shooting Sports, near the concierge desk where shooters check in and sign forms on iPads, Greg Wodack, the range's founder and managing partner, said: "We wanted to be more open and inviting for families, to appeal to everyone. This is not your stereotypical range."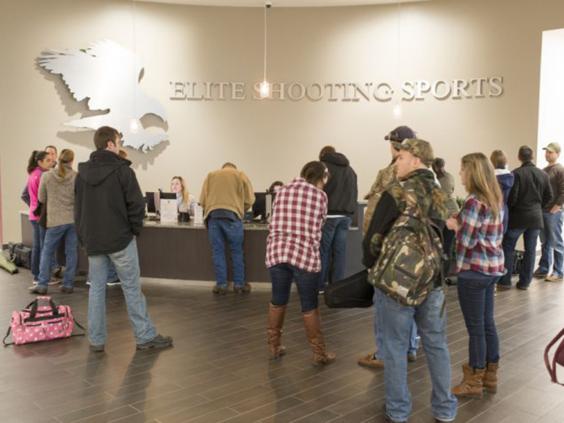 The range is colossal – more than 65,000 square feet, with 42 shooting lanes. There is a café serving pastries. Local restaurants cater lunches. There are enormous flat-screen TVs in the mammoth lounge area. Since opening in November, the club is averaging 1,000 new customers a week. Membership fees are only $34.95 a month; hourly rates start at $20.
"This is absolutely beautiful," said Cheryl Serrano, 39, who lives in Bristow, Virginia. "It's amazing."
Wearing a hot-pink vest, Ms Serrano had stopped in this month with her family – her husband and sons, decked out head-to-toe in Under Armour gear, and her sister, visiting from California. She was there to shoot with her Christmas present and a couple of other guns. They all took turns shooting. Ms Serrano and her sister immortalised the moment with a selfie.
Owners of older local gun ranges said they weren't concerned about Elite Shooting Sports or other high-end ranges. "It's for the people who have money that the rest of us don't have," said Carl Roy, president of the Maryland Small Arms Range in Prince George's County. "Is it bad? Is a country club bad for golf? You might not be able to afford to golf there, but it doesn't hurt the game."
In Houston, the Athena Gun Club promotes a surround-sound simulator for "first-time shooters apprehensive of handling a live firearm". In its retail shop, firearms, which have been disabled, are displayed not in cases but on tables, like iPhones at an Apple Store.
"We wanted to build a business so people right off would feel comfortable, and not like they are doing something wrong," said Steve Bishop, Athena's marketing manager.
Shooters won't find much political talk at these new ranges, either.
"We are not going to push super pro-gun ideologies in people's faces," said Javier Lopez, a partner at Lock & Load. "We avoid that stuff at all costs. Our staff will not initiate any political discussions with any of our guests."
Already, shooters who used to shoot at other old-school ranges are showing up at Elite Shooting Sports.
"So far, I love it," said John Lehman, 48, who was getting ready to shoot for the first time at the new range.
"This is state of the art. This is awesome."
© The Washington Post
Reuse content