After the dust settles on today's US midterm elections, all eyes will turn to the Presidential race in 2016.
And many Republicans hope that former Florida governor Jeb Bush – son of George HW, brother of George W – will throw his hat into the ring for the GOP nomination.
For the past few weeks, however, Jeb has been campaigning on behalf of yet another Bush: his son, 38-year-old George Prescott Bush, who is expected to win today's race to become Texas state land commissioner by a landslide. In spite of his family's storied political history, that would make George P the only Mr Bush ever to win his first election.
His great-grandfather, Prescott Bush, and his grandfather, George HW Bush, both failed at their first attempts to win seats in the US Senate, in 1950 and 1964 respectively. Another 14 years later, in 1978, George W Bush lost a US Congressional election to a Democrat rival. And even as George W finally achieved office as governor of Texas in 1994, Jeb lost the same year's election to become governor of Florida – a job he eventually went on to win in 1998.
In pictures: Midterms 2014
In pictures: Midterms 2014
1/14 Red Oak, Iowa

Voters get an 'I VOTED TODAY' sticker after casting their ballots in Red Oak, Iowa

Getty Images

2/14 Washington, DC

A pollling station in Washington, DC. Most signs point toward President Barack Obama's party suffering crippling election setbacks.

3/14 Jamestown

Local resident Marybeth Davenport casts her ballot at a polling place at the Jamestown Town Hall

4/14 Red Oak, Iowa

Voters fill in their ballots at the Red Oak Fire Department in Red Oak, Iowa

Getty Images

5/14 Michelle Nunn

Democratic U.S. Senate candidate Michelle Nunn hugs phone bank volunteers on the eve of the mid-term election at her campaign headquarters in Atlanta, Georgia. Nunn is in a tight race against Republican opponent David Perdue.

6/14 Get Out the Vote Rally

Democrats hold a "Get Out the Vote Rally" for US Senator Mark Warner, Democrat of Virginia, who is up for reelection, and other Democratic candidates, at Old Town Alexandria Market Square in Alexandria, Virginia, on the night before midterm elections.

SAUL LOEB/AFP/Getty Images

7/14 Kids Vote

A father helps his son vote in a special "Kids Vote" while Kentucky voters cast their votes at Northside Elementary School in Midway, Kentucky. The "Kids Vote" is designed to encourage children to exercise their right to vote when they reach legal voting age.

8/14 Searsmont, Maine

A handmade sign stuck in a snowbank on a rural road urges citizens to vote in Searsmont, Maine

AP

9/14 Madbury, New Hampshire

Voters cast their ballots at Madbury Town Hall in Madbury, New Hampshire. There is a tight race for a U.S Senate seat between incumbent U.S. Senator Jeanne Shaheen and former Massachusetts U.S. Senator Scott Brown.

10/14 Albany, New York

Voters fill out their ballots in a gym on election day in Albany, New York

AP

11/14 Clay Aiken

Clay Aiken, Democratic candidate for U.S. Congress in North Carolina's Second District, jokes with members of the media as he waits in line to vote

12/14 Louisville, Kentucky

Voters cast their ballots in the midterm elections at Bellarmine University in Louisville, Kentucky.

13/14 Mitch McConnell

Senate Minority Leader U.S. Sen. Mitch McConnell holds his ballot after placing his vote at Bellarmine University in Louisville, Kentucky.

14/14 Alexandria, Virginia

A dog waits for its owner to vote at the polling station in the Lyles-Crouch Traditional Academy in Alexandria, Virginia
With an 18-point lead in one recent poll, George P looks unlikely to suffer the same fate as his forebears today. Hardly surprising, given that his campaign raised millions of dollars in funding, while his Democrat opponent struggled to accrue more than four figures. No previous land commissioner race has cost more than $100,000 (£62,000), and few Texans could list the responsibilities that come with the role, which are vague at best.
Should he choose to run for higher office in future, as seems inevitable, the eldest son of Jeb and his Mexican-born wife Columba has more to recommend him to Republican voters than simply his name. George P is half-Latino in a state whose demographics are swinging sharply in the same direction. He has traditional GOP credentials, but also radical conservative allies, and he endorsed Tea Party darling Ted Cruz at the US Senate primary in Texas in 2012.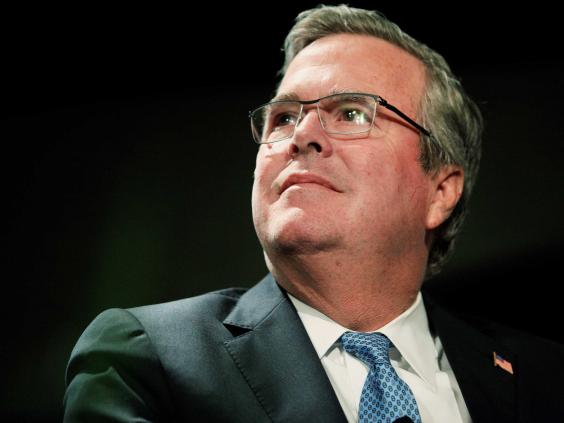 With a CV that includes stints as a teacher, lawyer, businessman and Navy reservist, George P also has experience on the national stage. In 1988, when he was 12 years old, he led the Pledge of Allegiance at the Republican National Convention as his grandfather was nominated for President.
Last week he threw red meat to the media, too, by suggesting his father would indeed run for President in 2016. Jeb has insisted that he will not make a decision until the end of this year, but George P told ABC, "I think it's more than likely...that he'll run."
Reuse content