First-time visitors to Stanley, Kansas, might not instantly discern its more distinctive curiosities.
One is Ormans, a used furniture shop – to say antiques would be too generous – with pale escritoires in faux French style and fuzzy sofas. The other is Llywelyn's, a Celtic pub in a converted church with Welsh rarebit on the menu.
In the pub, you will be offered directions to Ormans with a knowing smile. It is owned by the folks of Greg Orman, a local lad made good who is tapping his considerable Wall Street fortune to try to unseat one of the state's two Republican members of the US Senate, Pat Roberts, in the midterm elections now only 10 days away. Also in the pub, you will be invited to join animated debates precisely about that race. Animated and grumpy.
"He needs to wash his hair," Lenelle Bruns, 65, a former court clerk says of Mr Orman. "You can see that it's greasy." Her lunch companion, Mary, supports Mr Orman and saves her opprobrium for Senator Roberts, 78, whose style might be described as Kansas flat. "He's clueless," she says. Lenelle doesn't necessarily disagree with that assessment. She is a Republican but says she can't bring herself to vote for either man this time.
No doubt about it: this race is an odd one, not least because if you are assuming Mr Orman will be on the Democrat line on the 4 November ballot you'd be quite wrong. There was a Democrat at one stage in this race, but he pulled out to leave the field open to Mr Orman to dislodge Senator Roberts. Mr Orman, 45, is running as an independent.
And the country is paying close attention. When Mr Orman appeared in a warehouse in Lenexa, just a few miles down the road from Stanley, last Wednesday night to offer what was described as his closing argument in the race – it was brief so that supporters wouldn't miss a single pitch of the Kansas City Royals playing (and winning) the second game of this year's World Series – local reporters were outnumbered by their national brethren from Washington DC.
First, it's a nail-biter. A Monmouth University poll released last week showed both men tied at 46 per cent, despite Mr Orman being outspent by a nine-to-one margin – with millions of dollars being pumped into the race – and Mr Roberts being joined, almost daily, on the campaign trail by big-name stars of his party. John McCain, Sarah Palin, Ted Cruz, Jeb Bush, Rand Paul have all rushed in.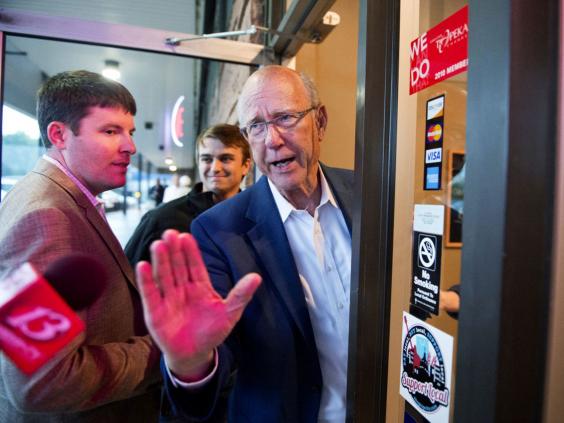 Kansas is under the Klieg lights for these midterms also because a loss by Mr Roberts could wreck the national game plan of the Republicans, namely to achieve a six-seat net gain in the Senate and take control of it. That gets harder if a Republican incumbent in a supposedly safe Republican state like Kansas goes and loses.
Meanwhile, an Orman victory would instantly rekindle chatter about voters finally tiring of America's two-party system and looking for independents to offer an alternative path. It's a theme that recurs from time to time – recall Ross Perot muddling the 1992 presidential election – and then peters out again.
Mr Orman's strong running so far may in fact say less about him and more about the flaws of Senator Roberts and his campaign. Its lowest point came when it emerged that, after representing Kansas in the US Senate for 18 years, he didn't actually have a home there. When he does visit the state, he was forced to admit, he stays in a country club home of a friend. By August the senator's approval rating had slumped to a dismal 24 per cent.
Not that Mr Orman has been an orthodox candidate, mostly eschewing making personal attacks on Senator Roberts while taking a low‑profile approach to campaigning, relying more on social media to get his message out than on traditional rallies. Above all, there is the ambiguity of his own politics. He refuses to say with whom he will align himself in Washington if elected. Democrats fervently hope it will be them. The Roberts camp says of course it will be.
Branding Mr Orman a Democrat – and a Barack Obama disciple – in disguise is the main Republican charge against him. The aim is to persuade Republican waverers, such as Ms Bruns, to vote Roberts, even if they have to hold their noses while doing it, because if they don't, the Senate will remain Democrat and the Obama agenda will endure.
"We're going to win this election once people understand that my opponent is not shooting straight," Mr Roberts said after debating against Mr Orman recently. "He is a liberal Democrat by deed, by word and by campaign contributions." Federal records show that 87 per cent of Mr Orman's campaign contributions have been from Democrats.
New filings also show that pro-Orman television advertisements have been funded by a Texan tycoon with liberal ties. "Clearly, liberal billionaires and top Obama donors from around the country know a lot more about the real Greg Orman than he's been willing to share with the voters of Kansas," Corry Bliss, the Roberts campaign manager, responded.
Surrounded by stacked pallets in the Lenexa warehouse – the signs outside said Combat Brands, a company he owns – and the campaign balloons, Mr Orman insisted on Wednesday that the independent label would mean something when he got to Washington. "If elected, no matter how I vote to organise the Senate, I do not intend to be a silent soldier for either the Democrats or Republicans," he said. "I'm going to stand for a better way."
Republicans call him slick. A bit like his hair – which looks fine to me.
Reuse content