A stoic President Obama attempted a steady and conciliatory tone last night after a rout in Tuesday's midterm elections that saw Republicans crush his party's hopes, seizing control of the US Senate and achieving the largest Republican majority in the House of Representatives since the Second World War.
While Democrats had been bracing themselves for losses, the wreckage wrought by the Republican juggernaut exceeded their worst fears. The full implications, including how the spread of red across the electoral map in America will affect the 2016 race for the White House, have not fully sunk in.
For Barack Obama, who was shunned during the campaign by nearly every Democratic candidate, now the struggle is to demonstrate that he can remain relevant as he enters the twilight of his two terms. That the drubbing was a repudiation of his leadership escaped no one. Nor did the sense of anxiety in the electorate over the direction the land was going in.
"What stands out to me is that the American people sent a message," Mr Obama said in a press conference. "They expect the people they elect to work as hard as they do. To focus on their ambitions as well as on ours. They want us to get the job done. All of us in both parties have a responsibility to address that sentiment." He added: "I have a unique responsibility to try and make this town work."
US midterm results: state by state
"It's time for us to take care of business… I do think there will be areas where we do agree," Mr Obama said in reference to the Republicans. He avoided coining any single moniker to describe Tuesday's humiliation in contrast to 2010 when he called his midterm setbacks in that year a "shellacking".
With a few counts still incomplete, the GOP was certain of 52 of the 100 seats in the Senate against 44 for Democrats. That advantage looked likely to grow if the Republican candidate in Alaska, Dan Sullivan, retained his slim lead there and a run-off next month in Louisiana similarly gives Republican Bill Cassidy victory over the incumbent Democrat Mary Landrieu, as looks likely.
They had meanwhile secured 243 seats in the House to just 178 seats for the Democrats.
If voters were voicing frustration with gridlock in Washington, it was unclear if the new divided landscape would help. Both Mr Obama and the Republicans, who will choose the current Minority Leader, Mitch McConnell, to replace Harry Reid as the new Senate Majority Leader, must decide whether to try to work together in a spirit of compromise or return to familiar patterns of combat and confrontation.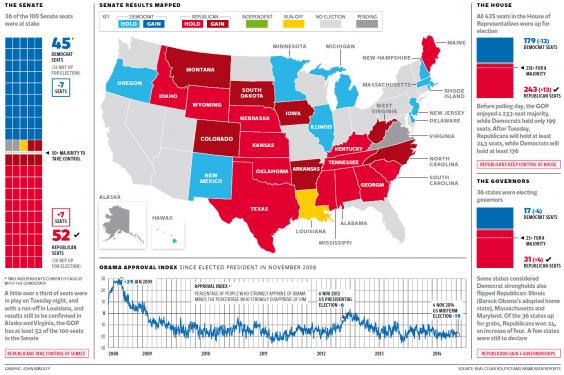 Click HERE for full-size version of graphic
Republicans, believing they have a strong mandate, will be impatient to embark on a legislative agenda to their own liking. That may include attempts to chip away at Mr Obama's most significant accomplishment in office, his healthcare reforms. Areas where co-operation between Congress and the White House might be conceivable included tax reform and negotiation of overseas trade treaties.
In a sign of conflict to come, Mr McConnell was already signalling that his party would react to punish Mr Obama if he attempts, without consulting Congress, to enact changes in America's immigration policy by executive order to aid undocumented families as he has promised. He also termed the healthcare reforms a "huge mistake" and hinted he would seek to amend some of its key provisions.
But in a press conference he insisted that divided government in Washington need not spell gridlock. "Divided government is not unusual in this country," he said. "We ought to start with the view that maybe there are some things we can agree on and make progress for America."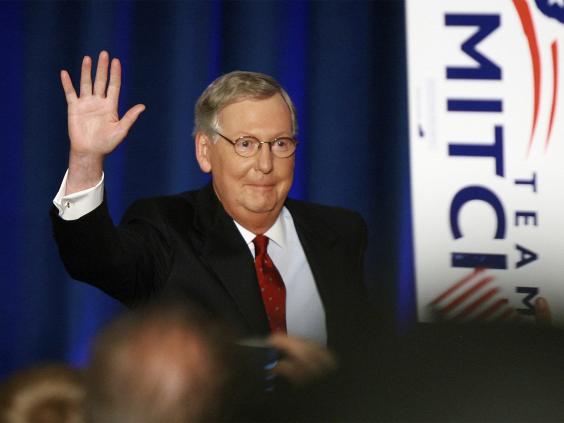 On Tuesday night, Democrats watched mortified as races that had been considered close turned one after another into Republican victories. It began with Mr McConnell dispatching his rival, Alison Lundergan Grimes, in his own Kentucky. Soon afterwards Senator Mark Pryor, a Democrat, was defeated in Arkansas by Tom Cotton who at 37 will become the Senate's youngest member.
Anxiety gave way to despair as soon afterwards the Democrat incumbents Mark Udall and Kay Hagan found themselves unseated by comfortable margins in Colorado and North Carolina, and the Republican Joni Ernst took the seat long held by retiring Democrat Tom Harkin in Iowa. All three states had voted blue in 2008 helping propel Mr Obama to the White House. But on Tuesday they reverted to red.
Meanwhile a similar catastrophe was unfolding in the races for state governorships which before Tuesday had seemed set to be a bright spot for the Democrats. Instead Republicans pulled out unlikely victories even in states that are normally reliably blue, for example in Massachusetts, Maryland and in Illinois. The latter loss in his adopted home state will irk the President especially.
Particularly sweet for the Republicans was the failure of Charlie Crist, himself a former governor though then a Republican, to unseat Florida's incumbent governor Rick Scott, and the easy victory of Governor Scott Walker of Wisconsin, who some had thought vulnerable because of the steps he had taken to curb collective bargaining in his state. Mr Walker now emerges a possible 2016 contender.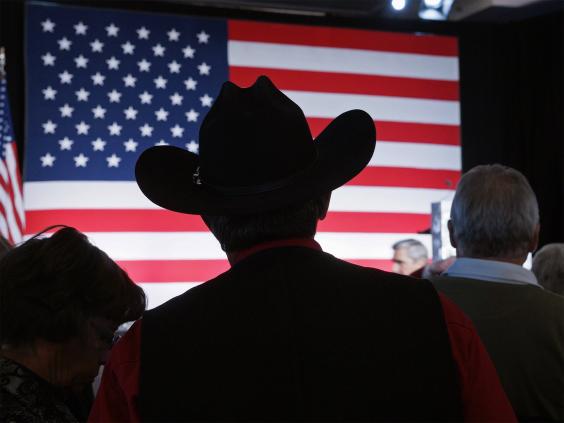 The New Jersey Governor Chris Christie as chairman of the Republican Governors' Association was able to take some of the credit for the gains. That in turn could help resurrect his hopes of becoming a frontrunner in the Republican presidential nomination derby in 2016. In interviews Mr Christie urged both Mr Obama and his colleagues in Congress to end the deadlock in Washington. "We need to get this done … and put things on the President's desk and make the President make some decisions," he said.
How the picture has changed for the presumed Democrat frontrunner in 2016, Hillary Clinton, is murky. The re-colouring of so many states from blue back to red suggests her climb would be tougher. Yet no new Democrat stars emerged from Tuesday night and the Republicans risk a backlash against them two years hence if their stewardship of the Congress results in more, not less, dysfunction.
In another sign of unexpected Democrat weakness, Senator Mark Warner of Virginia was bracing himself for a possible recount as tallies showed him beating challenger Ed Gillespie, a prominent Republican consultant, by only a few thousand votes. Almost no one had considered Mr Warner vulnerable.
Reuse content