Pomp gave way to prickly politics as Cuba's foreign minister, Bruno Rodriguez, ceremoniously reopened his country's embassy in Washington DC after a gap of 54 years – and then promptly told guests that the United States must show his country respect by handing back Guantanamo Bay.
While the reciprocal re-establishment of embassies in Washington and in Havana marked the formal resumption of diplomatic ties between the countries – an achievement likely to be at the centre of the foreign policy legacy of President Barack Obama – reminders abounded that much still stands in the way of a fully fledged friendship between them, not least the US embargo on the island.
As the Cuban flag was run up outside the fine limestone mansion that will once more serve as Havana's foothold in Washington to the Cuban national anthem, onlookers chanted conflicting messages of support and opposition  to the diplomatic thaw. "Cuba si, embargo no!" rang out against angrier cries of "Cuba si, Fidel no". One protestor, his shirt doused in fake blood, was arrested after charging the gates.
Fidel Castro: Life in pictures
Fidel Castro: Life in pictures
1/27

Rex

2/27

Fidel Castro in Havana, Cuba

Rex

3/27

Cuban president Fidel Castro looking at a rifle during a visit in North Vietnam during the Vietnam war

Getty

4/27

Cuban President Fidel Castro in Matanzas, Cuba, on the 46th anniversary of the assault on the Moncada Barracks by Castro's rebels. The attack marked the beginning of the Cuban revolution, which eventually propelled Castro to power

Getty

5/27

Fidel Castro with his first wife Mirta and his son Fidelito

Rex

6/27

Fidel Castro at his 'Guerrilla Man of Time' book launch in Havana, Cuba

Rex

7/27

Fidel Castro

Rex

8/27

Cuban President Fidel Castro delivers a speech attacking media organizations and groups opposed to his government in the wake of rumours of his death

Getty

9/27

Fidel Castro playing Basketball

Rex

10/27

Watched by Russian premier Nikita Khrushchev, Cuban dictator Fidel Castro takes a photograph of Moscow during his first visit to Russia

Getty

11/27

Cuban president Fidel Castro attends a protest against the US embargo of Cuba

Getty

12/27

Fidel Castro and Osvaldo Dorticos Torrado talking to Cuban medical staff who are going to Peru to help with the aftermath of an earthquake

Getty

13/27

Cuban revolutionary leader Fidel Castro relaxing at a sugar plantation near Havana, surrounded by children

Getty

14/27

Cuban President Fidel Castro presides over a massive May Day demonstration at Havana's Plaza de la Revolucion (Revolution Square

Getty

15/27

Cuban leader Fidel Castro is presented with an invitation to the New York Press Photographer's Ball, in New York City

Getty

16/27

Fidel Castro, Prime Minister of the Cuban Revolutionary government and first secretary of the Cuban Communist Party, and Ernesto Guevara known as Che, minister of Industry in Havana, Cuba

Getty

17/27

Cuban President Fidel Castro waves to participants of the traditional May Day parade attended by thousands of people in Havana's Plaza of the Revolution

Getty

18/27

Cuban Prime Minister Fidel Castro with Argentine guerrilla leader Ernesto Che Guevara

Getty

19/27

Pope Benedict XVI meets with former Cuban President Fidel Castro at the Vatican embassy in Havana, Cuba

Getty

20/27

Cuban revolutionary Fidel Castro and Soviet politician Nikita Sergeyevich Khrushchev in Moscow

Getty

21/27

Iraqi vice-president Saddam Hussein, stands with Cuban President Fidel Castro and Defense minister General Raul Castro in Havana, during his visit to Cuba

Getty

22/27

Iranian President Mahmoud Ahmadinejad and former Cuban leader Fidel Castro

Rex

23/27

Cuban President Fidel Castro listens to Pope John Paul II as they walk on the tarmac of the Jose Marti International Airport in Havana

Getty

24/27

Fidel Castro with Chavez in Cuba

Getty Images

25/27

Fidel Castro greets Zimbabwe's President Robert Mugabe in Havana

26/27

Fidel Castro with Gabriel Garcia Marquez in 2000. The two friends first met in 1959

AFP/Getty Images

27/27

Mandela salutes the crowd alongside Fidel Castro in Matanzas

Getty Images
Mr Rodriguez, the first Cuban foreign minister to come to Washington since President Dwight Eisenhower broke off ties with Havana in 1961, meanwhile admonished some 500 dignitaries inside the mansion, including other ambassador and members of Congress, that restoring relations was not enough.
"The historic events we are living today will only make sense with the removal of the economic, commercial and financial blockade, which causes so much deprivation and damage to our people, the return of occupied territory in Guantanamo, and respect for the sovereignty of Cuba," he said. He later met with Secretary of State, John Kerry, at the State Department.
In Havana, the US Embassy was also reopened for business with no outward sign of change. Embassy staff flashed new badges and business cards, and the website, Twitter feed and Facebook page of the mission changed.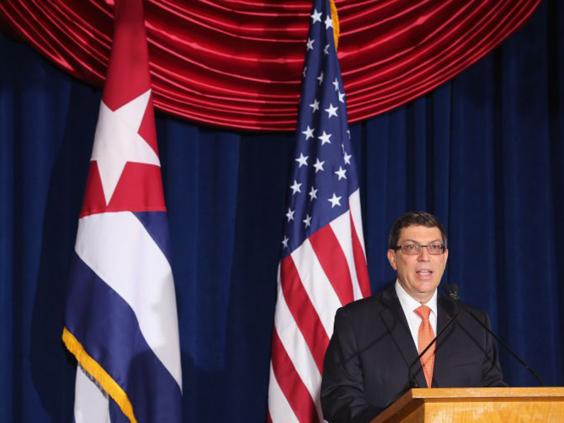 Mr Kerry will preside over the raising of the American flag outside the building – a boxy cement edifice on the waterfront that hitherto has been the US interest section – when he visits the island on 14 August. No US Secretary of State has formally visited Cuba for 70 years, officials said.
With Republicans in control of both sides of Congress, there is little chance of a lifting of the full embargo for now.  The US side has shown no interest in giving up Guantanamo Bay.
Reuse content