A seven-week manhunt for a known survivalist who was the lone suspect in the shooting of two state troopers outside a barracks in the Pocono Mountain region of eastern Pennsylvania which left one officer dead and the other seriously wounded, has ended with his capture, police said.
The arrest on Thursday of 31-year-old Eric Frein was confirmed in an email to reporters from Pennsylvania State Police spokeswoman Connie Devens. "I can confirm that we have taken Eric Frein into custody. Further information will be released at a later time. No further information will be released or confirmed at this time."
Early news reports said that police had received a tip-off that Mr Frien had taken refuge in an aircraft hangar near Buck Hill, Pennsylvania, inside their search area and that after it had been surrounded he had agreed to come out.
Relief will suffuse the region which - since the 12 September shootings - has lived under siege as Swat teams and scores of officers in camouflage have repeatedly combed local woodlands for Mr Frein, a fugitive who was thought to have trained himself in the art of surviving in the wild. As sightings of him were reported, police repeatedly ordered schools closed and banned all game hunting in the area.
Earlier this week, they deployed a huge helium balloon equipped with day and night-time cameras in hopes of catching a glimpse of their quarry as the leaves began to fall from the trees. With arrangements for Mr Frein's arraignment expected to proceed on Friday, the public and the media will clamour for details of how he had survived so long and what exactly had led police finally to the hangar.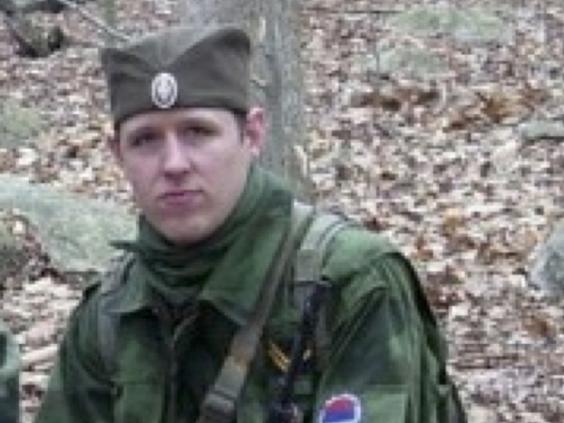 Mr Frein, who had been placed on the FBI's Top Ten Most Wanted List, will face charges in the killing of Cpl. Bryon Dickson and the wounding of Trooper Alex T. Douglass outside the Pennsylvania State Police barracks in Blooming Grove. Police believe he picked them out with a high-powered sniper rifle. Ammunition that matched the weapon were discovered days later in a car registered to Mr Frein that was found half submerged in a local swamp.
That the hunt had taken so long and the cost of it had become so high had begun to exasperate local residents who wanted to return to normality. However, police faced numerous difficulties trying to track him through dense forestland, always aware that booby traps may have been laid and that just as he was their target, they were his. Among their discoveries during the hunt were two pipe bombs he was thought to have built.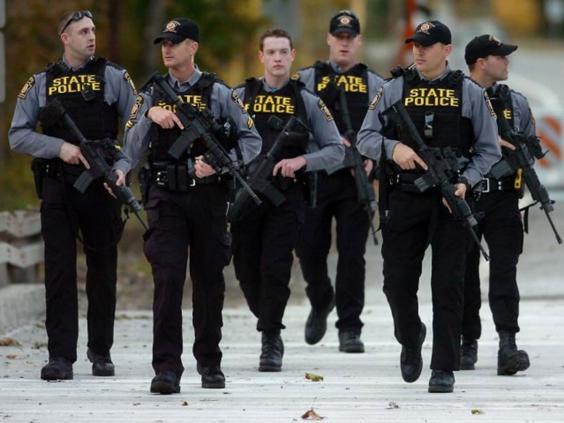 They also found used diapers, leading to his being called the 'Diaper Sniper' by some, butts from cigarettes made in Serbia – he had once played a Serbian soldier in a World War II re-enactment - and also a personal journal that contained chilling passages describing the original barracks shootings.
"Got a shot around 11pm and took it," Mr Frein wrote on the papers found by police. "He [Dickson] dropped. I was surprised at how quick."
Reuse content