A former police officer who shot an unarmed black man dead has pleaded not guilty to murder in the US.
Ray Tensing, 25, killed Samuel DuBose earlier this month, shooting him in the head after he stopped him in Cincinnati over a missing licence plate.
The officer, who worked for the University of Cincinnati, denied murder and voluntary manslaughter charges at the Hamilton County Court of Common Pleas today.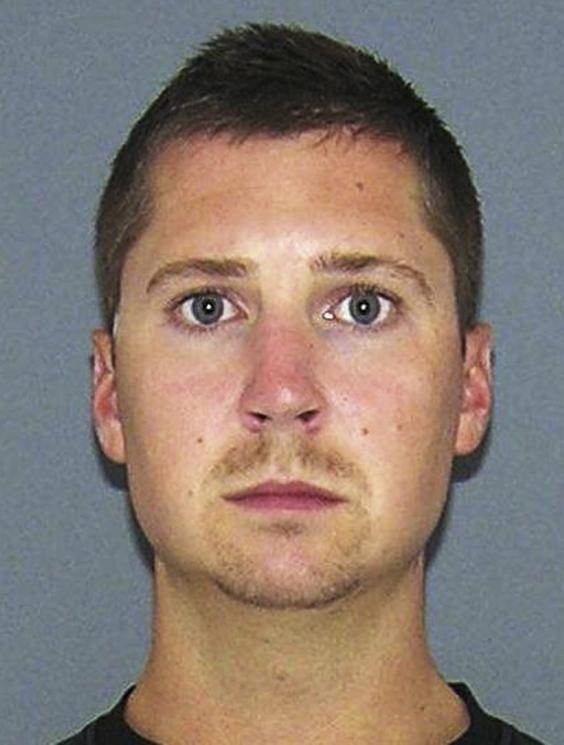 Judge Megan Shanahan set his bond at $1 million (£640,000), sparking cheers in the courtroom, after she rejected defence arguments that Tensing would not flee.
Body camera footage released by prosecutors showed how Mr DuBose, 43, died just two minutes after he was pulled over on 19 July.
It shows Tensing repeatedly questioning the man about who the car belongs to and whether he had a licence.
When Mr DuBose said he was not carrying his licence on him, the police officer tried to open the door, ordering him to take his seatbelt off without explanation.
Warning: the following footage contains images that some viewers may find distressing
The car appeared to start rolling forward as Tensing reached in through the window and shouted for Mr DuBose to stop.
The officer then pulled his gun and fired once, hitting the driver in the head.
Tensing, who could face up to life in prison if convicted, has said he thought he was going to be dragged under the car and "feared for his life", according to his lawyer Stewart Matthews.
He said his client should not have been charged with murder and never intended to kill Mr DuBose.
"With the political climate in this country with white police officers shooting black individuals, I think they need somebody to make an example of," Mr Matthews added.
But Joseph Deters, the Hamilton County Prosecutor, said the police officer was never at risk and only fell backwards after firing his gun.
Tensing should have let Mr DuBose drive away as the officer had his licence plate number, he argued.
"He purposely killed him," Mr Deters said. "He should never have been a police officer."
Friends of Mr Dubose, who had a record of several non-violent crimes, including driving without a licence, joyriding and drug possession, described him as a friendly and non-confrontational person.
His death came after a string of similar incidents in the US that have sparked waves of protests over race relations under the slogan Black Lives Matter.
Demonstrators gathered outside a court last night, with people carrying candles and banners calling for justice for Mr DuBose.
Tensing was fired from the university's police force on Wednesday, when he was charged, and the institution has launched a review of its policy allowing officers to use force off campus.
Prosecutors are also investigating another police officer who corroborated Tensing's account of the incident.
Additional reporting by Reuters and AP
Reuse content