The head of America's National Security Agency (NSA) has denied claims the intelligence organisation asked Britain's GCHQ to spy on Donald Trump when he was running for president. 
Admiral Mike Rogers was questioned on claims that the UK spy agency was involved in monitoring Trump Tower.
Asked at US Congressional hearings into the matter if he had requested British intelligence to intervene, Admiral Rogers said: "No sir, nor would I, that would be expressly against the construct of the Five Eyes agreement."
The Five Eyes agreement is a system of intelligence sharing between the US, Britain, Canada, Australia, and New Zealand.
He denied there was any involvement by the British and said he agreed with GCHQ's assessment of the claims as "nonsense" and "utterly ridiculous". 
Asked if the claims damaged the US-UK intelligence relationship, Admiral Rogers replied: "I think it clearly frustrates a key ally of ours."
Democrat committee member Adam Schiff added: "It certainly wouldn't endear the British intelligence service to continue working with us, would it?
The NSA chief replied: "I believe that the relationship is strong enough that this is something we will be able to deal with."
"But it is not helpful?" Mr Schiff asked.
"Yes sir," Admiral Rogers responded.
The NSA director also reacted to Mr Trump's comments at a recent press conference with Angela Merkel that both the US President and the German chancellor had something in common – they had been wiretapped during Barack Obama's administration.
Admiral Rogers said those comments "certainly complicate things".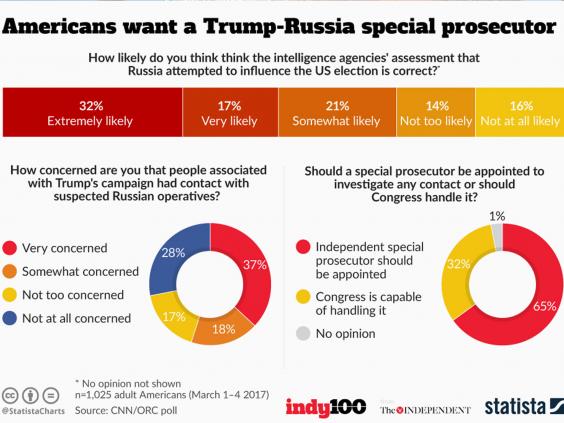 A majority of Americans polled recently said they believe Russia did attempt to influence the US election, this graph created for The Independent by statistics agency Statista shows. 
Reuse content