Beneath a tapestry of American flags and giant banners bearing only his first name, plus an exclamation mark – the reasons for the brevity clear to all – Jeb Bush, the son and brother of former presidents made it official: he is taking his own turn to bring the family back into the Oval Office one more time.
A slimmed-down Mr Bush made his announcement that he is running for the White House next year inside the gymnasium of Miami Dade College, a Florida campus known for the social diversity of its students.
Battling repeated interruptions by supporters – and briefly by protesters demanding citizenship for illegal residents – he vowed to run an inclusive campaign for the Republican Party nomination, embracing all and ignoring no one.
He declared: "I will campaign as I would serve, going everywhere, speaking to everyone, keeping my word, facing the issues without flinching and staying true to what I believe."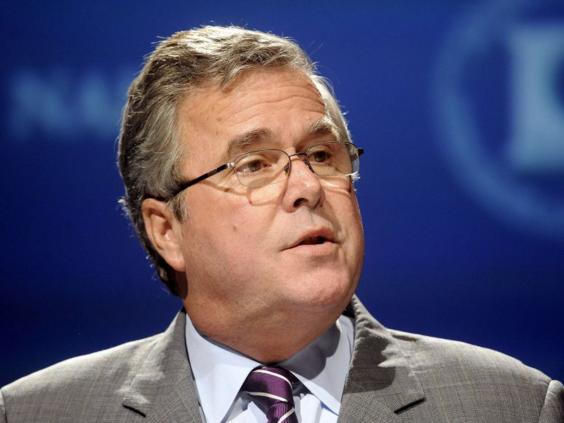 Mr Bush, the former Governor of Florida, added: "I will take nothing and no one for granted. I will run with heart. I will run to win."
As Mr Bush left Florida last night for New Hampshire, he took a swipe at President Barack Obama and the likely Democratic Party nominee, Hillary Clinton.
"The presidency should not be passed on from one liberal to the next," he said. "The party now in the White House is planning a no-suspense primary, for a no-change election. To hold on to power. To slog on with the same agenda under another name: that's our opponents' call to action this time around."
The 11th Republican to plunge in – the tycoon and television personality Donald Trump – has threatened to unveil his own presidential campaign today.
John Ellis Bush, 62, first signalled his interest in running for the presidency last December and has since been engaged in a frenzy of fund-raising. But there has been no quick leap for him to front-runner status because of some missteps, some early friction in his campaign team and the rise of Senator Marco Rubio – once Mr Bush's protégé in South Florida but now, arguably, his most potent rival.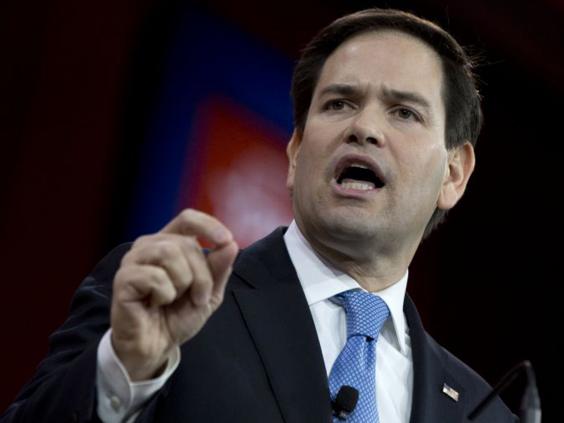 That Mr Bush may not be measuring up came into focus in May when he stumbled when asked to say whether he would have invaded Iraq in 2003 as his brother George W Bush did, had he known that it did not have weapons of mass destruction. Only after a few days did he concede that he would not have done. His inability to answer a question that was so obviously coming perplexed many Republicans, including his supporters.
With the televised debate between the Republican hopefuls set for August, the pressure will be on Jeb Bush quickly to regain momentum. The legacy of his elder brother is, of course, ticklish. Their father, former President George H W Bush, was not present at Monday's rally, but their mother, the 90-year-old former First Lady, Barbara Bush, took her seat to loud applause. Jeb Bush's wife Columba, who is known to be shy, was also in the hall.
"We will take Washington – the static capital of this dynamic country – out of the business of causing problems," Mr Bush said in a pitch to the party's small-government conservatives. "We will get back on the side of free enterprise and free people. I know we can fix this. Because I've done it."
Mr Bush governed Florida from 1999 to 2007, and did indeed follow a stringently conservative agenda.
If launch events say anything about the campaign to come, Mr Bush may yet be in trouble. Supporters eager to see him endured an hour of disjointed warm-up acts, including three sisters playing guitars. The affair contrasted sharply with the energy-filled rally Ms Clinton held in New York on Saturday.
More threatening, though, are his clashing messages. On the one hand, he echoes the "compassionate conservative" that was the slogan of George W when he first ran, vowing to support immigration reform even though conservatives hate it, and to champion the disadvantaged, including minorities.
Yet he is pitching himself as a radical conservative, supportive of curbing abortion and opposing gay marriage. He recently told an interviewer that it was "hard to imagine how we are going to succeed in this country" if it allowed gay marriage.
And he lashed out at Mr Obama's efforts to thaw diplomatic relations with Cuba, saying: "We don't need a glorified tourist to go to Havana in support of a failed Cuba. We need an American president to go to Havana in solidarity with a free Cuban people, and I am ready to be that president."
For many Republicans in South Florida, especially those with Latin backgrounds, the dilemma is choosing between Mr Rubio and Mr Bush, one a son of Cuban immigrants, the other married to a Mexican.
"I don't know which I like better. They are both honest men," said Teresa Prieto, 69, a Cuban-American who left Cuba in 1960, as she arrived for the rally. "I am not supporting them because I am Cuban but because we have to pick someone who can win. I am terrified of the Democrats. Terrified, terrified."
Reuse content