Yesterday America's highest court ruled that the US Constitution provides same-sex couples with the right to marry.
With the ruling, same-sex marriage will become legal in all 50 states.
LGBT campaigners and allies welcomed the move with the triumphant slogan #LoveWins.
However, some US citizens didn't take the news well and are now threatening to move to Canada as a result.
If gay people take over the United States I'm going to be moving to Canada

— Jairus (@Jairus_Tate) June 26, 2015
So now gays is legalized with abortion. I'm moving to Canada.

— Dan Wolf (@WolfDlawmw) June 26, 2015
With the Obamacare and same-sex marriage rulings, that's it, I'm moving to Canada.

— Brian Baresch (@Editer) June 26, 2015
I'm moving to Canada I can't

— ParisMy'Leaq (@parismyleaq) June 26, 2015
But if you're thinking of moving to Canada to 'escape' marriage equality, we've got bad news for you...
So many Americans tweeting that they're moving to Canada now that gay marriage is legal in the US. pic.twitter.com/0szNGWyUhF

— Lola Landekic (@lolamachine) June 26, 2015
...Canada legalised same-sex marriage in 2005. Gay and bisexual couples have been having same-sex marriages there for over a decade.
Same-sex marriage legalised across the US
Same-sex marriage legalised across the US
1/15 Same-sex marriage legalised across the US

U.S. Supreme Court ruled that the U.S. Constitution provides same-sex couples the right to marry

Reuters

2/15 Same-sex marriage legalised across the US

Ariel Olah of Detroit, left, and her fiancee Katie Boatman, are overcome by emotion outside the Supreme Court in Washington, Friday, June 26

AP

3/15 Same-sex marriage legalised across the US

Lori Hazelton and Stephanie Ward are the first same-sex couple to receive their marriage license on Friday, June 26, 2015, in Muskegon, Mich

AP

4/15 Same-sex marriage legalised across the US

Wedding cakes provided by All Saints Episcopal Church of East Lansing are cut inside the Ingham County Courthouse in Mason, Mich

PA

5/15 Same-sex marriage legalised across the US

Ariel Cronig (L) and Elaine Cleary embrace outside of the US Supreme Court after the ruling in favor of same-sex marriage

Getty

6/15 Same-sex marriage legalised across the US

Reverend Laura Barclay, right, officiates the marriage of Tadd Roberts, left and Benjamin Moore at the Jefferson County Clerks Office Friday

AP

7/15 Same-sex marriage legalised across the US

Beth Sherman (L) and her wife Karen Hawver (R) celebrate with their children Ben and Emma (C) the U.S. Supreme Court's landmark ruling of legalizing gay marriage nationwide

Reuters

8/15 Same-sex marriage legalised across the US

People celebrate in front of the U.S. Supreme Court after the ruling in favor of same-sex marriage June 26, 2015 in Washington, DC

Getty

9/15 Same-sex marriage legalised across the US

Eric Hause of Norfolk, center, hugs Claus Ihlemann and Robert Roman in the lobby of the Slover Library Friday morning, June 26, 2015

AP

10/15 Same-sex marriage legalised across the US

Spencer Trzybinski hangs a rainbow flag, a symbol of the lesbian, gay, bisexual, and transgender movement, at the Dunes Resort and Entertainment Complex in Douglas, Mich

AP

11/15 Same-sex marriage legalised across the US

Angela Boyle, left, and Laura Zinszer take a selfie after receiving their marriage license at the Boone County Recorder of Deed's office on Friday, June 26, 2015, in Columbia, Mo

AP

12/15 Same-sex marriage legalised across the US

After 54 years as a couple, George Harris, 82, and Jack Evans, 85, are married by Judge Denise Garcia on Friday, June 26, 2015 at the Dallas County Records Building in Dallas, Texas

AP

13/15 Same-sex marriage legalised across the US

Newlyweds, Colby Roanhorse, left, and Zachary Roanhorse celebrate after applying for a marriage license from the Kent County clerks office, Friday, June 26, 2015, in Grand Rapids, Mich

AP

14/15 Same-sex marriage legalised across the US

A couple kiss to celebrate the US Supreme Court's historic decision on same sex marriage during a rally outside the Stonewall Tavern in the West Village in New York on June 26, 2015, after the US Supreme Court's historic decision on same sex marriage

AFP

15/15 Same-sex marriage legalised across the US

A demonstrator arrives at a rally in Greenwich Village to celebrate the Supreme Court's ruling on gay marriage, Friday, June 26, 2015, in New York.

AP
#LoveWins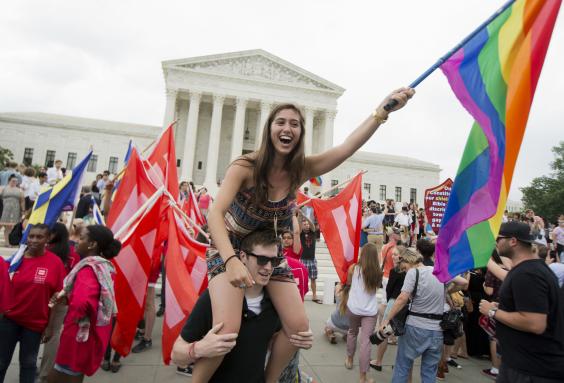 Reuse content