US Secretary of State John Kerry has arrived in Pakistan for a two day visit and might make take time to visit the school where 134 children were killed last month by Taliban gunmen.
Mr Kerry arrived in Pakistan for talks with Prime Minister Nawaz Sharif and Army Chief Raheel Sharif.  He said he wanted to encourage the civilian and military leaders to do more to confront militants who have used Pakistani soil to attack neighbouring Afghanistan and India, as well as launch attacks on local targets.
In what may have been a case of letting slip something that was not to have been made public, one Pakistani official said to Mr Kerry that he understood he was to visit Peshawar and the army-run school that was attacked last month.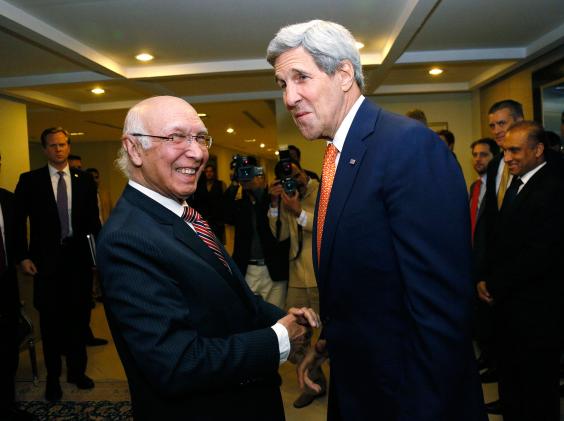 "We heard you are planning to visit Peshawar and the school," said foreign affairs advisor Sartaj Aziz, according to the Associated Press.
In Washington, a State Department spokeswoman declined to comment on Mr Kerry's plans.
While acknowledging the army's offensive against militants in areas near Afghanistan, Mr Kerry plans to call for more action to fight groups that Pakistani officials and generals have viewed as strategic assets in their rivalry with India and as they jockey for influence in Afghanistan.
In addition to bilateral meetings, Kerry will co-chair the US-Pakistan strategic dialogue with Mr Aziz, the national security and foreign affairs adviser to Mr Sharif. Mr Kerry will be joined by General Lloyd Austin, who heads the US Central Command, which was on Monday hacked, apparently by supporters of the Islamic State.
The December 16 raid on the Army Public School prompted a bout of national soul-searching even in a country accustomed to high levels of violence. In the aftermath, politicians appeared to condemn the violence as one. The government lifted its suspension carrying out the death penalty for convicted militants and hanged a series of prisoners.
If Mr Kerry does visit Peshawar, it would be the first visit there by a senior US official since House Speaker John Boehner went in 2011. At the time of the attack, Mr Kerry joined President Barack Obama in leading global condemnation, calling the incident "gut-wrenching".
Reuse content