Around 75 million Americans are bracing themselves for potentially life-threatening blizzard conditions as the season's first major Atlantic Coast storm begins to sweep across the East Coast.
At least five states have declared emergencies as the potentially historic blizzard, expected to begin on Friday, threatens to dump up to 75 cm of snow in some regions, ITV reports.
The warnings have sent millions of residents in the storm's path into, what has been dubbed, a "full-blown freak out", as shoppers hurriedly gathered supplies in preparation for the wintery weather.
Supermarket shelves were stripped of bread, milk and other essentials, with people posting pictures of empty shelves from as early as Wednesday.
Washington, D.C., is in a full-blown bread-and-milk freakout over coming snowstorm. https://t.co/TEXKOj4TYh pic.twitter.com/BVwcfjnc7w

— Jim Roberts (@nycjim) January 21, 2016
Is there a storm coming or something? @CrestFoods in Norman #okwx #BREADANDMILK pic.twitter.com/T0z2yqo51H

— Larissa (@RissaRWx) December 26, 2015
Consumer watchdogs warned against illegal price gouging for such essentials as generators, batteries, flashlights and hotel lodging.
Bread and milk appear to be the most popular essentials with stocks running exceedingly low across shops in the affected areas.
One supermarket has even been forced to put up signs saying they had sold out of milk, amid what has been dubbed a "snowpocalypse".
Shops in Arlington, Virginia reported long lines and high demand for milk, bread and toilet paper, ARL Now reports.
In Cherry Hill, New Jersey, outside Philadelphia, supermarkets struggled to replenish shelves with bread, bagels, milk and eggs before the latest round of shoppers snapped them up.
Cherry Hill resident, Doreen Haenick, told ABC 6: "They didn't even have the milk I wanted. Just plain skim milk, but what are you gonna do."
"To every action there is always opposed an equal reaction" #snowstorm and #BreadandMilk pic.twitter.com/BJgr9kjlZb

— Maggie Jordan (@MaggieJordanACN) January 22, 201
Think it might snow? #BreadandMilk pic.twitter.com/kdl3ljtPdW

— vezalo_33 (@vezalo_33) January 22, 2016
Bare shelves everywhere. Due to #blizzard2016 anticipation, local grocery store seems like '80s Soviet Union market. pic.twitter.com/2FVkyFl2U4

— Ajit Pai (@AjitPaiFCC) January 21, 2016
Mom just sent me a picture of the bread shelves at Walmart. People preparing like its the apocalypse  pic.twitter.com/SlB0fPH7AL

— Steve McCleskey (@swaggasteve97) January 21, 2016
Oh, DC. Never change. My grocery store dairy case two days BEFORE #snowmaggedon2016 @capitalweather pic.twitter.com/fqkqd9BXUD

— Steven Harris (@HarrisStevenJ) January 21, 2016
The frenzied stock-piling appears to be a seasonal pre-blizzard ritual on the East Coast. Around the same time last year the threat of a blizzard in the New England and mid-Atlantic regions also cause panicked hoarding.
The frenzied shopping even resulted a much-mocked shortage of kale in New York City supermarkets, CBS reported.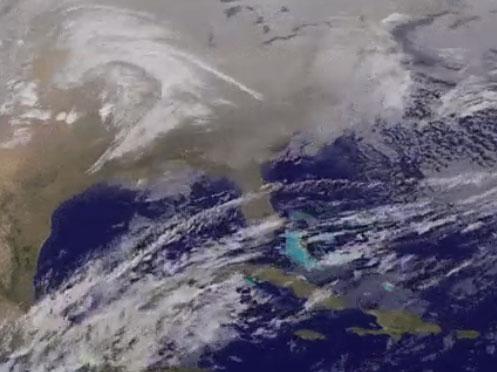 The National Weather Service described the weekend storm as "potentially crippling" for a swath of the Northeast.
A blizzard watch was issued for New York City and parts of Long Island and New Jersey starting early on Saturday.
The Washington Metropolitan Area Transit Authority, which includes the second-busiest US. subway system, took the rare step of suspending operations from late on Friday through Sunday.
The Virginia National Guard said it planned to bring in up to 300 troops to assist in response operations.
A major #winterstorm is forecast to bring an 80% chance of a foot or more of #snow to D.C. pic.twitter.com/xmRRabkzUz

— NWS WPC (@NWSWPC) January 21, 2016
Airlines have cancelled Friday and Saturday flights, with many of the 2,200 cancellations for Friday, most of them at airports in North Carolina and Washington, according to FlightAware.com.
AccuWeather Senior Meteorologist, Alex Sosnowski, said the storm taking aim at Washington could rank among the biggest snowfalls on record, eclipsing the "Snowmageddon" storm of 2010 that dropped 45.2 cm.
Additional reporting by Reuters
Reuse content