Pro-life protesters in the US will now be able to surround abortion clinics after the Supreme Court threw out a 10 metre buffer zone aiming to protect women from abuse.
Women going to clinics, which also offer other health services, could see repeats of scenes before the ban in 2007, when demonstrators could block entrances, forcing patients to squeeze by them while shouting slogans.
Judges ruled unanimously that extending the exclusion area around entrances in the state of Massachusetts violated the constitution's first amendment rights for demonstrators.
As well as concerns about the distress caused to patients by protests, some clinics were concerned about safety following several violent attacks targeting staff who carry out abortions.
In 2009, Dr George Tiller, who performed abortions, was shot in a church in Wichita, Kansas, and in 1994, a gunman killed two receptionists and wounded five employees and volunteers at two clinics in Brookline, Massachusetts.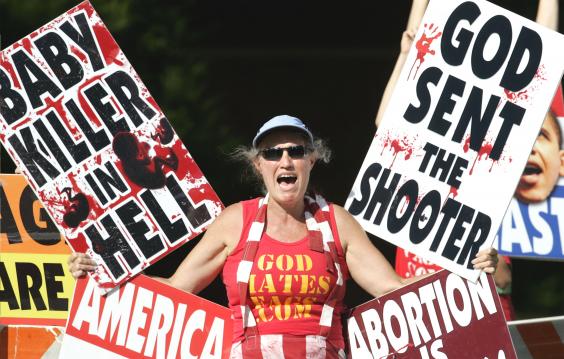 Chief Justice John Roberts said most of the problems reported occurred outside one Planned Parenthood facility in Boston on Saturdays when the largest crowds gathered.
"For a problem shown to arise only once a week in one city at one clinic, creating 35-foot buffer zones at every clinic across the Commonwealth is hardly a narrowly tailored solution," he said.
Pro-life protests have become a frequent sight across the US as the bitterly divided abortion debate shows no sign of slowing.
While the Supreme Court was unanimous in the overall outcome, Judge Roberts joined with the four liberal justices to dismiss the buffer zone on narrower grounds than the other, more conservative, justices wanted.
Pro-choice groups were dismayed at the decision, saying it compromised the safety of women seeking abortions.
"This decision shows a troubling level of disregard for American women, who should be able to make carefully considered, private medical decisions without running a gauntlet of harassing and threatening protesters," said Cecile Richards, president of the Planned Parenthood Federation of America.
Mark Rienzi, who represented the protesters at the Supreme Court, said: "The government cannot reserve its public sidewalks for Planned Parenthood."
The exclusion zone case began when Eleanor McCullen and other abortion opponents in sued over limits on their activities at Planned Parenthood health centres in Boston, Springfield and Worcester.
At the latter two sites, the protesters complained they had little chance of reaching women arriving by car.
Planned Parenthood, which provides sexual health services and birth control as well as abortions, said the buffer zone had significantly reduced the harassment of patients and clinic employees.
Additional reporting by PA