A couple from Utah who were found dead in their home with their three children, overdosed on drugs after they confessed their fears of the apocalypse to their loved ones, according to the authorities.
Benjamin and Kristi Strack and three of their four children — aged 11, 12 and 14 — were found dead on 27 September in a locked bedroom of their Springville home.
The Stracks' older son and the children's grandmother found the bodies, according to police.
The dead family members were tucked into covers in and around the parents' bed, each with a lethal cocktail of liquid beside them.
Benjamin Strack is believed to have died last, as he was the only family member not found underneath bed covers.
Investigators concluded that the five had died by overdosing either on heroin, methadone, or a combination of the drugs mixed with cold medicine, Springville Police Chief J. Scott Finlayson told a press conference on Tuesday.
The methadone used in the deaths was prescribed to Kristi Strack, after she had gone through court-ordered drug treatment several years ago, court records show.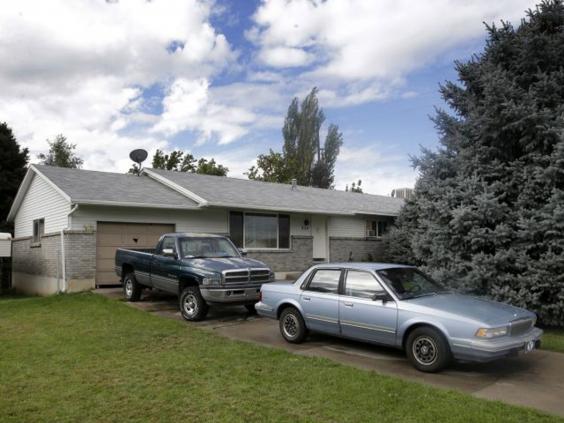 Authorities believe that the parents had chosen to take their lives. Although there were no signs of struggle, the two younger children's deaths were classed as homicides.
The manner of death for Benson Strack, 14, was undetermined. A goodbye letter written by the teenager was discovered by police, in which he left his belongings to his best friend in the event of his death.
Police also found old letters Kristi Strack wrote to Dan Lafferty, who is in a Utah prison for killing his brother's wife and 15-month old daughter in 1984. The crimes, committed in the name of God with his brother Ron, were later chronicled in the book Under the Banner of Heaven.
Investigators said Kristi Strack was deeply interested in the case and struck up a friendship with Dan Lafferty.
A notebook containing handwritten to-do lists documenting chores, like feeding the pets, was the only other recent writing left by the family.
When police interviewed people who knew the Stracks, they suggested the couple were concerned about what they believed was a "pending apocalypse"
"There seemed to be a concern about a pending apocalypse that the parents bought into," Finlayson said. "While some friends though that suicide may have been, or could have been, included in their plans, others believed they were going to move somewhere and live off the grid."
Benjamin Strack's brother Jacob said the final report from investigators wasn't surprising to relatives still mourning the family's deaths, and said the connection to Lafferty was a troubling indication of the couple's mental state.
Additional reporting by AP
Reuse content