Protesters have targeted the Florida vacation home of Walter J. Palmer, the dentist who poached the famed Cecil the lion.
The American doctor infamously killed the 13-year-old lion in Zimbabwe this month, causing an international outcry against game hunting.
The vandals have painted "lion killer" on the home's garage and placed seven orange coloured pig's feet across the driveway of Dr Palmer's $1.1 million home on Marco Island.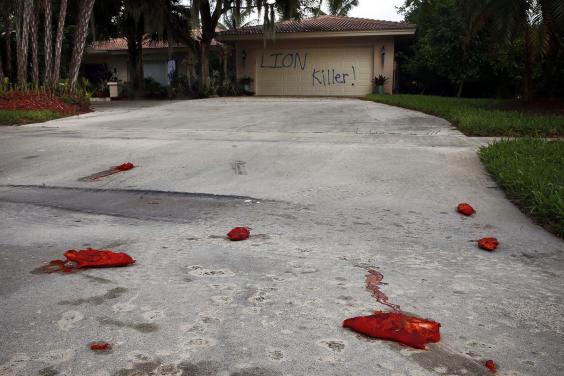 Marco Island police captain David Baer told Reuters that the incident is being investigated as misdemeanor criminal mischief.
The 55-year-old dentist has gone into hiding and has received many threats on social media, with many derogatory comments appearing on his official Facebook page for his office.
Zimbabwe task force officials said that the beloved lion was lured out of a protected animal sanctuary and fatally shot with a crossbow.
meanwhile, at #walterpalmer's office. pic.twitter.com/uNXWsocGjI

— ᴊʀᴀʙʙɪᴛ (@jrabbitmusic) July 30, 2015
Officials said that they'll seek the extradition of Dr Palmer, alleging he lacked authorization to kill Cecil last month, the Associated Press reported.
Reuse content